MRC Still Defending Chappelle's Anti-Trans Humor
Topic: Media Research Center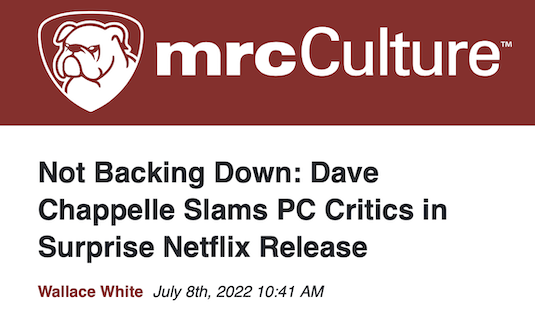 As it did with Ricky Gervais and J.K. Rowling, the Media Research Cented flip-flopped from hate to love with Dave Chappelle when he decided to traffic in transphobia, defending every unfunny bit of trans-bashing that came out of his mouth -- and it has continued to do so in 2022. In a Jan. 3 post, Matt Philbin got mad because comedian Patton Oswalt apologized for hanging out with Chappelle:
Patton Oswalt wants you to know he holds all the correct opinions. Really. No, Oswalt personally hasn't cancelled his old friend Dave Chappelle ("Sssss, Booo!"), but it's because he's pretty sure Chappelle can continue "evolving" to the higher plane where Oswalt and other enlightened lefties dwell in beatific complacency.

At Chapelle's invitation, Oswalt recently appeared at the former's show, doing an impromptu standup set. But then he posted to Instagram pics of the two backstage. Bad move.

See, several months ago, Chapelle ran afoul of the Transgender Industrial Complex by publicly saying sensible things about biology. He agreed with "Trans Exclusionary Radical Feminists" (TERFs) about women having lady parts.

There was, as you'd expect, BIG drama, and Chappelle is persona non grata to the better sort of woke activists. Worse, the comic refused to debase himself and apologize. In fact, he was rather defiant.

So Oswalt's picture was not well received. Think of Stalinists reacting to a junior Politburo member showing off a chummy snapshot with Leon Trotsky.

Oswalt is no Chappelle (and he's no Patton either) so he immediately issued a craven apology that managed to patronize the trans movement while demeaning his pal Dave.
Yes, spewing hate at transgender people equals "saying sensible things about biology" in Philbin's hateful little world.
In a Feb. 26 post, Christian Toto cheered that Netflix, which aired Chappelle's earlier transphobic special, continued to stand by him in "a direct blow to Cancel Culture, Inc."
When Chappelle was attacked on stage by a man allegedly triggered by his anti-transgender "jokes," the MRC did a round of pearl-clutching. Elise Ehrhard fretted in a May 5 post that the alleged assailant "had a "connection" with the transgender community" and huffed, "The transgender movement has been particularly aggressive in attacking anyone who questions their gender narrative, as everyone from J.K. Rowling to Jordan Peterson can attest." Perhaps transgender people wouldn't be so angry if people like Ehrhard didn't dismiss their existence as people by insisting they merely have a "gender narrative."
Toto returned for a May 7 post whining that Chappelle was attacked for merely telling jokes and that other comedians might not be able to tell bad transphobic "jokes":
The left and journalists alike have pounded Dave Chappelle for telling the wrong kind of jokes. The furor didn't start with The Closer, the comedian's most recent Netflix special, but it picked up sizable momentum following its Oct. 5, 2021 release.

Long story short: Chappelle yukked about the trans community in ways said community, and its "allies," didn't like.

Did we just see the natural results of that ensuing rage?

[...]

Comedians already self censor for fear of offending the woke mob. Desus & Mero, the Showtime power duo, admitted just that even though they align almost perfectly with the progressive narrative.

Others do so out of fear, and understandably so. A Chappelle or Bill Burr can survive if they never told another joke again, in theory, given their ample income. A blue-collar comic can't say the same.

Now, comedians have to worry about more than Cancel Culture. What if the wrong joke upsets the wrong comedy club patron, and he or she decides to rush the stage in response?

It may be wiser to avoid jokes that push boundaries than put oneself at risk.

Once again, the comedy world has suffered a sizable blow.
Yes, unfunny jokes that punch down at people would indeed "push boundaries." But Toto never expalined how any of Chappelle's transphobic jokes are actually funny, nor did he reprint any of those alleged jokes to justify their humor. Also, the MRC doesn't give the "they're only jokes" defense to folks who make fun of their feilow right-wingers -- witness its archives of outrage at Stephen Colbert and Seth Meyers.
Earlier this month, Chappelle quietly drooped a special on Netflix that wasn't actually a comedy special but, rather, a speech he gave at high school alma mater which was going to name its theater after him but thought better of it after the transphobia controversy; he spent a good part of it ranting about his critics and insisting they missed the "artistic nuance" of his anti-trans humor and denounced the students who fought against naming the theater after him "instruments of oppression." Needless to say, the MRC loved it.Wallace White cheered in a July 8 post:
No one runs liberals up a wall with comedy quite like Dave Chappelle has in his widely acclaimed Netflix specials The Closer and Sticks and Stones. After lots of leftist backlash from previous shows, he once again stands his ground against PC culture in a surprise release on Netflix titled Dave Chappelle: What's in a Name? according to The Daily Beast July 7.

This new 40-minute "speech" is a follow-up to his rejection of an offer from Duke Ellington School for the Arts, his alma mater, to put his name on the theater after he had a contentious Q&A session with the schools students, who accused him of being a "bigot" and "childish," in addition to hurling accusatory statements like "Your comedy kills." His new special is in the theater at the school where the Q&A happened, and features serious critique with his trademark stand-up skills mixed in.

[...]

He sums up his attitude to speech policing, saying "The more you say I can't say something, the more urgent it is for me to say it. It has nothing to do with what you're saying I can't say. It has everything to do with my right and my freedom of artistic expression."

Right on the money.

He calls on the kids at the Q&A to be self-aware about whether their words were genuine conclusions they came to themselves, or if they were parroting propaganda fed to them. He says, "I know those kids didn't come up with those words. I've heard those words before," and "These kids didn't understand that they were instruments of oppression."

A bunch of high school kids were simply being megaphones of liberal talking points instead of thinking for themselves. Dave Chappelle wants them to realize that, and teach them the value of freedom and how it can be used for good, like in his case, a good laugh.
Like Toto, White didn't explain how any of Chappelle's transphobia is actually funny. But he "runs liberals up a wall," and owning the libs (or pretending you are while just spewing hate) is all that matters to the MRC.
Posted by Terry K. at 8:58 PM EDT