MRC's Graham Boosts Corporate Narrative Of Jean-Pierre As Incompetent Diversity Hire
Topic: Media Research Center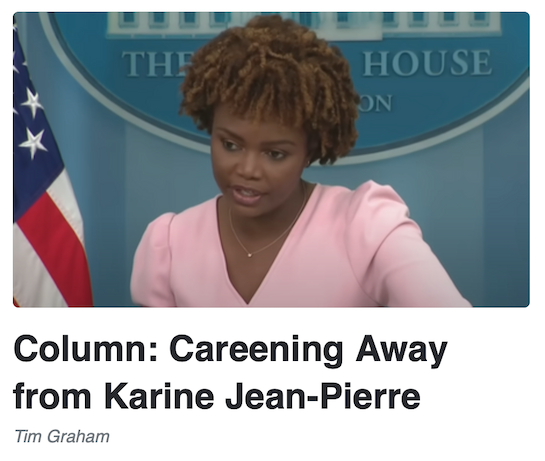 In case you didn't think that Curtis Houck's hateful narrative of White House press secretary Karine Jean-Pierre as an incompetent official who got her job only because she checked off diversity points for the Biden administration (for being black and LGBT) came straight from the top levels of the Media Research Center, his boss Tim Graham reinforced it in his July 1 column:
The reviews are in for the new White House press secretary, and it's not good. Politico ran a story headlined "Karine Jean-Pierre's tough debut: Unforced stumbles and press corps grumbles."

Reporters Max Tani, Alex Thompson, and Allie Bice wrote "it's been a rocky first month" for Jean-Pierre, so bad that she's already "increasingly found herself sharing the podium or splitting briefings with John Kirby," who appears to be a "co-press secretary."

"Some black communications officials in and outside the administration" complained the White House "has set her up to fail" by having Kirby "hovering nearby and taking the lead on foreign policy."

Worse yet, she's become a GOP "punching bag," and "her stumbles in several instances have made her appear underprepared — in moments quickly weaponized by the right."

Radio host Vince Coglianese calls her "Ka-ringe Jean-Pierre."

Anyone who tunes in the briefings can see it. She's woefully under-prepared. She's like the Kamala Harris of press secretaries. Being a pioneering example of diversity in hiring only takes you so far.
Note that Graham described Coglianese only as a "radio host," failing to note that heis also the editorial director of the right-wing Daily Caller. Graham is trying to hide that most criticism of Jean-Pierre is coming from the right, which was already predisposed to attack her because, as an employee of the Biden administration, she is the enemy.
Graham went on to whine:
It's clear that the "objective" White House press corps strangely misses the days of Trump, when they could be praised as bold defenders of democracy. Now, all these Biden voters don't really relish being an "a–hole" and asking challenging questions at the risk of angry tweets from leftists comparing them to those dastardly Fox News questioners like Peter Doocy.

The network bosses have no interest in displaying clips of their correspondents sparring with a Democrat press secretary, as they did under Trump. All we can expect is anodyne press-secretary talking points.

Then again, Graham and the rest of the MRC absolutely loved talking points when the press secretary was the beloved Kayleigh McEnany, who relied on a binder of notes as much as Houck and Graham complain that Jean-Pierre does. And he and Houck certainly didn't spar with McEnany during an April interview, preferring to lob slow softballs instead.
Posted by Terry K. at 8:51 PM EDT