MRC Attacks Any Discussion Of Gun Regulation As A Call To Grab Guns
Topic: Media Research Center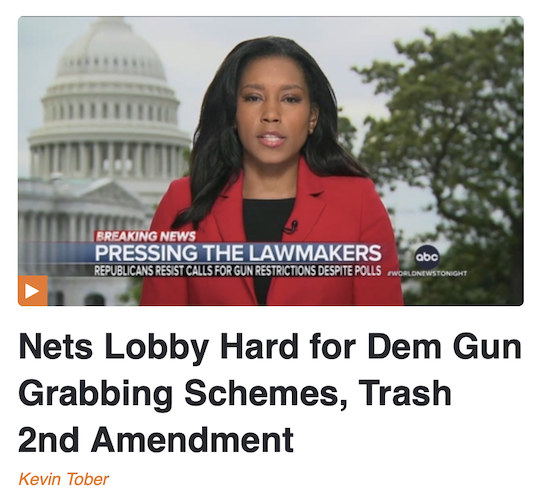 Part of the Media Research Center's duties in the right-wing media bubble is to fearmonger that any reasonable approach to regulating guns -- or, really, any attempt at all to do so -- is the same thing as total nationwide gun confiscation. That hysteria only grew after a series of gun massacres in May.
Alex Christy complained in a May 25 post that "CBS late night hosts Stephen Colbert and James Corden reacted to the mass school shooting in Uvalde, Texas, on their Tuesday-taped shows by urging America to pass gun control and bash America and Second Amendment defenders." Christy then complained that Colbert had on New Zealand Prime Minister Jacinda Ardern, whose country bolstered gun regulations in the wake of a massacre in which a right-winger murdered dozens of Muslims, which Christy vaguely referred to only as "the Christchurch shooting." When Ardern pointed out the country's "pragmatic" approach to gun regulation and that "you don't need a military-style semi-automatic weapon" to fight crime or to hunt, Christy huffed in response:
While New Zealanders may be "pragmatic," Americans are very protective of their rights and that is before we tackle nonsensical verbiage like "military-style semi-automatic," a concept that seemed lost on Colbert, "And so what are-- what are the results of that? Has there-- does it feel like a less-free country to anyone down there? Has there been any sort of backlash for this having happened?"
Christy didn't explain why an assault rifle is necessary for hunting.
Nicholas Fondacaro ranted the sdame day:
The Wednesday after the tragic school shooting in Uvalde, Texas, the cast of ABC's The View was in a fighting mood. Co-host and Holocaust downplayer Whoopi Goldberg was on the warpath against Republicans. She threatened to physically attack them and deputize people to go after them. She also warned law-abiding gun owners to "get ready" because "they're going to come" for your guns.

Goldberg kicked off the show by spewing the media's favorite lie from the anti-gun rights Gun Violence Archive. "We are 145 days into the year, and there have already been 212 mass shootings in America," she proclaimed.
NewsBusters has already debunked the GVA's deceptive methodology.
As we've documented, the GVA number is not a "lie" -- it's a perfectly valid measure of mass shootings that the MRC hates because it undermines the right-wing narrative that there aren't enough of them to worry about and consider adding gun regulations because of them.
Kevin Tober used a post to whine that newscasts were talking about guns:
A day after the school shooting in Uvalde, Texas in which nineteen children and two teachers were shot and killed, the evening news networks continued their ghoulish coverage of standing on the graves of the children who died to lobby for the Democrat Party's gun-grabbing agenda.

The most obnoxious coverage as per usual was from leftist hack and pseudo journalist Rachel Scott who screeched and sneered at Republican Senators for blocking the Democrat's "popular" gun control laws.
Tober clearly doesn't think it's ghoulish to pretend that guns played no role whatsoever in the slaughter of 19 schoolchidren and two adults, or that it's part of an evil liberal agenda to point that inconvenient fact out. He also didn't explain why Scott reporting that made her a " leftist hack and pseudo journalist."
Fondocaro returned in a May 26 post to screech that merely talking about gun regulations in other countries equals and endorsement of gun-grabbing in the U.S.:
Whenever someone claims "no one is talking about taking your guns," point them to this CBS Mornings segment from Thursday. Leaning on Holly Williams from across the pond in London, the network pushed for the British and Australian-style of sweeping gun bans and confiscations. And not only were they eager to do away with AR-style weapons but also "all semi-automatic rifles and shotguns" and "private ownership of all handguns."

[...]

She also spoke to former Australian Prime Minister John Howard who opined: "The greatest civil right you have is to stay alive. Staying alive and being free from random attack is a far more precious civil rights than owning a gun."

What's missing is the fact that here in America we have a right to keep and bear arms acknowledged by the Constitution. And part of that is having the ability to ourselves ensure what Howard described as "The greatest civil right you have is to stay alive."

Coming back from the video portion of the segment, Williams parroted the false line that there have been hundreds of mass shootings this year and added that "here in the U.K., there are so few guns on the streets that even the police don`t generally carry firearms."

Again, Williams omitted the real facts. The U.K. has a soaring violent crime rate including home invasions and robberies. And with the police going unarmed, it's not unheard of to have police getting help up and robbed themselves.
Fondacaro didn't explain why he clearly believes discussion of how other countries regulate guns must be censored -- or why he apparently believes his rage is so precious that it can't be copy-edited, which would have caught missing words that made his rant even more nonsensical.
Curtis Houck did pretty much the same thing in a May 31 post lashing out at CBS again for reporting on how Canada has regulated guns:
The liberal media and their allies have made it abundantly clear that their claims about "common sense" gun control measures have been a giant smokescreen for gun bans and confiscations. Such was the case on Monday as CBS Mornings and NBC's Today trumpeted far-left Canadian Prime Minister Justin Trudeau's proposal to ban handgun ownership and institute buybacks for weapons viewed as scary-looking.

Co-host Gayle King seemed enthused at this crippling of private citizens being able to defend themselves, boasting of "a sweeping proposal on gun violence not here but in Canada" with Trudeau having "introduced far-reaching gun legislation that has never gained any traction here in America."
Like Fondacaro, Houck did n't explain why such reporting must be censored.
Aidan Moorehouse complained the same day that a CNN panel wasn't balanced because there wasn't an absolutist right-winbg gun nut involved:
With a few notable exceptions, most of the liberal media's coverage of the debate around gun control has been an echo chamber of misinformed, underinformed, or just plain uninformed gun control activists, leaving little room for real debate. Perhaps this slant in coverage was why CNN thought they could somehow frame a friendly discussion between washed-up 2020 presidential candidate/liberal Republican Joe Walsh and gun control activist Fred Guttenberg on Tuesday's New Day as a balanced perspective on both sides of the issue.

John Berman began by saying that, although the question of gun control is a complex and multifaceted one, "A lot of people look at this and say, 'Hey, if we can just get rational people in a room together, they could figure out some solutions to this.'"

[...]

While they're certainly entitled to their opinions, and Berman noted there wasn't any yelling, what made this interview so ludicrously biased was its framing.

Joe Walsh is a political nonentity everywhere outside a liberal newsroom, and thus doesn't constitute a majority opinion in the pro-gun bloc at all, so to present him as the "rational" side of the gun control debate frames every voice that doesn't support raising the age of purchasing an AR-15 or doesn't hate the NRA with a burning passion as undeserving of a voice at the table. Does the media even want an honest conversation?
Does Moorehouse think an "honest conversation" about guns can happen when one of the parties is an Second Amendment absolutist who thinks it's treason to have even the slightest regulation of guns and has no interest whatsoever in compromising or finding middle ground? And who chooses to ignore that a key part of gun massacres are the guns?
Posted by Terry K. at 9:10 PM EDT