MRC Keeps Falsely Pretending Anti-Abortion Ruling Won't Lead To Contraception Ban
Topic: Media Research Center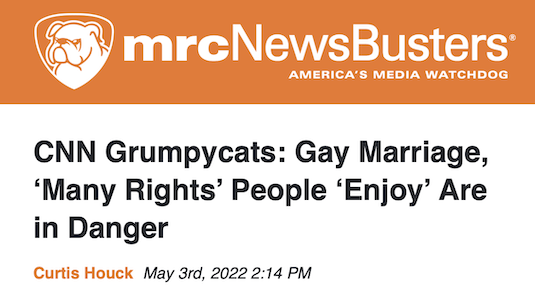 The Media Research Center has spent much of its time since the leak of a draft of Justice Samuel Alito's opinion overturning the abortion rights in Roe v. Wade in denial that his reasoning would affect other rights threatened by the right to privacy that underpinned the ruling -- particularly Griswold v. Connecticut, which cited a right to privacy in finding there was a right to contraception, the Obergefell decision affirming a right to same-sex marrage:
When historian Jon Meacham pointed that out, Alex Christy huffed in a May 3 post that "no state is moving to ban birth control, so the Court will not even have to address the question and the current makeup of the Court means Obergefell is almost certainly safe as well."
But that opinion came down mostly intact at the end of June -- and Justice Clarence Thomas issued a concurring opinion specifically stating that "In future cases, we should reconsider all of this Court's substantive due process precedents, including Griswold, Lawrence [v. Texas, the ruling that established a right to same-sex sexual acts], and Obergefell," though, oddly, not Loving v. Virginia, which legalized interracial marriages like the one Thomas himself is in.
This meant that the MRC's narrative to the same argument suddenly had to change. When a CNN commentator pointed out Thomnas' opinion, FOndacaro retorted in a June 24 post: "So, are they essentially arguing that Justice Clarence Thomas is trying to sabotage his interracial marriage?" Thanks, Nick, for confirming that conservative justices rule on personal beliefs and not the law.
Emma Schultz tried to downplay the importance of Thomas' opinion in a June 29 post, claiming that "no other justice signed on to Thomas's concurrence. In fact, they all signed on to opinions that said the ruling was limited to abortion." Christy did the same thing in a July 1 post: "Thomas is always writing concurrences saying certain precedents are wrong and should be reversed, but no other justice joined him on this one."
Christy complained in a July 12 post that a news report "played up ill-founded fears that birth control is next," but didn't mention Thomas' opinion suggesting such fears are quite founded.
Michael Ippolito took a different approach: When Meghan Markle expressed concern about "the future of same-sex marriage, contraception access, and many fundamental rights to privacy," he huffed that she was trying to "stoke fears about the potential to overturn lousy court decisions."
In fact, Missouri did, in fact, outlaw some forms of birth control and other states are considering doing the same -- putting the lie to the MRC's claim that nobody's considering outlawing contraception.
The MRC, it seems, can't quite escape reality when making its biased proclamations.
Posted by Terry K. at 8:46 PM EDT