CNS Censors Jan. 6 Committee Hearings
Topic: CNSNews.com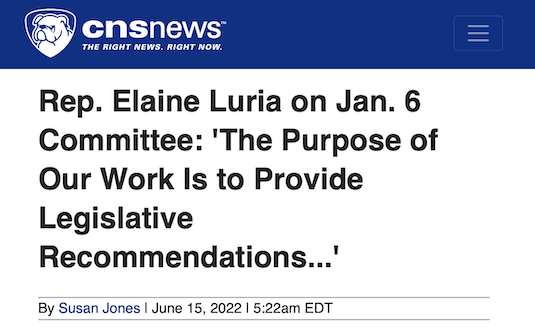 We've documented how CNSNews.com, despite portraying itself as a "news" organization, is apparently under orders to not treat the hearings by the House committee looking into the Jan. 6, 2021, Capitol riot as news. While it spent a lot of time whining about the first hearing without actually covering what was revealed during it, it has almost completely censored the findings revealed in subsequent hearings. As with the first hearing, no CNS news stories have been devoted to what was covered in the five subsequent hearings. In fact, it barely recognized the existence of those hearings at all -- again, despite them being what most non-biased journalists would call news.
Susan Jones spent a highly biased June 15 article (presented as "news") whining about the committee's purpose:
The carefully scripted, one-sided, anti-Trump work of the House select committee investigating the January 6 attack on the U.S. Capitol is "legislative" in nature, according to one of the Democrats who sits on the committee.

"We're a legislative committee," Rep. Elaine Luria (D-Va.) told CNN on Tuesday. "So the purpose of our work is to provide legislative recommendations to prevent something like this from happening in the future.

"And we're looking at a whole range of things. It is not just this one particular topic (criminal referral) that's been of interest in the last day, but what can we do to protect our electoral system? What can we do to prevent something like this from actually being successful if someone were to try it again in the future?"

But beyond legislative prescriptions, the committee also is digging for evidence of criminality -- a politically motivated hunt.
By contrast, CNS has praised the work of right-wing prosecutor John Durham and how he too is "digging for evidence of criminality" wthout dismissing his work as "a politically motivated hunt." Jones went on to push the right-wing narrative that the hearings are biased:
Rep. Liz Cheney, one of two anti-Trump Republicans on the committee, likewise tweeted, "The committee has not issued a conclusion regarding potential criminal referrals. We will announce a decision on that at an appropriate time."

[...]

Attorney General Merrick Garland said on Monday he is watching the hearings (the one-sided hearings) with interest.

[...]

House Minority Leader Kevin McCarthy (R-Calif.) said last week that the committee's work is purely political, and the committee itself falls outside House rules:

"First, Nancy Pelosi has broken a 232-year history of the House by not allowing the minority to appoint anyone to the committee," he said. "This committee does not have 13 members, as the power of the House voted for it to have.
Jones censored the fact that McCarthy was given the opportunity to appoint Republicans to the committee, but when House Speaker Nancy Pelosi rejected two of his five nominees (for being extreme pro-Trumpers who would like sabotage the committee's work), McCarthy threw a fit and pulled his entire slate. That, on top of Senate Republican Leader Mitch McConnell refusing to create a bipartisan independent commission to investigate the insurrection, means that the Republicans sabotaged their own chances to make the committee less than "one-sided."
The hearings were not mentioned again until a June 30 "news" article attacking another member of the "one-sided" committee:
Rep. Adam Kinzinger, an Illinois Republican, lapped up the applause on "The Late Show" with leftist host Stephen Colbert last night.

Kinzinger is one of two anti-Trump Republicans who joined Democrats in what amounts to a mock trial of Donald Trump, but there is no one on the select committee to cross examine witnesses or refute the carefully scripted, made-for-TV narrative pushed by Democrat politicians.

Kinzinger admitted that the select committee's one-sided investigation is intended to prompt legal action by the Biden Justice Department, although indictments aren't coming as fast as Kinzinger would like:

"I'm frustrated at the speed. I know they (DOJ) have a job to do," Kinzinger said.

[...]

Kinzinger said the select committee is getting new information "every day." And he's already touting what he views as the historic nature of what critics deride as an anti-Trump witch-hunt:

"Yeah, I think we're going to do a couple more hearings. Obviously the investigation will continue," Kinzinger said.

[...]

(The interview ended at that point, with Colbert thanking Kinzinger "for your dedication to representative democracy.")
Jones is clearly one of those "critics," even though she's supposed to be a fair and objective reporter.
The same day came another "news" article by Jones which brought the only specific acknowledgment of a committee hearing other than the first one -- which, of course, was focused on trashing the witness of that hearing, Cassidy Hutchinson, former staffer for then-White House chief of staff Mark Meadows:
President Donald Trump says he personally rejected Cassidy Hutchinson for a job with his post-presidency team in Palm Beach, Florida.

And former Florida Attorney General Pam Bondi, a Trump supporter, backed up Trump's statement in an interview with Fox News on Wednesday night.

Bondi said she had two conversations with Hutchinson, who "loved President Trump" and was "very upset" she was turned down for a job in Florida.

"She reached out to me because she was very excited she was moving to palm beach to work for the president. She loved president trump well after the election. She loved him," Bondi said.
After uncritically repeating that attack, Jones then surprisingly and fairly summarized Hutchinson's testimony. So Jones does know how to act like a journalist when it suits her purposes to do so -- though, of course, that was buried at the end with the Trump and Bondi attacks on Hutchinson headlining her piece.
Posted by Terry K. at 12:51 AM EDT
Updated: Tuesday, July 19, 2022 2:17 PM EDT