MRC Loves McConaughey's Calls For Unity -- But Not If They Involve Guns
Topic: Media Research Center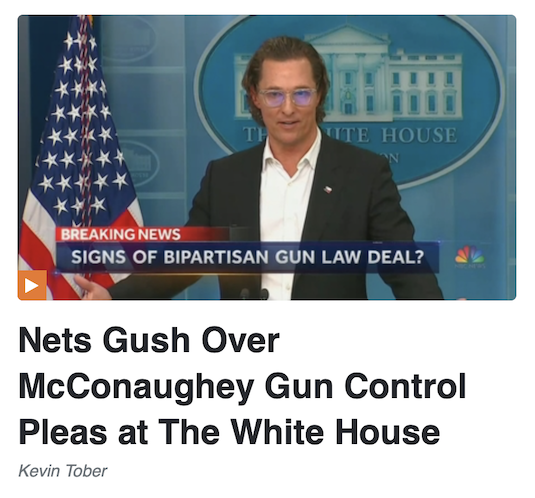 The Media Research Center loved actor Matthew McConaughey when he at least didn't hate Donald Trump. In 2017, it cheered him as among a group of actors who "have urged accepting President Trump and moving forward. Gabriel Hays gushed in a May 2020 post:
Not all Hollywood stars are partisan hacks. Some, like Matthew McConaughey, want to see a brighter future for all Americans, regardless of their political affiliation.

The Hollywood A-lister appeared on a May 12 segment of the Fox News Channels Special Report with Bret Baier to urge political unity between Americans in order to defeat the virus. Through his charity foundation, Just Keep Livin, McConaughey has been sharing a message of unity amidst the pandemic and Fox News invited him to share that message with its viewers. He urged Americans to wake up and realize they've been losing their focus on the larger war with coronavirus because of nasty politics.

[...]

McConaughey expressed his opinion that these petty arguments have contributed to a "false divide." Not only is there a war on coronavirus but a war with ourselves. "If we try to fight both those wars, we're gonna lose both of them," he affirmed.
The MRC never followed his advice, decided that politicizing COVID to fight culture wars and perpetuate dangerous misinformation was more important than national unity. Still, the MRC tried to pay lip service to this message; a December 2020 post by Hays touted how McConaughey, whom he again identified as a "Hollywood A-lister," "discussed how many people in the entertainment industry are 'illiberal,' that they 'condescend, patronize, and are arrogant,'" to the half of the country that's conservative or that voted for Trump, which was followed the next month by Alexa Moutevelis claiming that he "is the latest to draw the ire of the left-wing Gestapo for thought crimes because he called out the 'illiberal left' for being arrogant towards 50 percent of the population and talked about the country getting "aggressively centrist" instead of divisively polarized.
All that unity talk, however, did not keep the MRC from going fiull Gestapo on McConaughey when he said things that deviated from right-wing orthdoxy, particularly when he unity talk turned to guns. Hays lashed out at him in 2018:
According to Matthew McConaughey, assault weapons are not "alright, alright, alright." But banning them is.

The 48-year-old actor spoke at the Austin, Texas March for Our Lives, stating that he was there because he's an American citizen, a proud Texan, a March for Our Lives believer, and, most importantly, because "I'm a father and I'm a husband." Though he claimed that he wasn't advocating for gun control, he asked that Second-Amendment supporters "take one for the team."

McConaughey, a famous face at the gun-control rally, announced that he didn't attend for the sake of subverting the Second Amendment, but that he wanted America to acknowledge that it is in the middle of an "epidemic."

[...]

He concluded his speech by telling the audience to come together, and avoid the partisanship plaguing the issue: "This is an issue anchored in purpose for all of us. It's not anchored in politics, it's anchored in purpose."

After all, maybe conservatives' disagreement on the gun issue is just bitter partisanship, and not a valid point of view. And hey, with leading-man charm that intoxicating, how can any gun-owner say no to his list of demands? Nice propaganda there, Hollywood!
McConaughey's stance on guns was a reason Tierin-Rose Mandelburg dismissed talk of him running for Texas governor in a March 2021 post: "Oh, boy. Having a net worth of $140 million just isn't enough for McConaughey. We may have another celebrity on the ballot in the coming future." We don't recall Mandelburg having any problem when TV celebrity Donald Trump ran for public office. Hays lashed out further at McConaughey's gun stance as a reason to oppose him as governor the following month:
Apparently Matthew McConaughey would be a popular contender against Governor Abbot (R-TX) in the upcoming gubernatorial race, but people who have a soft spot for the "nice guy" need to realize that McConaughey might not be so good for the freedom Texas prides itself on. ... Despite the nice guy appeal, Governor McConaughey would also fall right in line with Dems' gun control ambitions.
Matt Philbin took a break from the attacks to praise McConaughey in a November 2021 post for declining to have his children vaccinated against COVID, though he did stay in attack mode long enough for bash him for opposing Texas' draconian anti-abortion law, sneering that "There is no right time or context in which to take a child's life."
But when McConaughey spoke out about the gun massacre at an elementary school in Uvalde, Texas -- his hometown -- and argue for sensible gun regulations, the MRC went into full-blown Gestapo mode again.Wallace White ranted in a June 6 post:
After Uvalde, many Hollywood celebrities have taken it upon themselves to spout off platitudes on gun control and how everyone needs to be on board with the liberal cause. If you aren't on board with gun-grabbing, then you are an evil person who wants children to die. Matthew McConaughey in his recent plea has taken these talking points and bubble-wrapped them under the guise of moderation.

According to Deadline, McConaughey is calling for "enacting background checks, Red Flag Laws and age upping the requirement on semi-automatic firearms to 21." He says that he only supports "gun responsibility." It doesn't take an expert to realize that propositions such as Red Flag laws at the federal level are anything but moderate, but extremely radical.

Red Flag laws, in essence, allow the government to strip private citizens of their legally-purchased weapons because they've been deemed "at-risk". The problem lies with who gets to deem who as "at-risk" and what criteria can constitute an "at-risk" individual. The untapped potential for tyranny is ripe with laws such as these. No wonder the radical left are champions of it.

McConaughey has been quite reasonable about issues in the past and has at least shown a willingness to talk with and debate with conservatives. That much is commendable. However, it is clear that he has a misunderstanding of the potentially catastrophic consequences of Red Flag laws for the 2nd amendment and freedom across the nation.
White didn't explain why gun rights are more important than saving a person's life from the threat of an unstabled armed individual.
When McConaughey appeared at a White House press briefing to make the same plea, Kevin Tober was the designated hater in a June 7 post:
On Tuesday, Hollywood actor Matthew McConaughey took to the White House podium to plead for Congress to pass stricter gun control laws in the aftermath of the mass shootings in Buffalo and Uvalde. As per their usual arrangement, the evening news broadcasts were more than happy to act as stenographers for the leftist agenda.

ABC's World News Tonight, CBS Evening News, and NBC Nightly News all lead with the McConaughey rant and the ongoing negotiations on Capitol Hill over gun control.

With all the drooling over McConaughey's support for tougher background checks and other measures that the media supports, what's interesting is that they left out his call for restraint on "sensationalized media coverage."
Tober didn't explain why the murder of 21 people, 19 of them children, should not warrant sensational coverage or why the MRC's rabid abolutism in ranting about even the slightest regulation of guns -- which conflicts with its earlier praise of him in calling for unity and common ground -- was not sensationalizing the issue.
Posted by Terry K. at 8:53 PM EDT