MRC Whines That Reporter Sought Out Creator Of Anti-Biden Meme Stickers
Topic: Media Research Center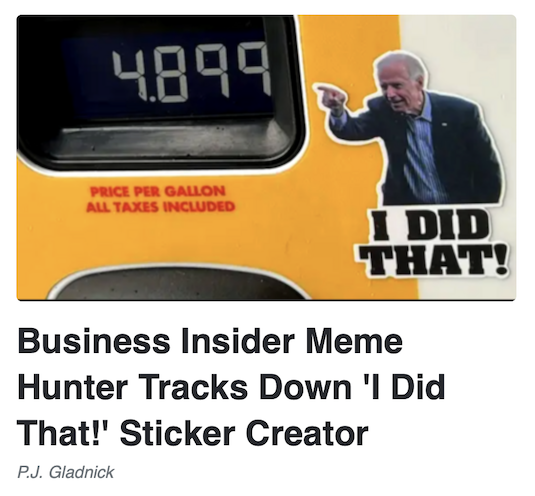 The Media Research Center loves to attack reporters who expose the people behind the right's favorite narratives -- odd, since you'd think the MRC would want to make sure the right people got the public adulation they deserved for what they do. So, just as it lashed out at Washington Post reporter Taylor Lorenz for doing basic reporting to learn the identity of the homophobic "Libs of TikTok" Twitter account, P.J. Gladnick spent a June 7 post complaining that a reporter sought the identity of the person behind the Biden "I Did That" stickers that right-wingers use to vandalize gas pumps:
Nina Burleigh of Business Insider who is best known to the world for having "Offered Oral Sex to Bill Clinton to Keep Abortion Legal" found a new mission in life. This time it was focused away from presidential candle sticks to presidential stickers. Specifically, the highly popular "I Did That!" Joe Biden stickers that have appeared pointing at rising prices of gasoline on station pumps during the past year.

Those stickers have so irritated Burleigh that she went on a great meme hunt for the creator. Her Odyssey was described on Monday in "'I Did That!': Anti-Biden stickers are plastered on gas pumps nationwide. But who created them?"

Her meme hunt for the heinous creator was inspired by Burleigh's extreme rage at many for blaming poor Joe Biden for the rise in gasoline prices in particular and for inflation in general.

[...]

With self-righteous indignation, Burleigh then goes on to describe her great crusade to hunt down the "I Did That!" sticker creator who, in her eyes, unfairly blamed Biden for the sudden surge of gasoline prices which began almost from the moment he entered the White House in January 2021.
The MRC loves to blame Biden for high gas prices but has never named a specific policy that it could directly link to those higher prices. And, needless to say, Gladnick doesn't identify any either.
After Burleigh noted that as she zeroed in on the creator, that person called her, Gladnick whined further:
So now that Burleigh tracked down the sticker creator, who in reality contacted her, will she demand that his stickers be labeled as disinformation despite the fact that sticker version Joe Biden is more truthful by declaring "I Did That!" than the flesh and blood version who is constantly shifting blame for rising gasoline prices to others?
Again, Gladnick offered no "truth" that directly proved high gas prices are solely Biden's fault and that things like the Russian invasion of Ukraine had nothing whatsoever to do with it.
Throughout the piece, Gladnick never explained why Burleigh is a bad person for doing basic reporting on a subject of public interest. Doesn't he want the sticker creator to get the credit he deserves for being a right-wing meme master?
Posted by Terry K. at 10:04 AM EDT
Updated: Saturday, July 16, 2022 10:06 AM EDT