WND Pushes Dubious Doc's Unverified Story About Blood Clots From COVID Vaccines
Topic: WorldNetDaily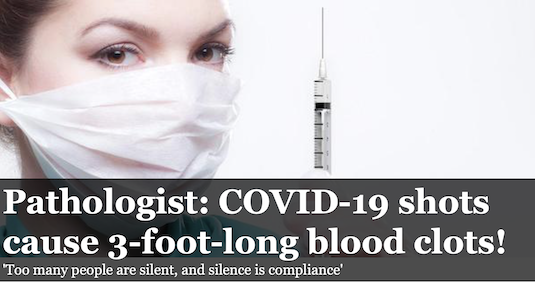 We've documented how Dr. Ryan Cole is a discredited anti-vaxxer and a hydroxychloroquine and ivermectin enthusiast -- to the point that some of his patients have ended up in the emergency room suffering from COVID after following his advice. His lab was kicked out of Idaho's largest health care network over his divergence from sound medical care. He has falsely claimed that COVID vaccines cause cancer and autoimmune illnesses. He has since been accused of misdiagnosing patients with cancer. But WorldNetDaliy for some reason --likely because his bogus claims generate clicks -- gives him regular promotion.Art Moore does just that in a June 12 article:
A pathologist who heads one of America's leading labs is finding unusually long blood clots, as long as one foot, in the bodies of deceased people who received COVID-19 vaccines.

Dr. Ryan Cole of Cole Diagnostics in Boise, Idaho, said his lab is "seeing mushy organs, we're seeing incredibly inflamed organs."

"We know the spike protein causes all the ... bad outcomes that the virus did in 2020," he said in an interview with Greg Hunter for USAWatchdog reported by Just the News.

Cole said that in people with comorbidities – serious chronic diseases – the synthetic spike protein in the mRNA vaccines produced by Pfizer and Moderna are "causing inflammation in the lung, the brain, the liver, the kidneys, the heart; it's causing the same damage that the virus was causing."
Neither Moore nor the Just the News article from which he cribbed his article offered indepdently verifiable proof of Ryan's claims; indeed, both are servile stennographers for Cole despite his dubious medical history.
Moore also referenced an earlier WND story dentered on COVID misinformer Steve Kirsch in which "a veteran embalmer told Kirsch he and more than a dozen colleagues in the industry had been noticing strange blood clots in most of their cases." As we noted at the time, that story is highly dubious because embalmers typcailly don't know the vaccination status of the person they're enbalming.
There's no reason to trust WND if it continues to publish unverified information -- especially from someone who has been repeatedly been discredited.
Posted by Terry K. at 1:40 PM EDT