WND Went Into Deflection Mode After Buffalo Massacre
Topic: WorldNetDaily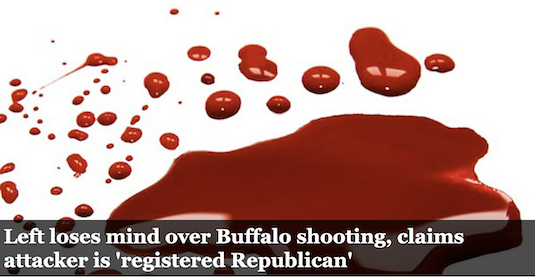 Like the rest of the ConWeb, WorldNetDaily spent the days after the Buffalo massacre blaming anything but guns and conservatism, even though the shooter could not have killed so many people if he did not have an assault rifle and he expressed support for the replacement theory conspiracy voiced by the likes of Fox News' Tucker Carlson. A May 15 article republished from Western Journal, for instance, declared that "it has been revealed that the suspect openly hated all the conservatives the media wants to blame as a motivation for the crime." A May 16 article by Bob Unruh complained that Rolling Stone had called the shooter a "mainstream Republlican" and only briefly referenced his embrace of replacement theory.The headline on Unruh's article claimed that the shooter was called a "registered Republican" despite the fact he quoted nobody in his article using the word "registered."
Then the spin from WND's columnists began. Michel Brown seemed to want to distract from the shooter's deire to kill black people by declaring that he also wanted to kill Jews as well, though the shooter was apparently not targeting them that day. Editor Joseph Farah, meanwhile, lashed out at President Biden (as he is wont to do) for denouncing the shooting and noting the shooter's racism:
Joe Biden has been singing this medley for his entire sham presidency, and he finally got one of these incidents. Did we think he would let it go? Not on your life.

[...]

"Any act of domestic terrorism, including an act perpetrated in the name of a repugnant white nationalist ideology, is antithetical to everything we stand for in America. Hate must have no safe harbor. We must do everything in our power to end hate-fueled domestic terrorism."

Any act of domestic terrorism, including an act perpetrated in the name of repugnant white nationalism ideology – have we seen it in this country? It's surprisingly rare. But if you keep saying it, keep expecting it, unfortunately you will see it – fully documented.

[...]

The semi-automatic rifle that was used to commit the massacre had the "n-word" painted on the barrel, along with the number 14. In addition to the semi-automatic weapon, Gendron also had a hunting rifle and a shotgun, which were recently purchased legally. After the school-shooting threat, I wonder?

Think of all the violence perpetrated on the American people – killers released without bail, all of the black-on-black mayhem, the car that drove through the parade in Waukesha, and what gets the attention of the Biden regime?

You guessed it.
Predictable.
Andy Schlafly blamed video games:
The accused upstate New York shooter, Payton Gendron, who is only 18 years old, dressed up like a character found in violent video games to which millions of teenage boys are addicted. He wore camouflage and a helmet as can be seen in images from "Call of Duty," one of the most popular shooter games having billions of dollars in sales.

Gendron has no military training and yet ruthlessly killed with horrific efficiency, just as a "gamer" is trained to do by these shooter games. Being shot at by a security guard did not faze him, as these games train players to continue shooting rapidly in order to score as many points as possible.

The deadly skills developed and encouraged by playing thousands of hours of shooter games make it more difficult to stop a player when he goes on a real rampage. The heroic security guard at the Buffalo grocery store, a retired police officer, repeatedly shot the intruder only to be killed himself by the teenager trained by shooter video games to quickly fire back.

[...]

Republicans are obviously not to blame for these mass shootings, and should lead to address the contributing causes of addictive violent video games and understaffing police departments. The demagoguery by Democrats in exploiting these tragedies does not help prevent them.
Jack Cashill blamed the shooter's lack of right-wing Christianity ... and Greta Thunberg:
Early in his surprisingly well-written manifesto, 18-year-old Buffalo shooter Payton Gendron asks himself one question whose answer explains everything else that follows: "Are you a Christian?"

Answers Gendron, "No. I do not ask God for salvation by faith, nor do I confess my sins to Him. I personally believe there is no afterlife." The rest of the manifesto documents Gendron's futile quest to find something, anything, to believe in.

[...]

It makes more sense to blame environmentalist Greta Thunberg for Gendron's ideas than it does conservative Tucker Carlson. "Green nationalism is the only true nationalism, " he tells us. "There is no conservatism without nature, there is no nationalism without environmentalism." In fact, however, to blame either Carlson or Thunberg is absurd.
Cashill cited no statement by Thunberg that might have even indirectly inspired the shooter, and he referenced replacement theory only in passing and did not disclose that Carlson is the media's highest-profile promoter of it, which would seem to undermine his claim that Carlson is no more culpable than Thunberg.
Posted by Terry K. at 3:08 PM EDT
Updated: Wednesday, July 13, 2022 8:22 PM EDT