CNS Columnists Blame Everything But Guns for Gun Massacres
Topic: CNSNews.com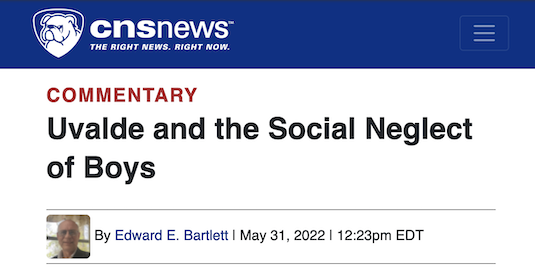 We saw how CNSNews.com used its "news" coverage to blame the gun massacre at an elementary school in Uvalde, Texas, on anything but guns -- and its actual opinion side did the same thing. Bill Donohue kicked off the stream of deflection in his May 26 column:
The ruling class, especially the media, are consumed with race and guns in America, yet the mass shootings in Uvalde, Tex. and Buffalo, like those in Dayton and El Paso in 2019, have little to do with either. It is not as though there aren't some common causes, threads of behavior that link all mass shootings. There are. But the media are looking in all the wrong places, thus providing the wrong diagnosis. This, in turn, ensures the wrong remedies.

There are five major reasons why we have mass shootings: the killer is asocial, he comes from a seriously dysfunctional family, he has mental issues, he is fascinated by violence, and red flags were ignored by almost everyone.

[...]

We need to encourage people to come forward and to act on red flags. We also need to get to these young men early on and not pretend that they are simply eccentric. Most of all, we need policies and laws that strengthen the family, paying special attention to the needs of young men.
Woman-hating men's rights activist Edward E. Bartlett devoted his May 30 column to, yes, blaming women for the massacre:
So what has happened in our culture that teenage boys have been marginalized to the point of losing their vision of a better future? When I look at the listing of student clubs at my local high school, I see Young Women in Engineering, Chicas Poderosas ("Powerful Girls"), and several clubs for LGBT students, African-Americans, and Muslims.

But nothing for boys.

Which points to the much broader problem that is referred to as the "Boy Crisis." This term captures the undeniable fact that males are lagging in virtually every arena of society. In college, for example, 59.5% of students are women, while only 40.5% are men. In health care, the Department of Health and Human Services, where I used to work, sponsors multiple separate offices of women's health.

And no offices of men's health.

So why hasn't anyone sounded the alarm? Much of the problem can be traced to the feminist movement that has spawned a pervasive "female-as-victim" narrative. This narrative neutralizes virtually every attempt to draw attention to the plight of boys and men.
A June 1 column by CNS editor Terry Jeffrey tourted how John Adams talked about "morality, religion and God" in the first presidential address inside the Capitol, adding:
What would John Adams think if he were told about the recent mass murders in Buffalo, New York, and Uvalde, Texas? Would he think they were manifestations of a gun problem in America or a moral problem?

To pass the American tradition of freedom down to future generations we must also pass down the moral and religious foundations needed to sustain it.
A June 2 column by R. Emmett Tyrrell also wanted to distract from guns:
Possibly some people are going, in light of these shocking events, to conclude that America is confronted with something far more serious even than gun violence. They are right. We are confronted with living in a violent culture. No one ever mentions it, but we are. I seldom watch television. I watch the evening news, and that is about all. But even in watching the evening news, I see trailers for astoundingly coarse shows that are thought to be entertainments. Recently, I saw a man put a revolver to another man's head. After that, I lost interest. Who knows what happened? I saw monstrous vehicles running down pedestrians; I guess they were pedestrians. I saw monstrous monsters. The world of Televisionland is inhabited by the monstrous and the fanciful.

It is hard to believe that ordinary Americans come home from work, turn on the television, and sink in with an evening of mayhem and madness, but apparently, they do. No wonder so many people have so much trouble sleeping. Then there is the rock music, the talk shows, the game shows, and the weather reports. No, I am only joking about the weather reports, but I have no doubts that the day will come when inclement weather will be reported with genuine thunder, pouring rain, lightning across the screen, and tornados on a particularly blusterous day.

[...]

These solitary gunmen are the symptom of something far more pervasive than gun violence. The bearers of our culture — you and me and the loudmouthed politicians now denouncing guns — have got to rid our culture of coarseness and violence. It will not happen.
A June 3 column by white nationalist-adjacent Ilana Mercer (also posted at WorldNetDaily) lashed out at schools themselves for promoting "anti-white racism":
The Stupid Party says, "Just arm the teachers." You want to train and arm teachers and faculty staff members to protect your kids? Have you seen what falls under the category "teacher" and faculty? Seen the people who zealously inculcate ungrammatical pronoun illiteracy? Who promote and further entrench systemic anti-white racism and exotic age-inappropriate sexuality? Have you seen these mountains of flesh videoing themselves gyrating obscenely, sexual exhibitionists in flagrante delicto, under whose tutelage "sexual curiosities, once called perversions, flourish"? Give guns to the same "dedicated" pedagogues who took two years off for COVID?

Get your kids the hell out of U.S. schools!

American schools, incidentally, are well capitalized. They have active-shooter training and security protocols in place. What they don't have is decent human capital.

Decades of feminization, emasculation, and preferential hiring account for America's low-intelligence, self-serving work force. This malevolent matriarchy-in-the-making increasingly lacks the higher-order capacity for altruism and heroism.
Catholic priest-turned-right-wing activist
Michael Orsi
deflected as well in a June 13
column
:
These slaughters always raise the same questions: Why do such tragedies occur? Were there no warning signs which someone might have spotted? How did security procedures fail so miserably?

And they bring forth the same proposed solutions: Provide better mental health services so troubled individuals can receive help. Keep those individuals from getting their hands on guns. Ban guns altogether.

Then, following the principle of never-let-a-crisis-go-to-waste, they bring forth legislation to increase funding of favorite government programs, and expand bureaucratic regulation of our lives.

The questions may or may not be relevant to the problem. The proposed solutions may or may not do any good. But they never quite get to the heart of the matter: evil.

[...]

The problem isn't guns; it's godlessness.

You think taking away guns will make society less violent, more humane? Good luck with that.
No mention, of course, of the inconvenient fact that the shooter couldn't have killed that many kids in that short of time if he didn't have a gun.
Posted by Terry K. at 12:57 AM EDT
Updated: Tuesday, July 12, 2022 12:58 AM EDT