Newsmax's Bolling Also Ran With Fake-News Story
Topic: Newsmax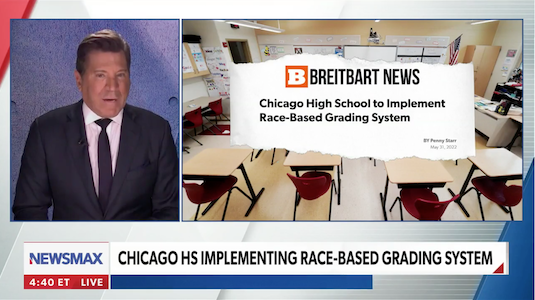 We caught CNSNews.com peddling a fake-news story from a shady, anonymous, right-wing dark-money "news" operation that falsely accused an Illinois school district of implementing a race-based grading system, a hot-button CRT-adjacent issue among right-wingers. Well, it wasn't the only ConWeb outlet to run with the bogus story. The Daily Beast reported:
Newsmax host Eric Bolling on Wednesday ran with a supposedly explosive story about Chicago suburban high school districts implementing "race-based grading" systems that would tip the scales against white students.

There's just one little problem: it isn't true.

[...]

While the story had been revealed to be bogus well before Bolling's showThe Balance aired on Wednesday afternoon, he nonetheless centered an entire segment on the false claims about the district.

"Think about this for a second," the Newsmax star declared. "Students, depending on their race, will not be held accountable for unexcused absences or failing to do their homework, misbehaving, or being disruptive."

Rather than bring on a parent from that school district to discuss this story, Bolling instead brought on Terry Newsome, who lives in "nearby" Downers Grove. Newsome made news late last year when he protested the presence of LGBTQ+ books in his children's school district, calling one book a "child pornographic sketchbook."

After Newsome compared the so-called "race-based grading system" to affirmative action measures in the Chicago police department, he then mentioned that the Oak Park school district says it isn't implementing any policy changes. He didn't believe the district, however.

"In Illinois, most of the schools…they look you in the face and say we aren't teaching CRT. This pornography isn't pornography because it falls under LGBTQ," Newsome exclaimed. "So they released a statement saying they aren't teaching it but the PowerPoints and all the material they reviewed said they're going to be grading based on race!"

Newsome and Bolling would then spend the rest of the segment railing against Illinois schools while an on-air graphic blared: "CHICAGO HS IMPLEMENTING RACE-BASED GRADING SYSTEM."
It's been nearly a month since Bolling did this bogus story, and he apparently has made no effort to correct the record.
Posted by Terry K. at 1:42 PM EDT