WND Censors Trump Role In Suppressing Science
Topic: WorldNetDaily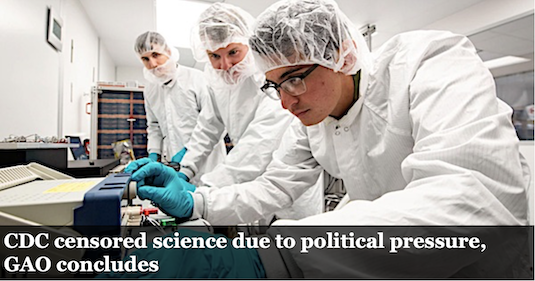 Art Moore blandly wrote in a May 1 WorldNetDaily article:
The watchdog Government Accountability Office concluded in an investigation that CDC and FDA officials "suppressed" scientific findings related to the COVID-19 pandemic due to political pressure.

Whistleblowers who spoke with GAO investigators said they did not speak up prior to the investigation because they feared retaliation. They said they were unsure how to report the alleged politicizing of science or believed leaders already knew about it, DailyMail.com reported.

The 37-page report found that both the CDC and the FDA did not have a system in place for employees to report allegations of political interference. And the agencies, the GAO said, failed to train staff how to spot political interference and report it.

"A few respondents from CDC and FDA stated they felt that the potential political interference they observed resulted in the alteration or suppression of scientific findings," the report said.

"Some of these respondents believed that this potential political interference may have resulted in the politically motivated alteration of public health guidance or delayed publication of Covid-related scientific findings."
But Moore censored the fact that no small amount of that political pressure came during the Trump administration. As less biased media outlets have noted, the report specifically cites one example from that era:
Since the onset of the COVID-19 pandemic, there have been various allegations of political interference affecting scientific decisions at several HHS offices and agencies. For example, in May 2020, a senior official from ASPR claimed HHS retaliated against him for disclosing, among other things, concerns about inappropriate political interference to make chloroquine and hydroxychloroquine available to the public as treatments for COVID-19.
Even the Daily Mail article Moore cited as the basis of his report pointed out Trump interference:
In the early phase the White House was accused of waging a war on science, with then-president Donald Trump repeatedly pushing for Centers for Disease Control and Prevention (CDC) reports to be amended to support his views, as shown in emails made public by congressional investigators last April.
While the word "Trump" exists nowhere in his article, Moore did make sure to claim that "Last summer, two top FDA scientists resigned amid charges the agency was being pressured by the Biden administration to made decisions based on politics."
This is a highly unbalanced article devoid of the "TRUTH!" WND editor Joseph Farah claims his website offers. If WND can't change its longstanding editorial policies of bias, falsehoods and conspiracy theories, it seems that WND has not really earned the right to live past its current financial crisis.
Posted by Terry K. at 5:44 PM EDT