MRC Psaki-Bashing, Doocy-Fluffing Watch
Topic: Media Research Center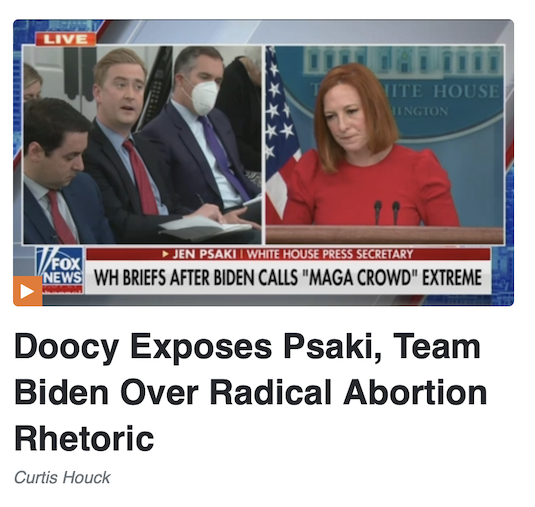 Curtis Houck kept handing out cookies to right-wing reporters in the White House briefing room for staying on message with their predetermined talking points. The cookie beneficiary in the April 29 briefing, as it had been the previous few days, was Fox News' Jacqui Heinrich:
On Thursday and Friday's editions of The Psaki Show, Fox News White House correspondent Jacqui Heinrich repeatedly took the outgoing White House press secretary to task over the appointment of Nina Jankowicz, a far-left Resistance fiend to run what many have deemed a real-life Ministry of Truth out of the Department of Homeland Security (DHS).

Heinrich wrapped her Thursday Q&A by invoking the so-called "Disinformation Governance Board" that's set to fight "misinformation ahead of the midterms" and "Hispanic communities especially."

After she asked about "what this board is going to be doing" and the depths of "their authority," Psaki claimed she hadn't "dug into this exactly" other than to state "there has been a range of disinfo out there about a range of topics — I mean, including COVID, for example, and also elections and eligibility."

[...]

The Fox reporter kept up the pressure by citing her TikTok profile and comments in one video in which she accused conservatives and Trump voters of "laundering [disinformation]" and "not support their lies with our wallet, voice, or vote."

Psaki countered by again blaming Trump and insisting the real mission of the board is "protecting privacy, civil rights, and civil liberties and the First Amendment" while also countering "disinformation."

The future MSNBC analyst added that examples include combating terrorism and "misinformation...spread by human smugglers that prey on vulnerable populations attempting to migrate to the United States."

Heinrich noted it all "sound[s] very worthy, but you've got someone in — from the Department Homeland Security telling people how they should vote," so it's worth considering the fact that "critics...say that doesn't sound right."

Of course, Psaki ducked by brushing off Jankowicz as just someone "overseeing the work of that board" conceived by Trump.
After the May 4 briefing, it was cookie time for Houck's longtime man-crush, Peter Doocy:
Wednesday afternoon on The Psaki Show, Fox's Peter Doocy held the White House press secretary under duress with questions on the Biden administration's reaction to the leaked Supreme Court opinion on abortion, including the President's claim that Republicans could ban gay students from being in the same classroom as straight students and his phrasing of abortion involving "a child."[...]

As for Doocy Time, he began with the notion that the administration chose to weigh in on the draft by breaking its pattern of not commenting on leaked materials.

Psaki insisted they weren't because "the Supreme Court confirmed" it and, after Doocy noted it came out before the Court statement, Biden "made clear we don't know if this is accurate." In other words, they did stray from past procedure.

Doocy also asked whether the President believes "the leaker should be punished," but Psaki reiterated an earlier answer to ABC's Cecilia Vega that it's "up for the Department of Justice and others to determine." Psaki added what matters most "is the fact that women's healthcare is at risk for millions of people across this country."

The Fox reporter pivoted to one of Biden's more incendiary comments from Wednesday morning in predicting Republicans could segregate classrooms based on a student's sexuality.

[...]

Moving to his final line of questioning, Doocy asked: "Why is the President talking about the judgment to choose to abort a child?"

Psaki emphasized it wasn't a big deal since Biden's "view on a woman's right...is well known, well documented, well stated," which left Doocy to press on the real issue in that "he said 'abort a child.'"
In Houck's view, the "real issue" is a right-wing reporter cherry-picking words to obsess over for partisan gain.
For the May 5 briefing, the right-wing talking point du jour was outrage over protests outside the homes of Supreme Court justices following the leak of a draft ruling that would overturn Roe v. Wade. And Houck made sure that Doocy got his cookie:
The Psaki Show got off to a late start Thursday, owed to Jen Psaki announcing she's leaving the press secretary position (while still playing coy about going to MSNBC). Despite this delay, Fox News White House Correspondent Peter Doocy grilled her on the issue of leftist activists doxxing the conservative Supreme Court Justices and planning to assail their homes (opening them up to possible violence) over the leaked draft decision to overturn Roe v. Wade. But Psaki wasn't concerned.

After some light sniping back and forth about her leaving, Doocy called out how President Biden smeared Republicans as "extreme" and wanted to know if "the progressive activists that are now planning protests outside some of justices' houses are extreme?" Ignoring the issue of their homes now being exposed to violence, Psaki rhetorically shrugged. "Peaceful protests are not extreme," she said.

Doocy immediacy pointed out that "some of these justices have young kids" and "their neighbors are all not public figures." And when asked if Biden would be "waving off" these leftists that were planning to descend on peaceful "residential neighborhoods in Virginia and Maryland," Psaki couldn't care less.

"Peter, look. I think our view is that peaceful protests, there is a long history in the United States and the country of that," she condescendingly argued. "And we certainly encourage people to keep it peaceful and not resort to any level of violence."

With a more direct example of leftist violence, EWTN White House correspondent Owen Jensen later stood up and aggressively pressed Psaki on how "a Catholic church was just vandalized with pro-abortion slogans in Colorado." She said she had "not seen that report" but "obviously, we don't condone vandalism." And as Jensen continued to press, Psaki just spewed polls at him about support for Roe.
That was followed by a post whining that a reporter didn't hate Psaki's designated replacement, Karine Jean-Pierre, whom Houck has previously smeared as a diversity hire for the sin of being black and LGBT:
Minutes after White House Press Secretary Jen Psaki gave the Biden administration's blessing Thursday for progressives to stage protests outside the homes of Supreme Court justices, NPR White House reporter Franco Ordoñez sucked up to Psaki's successor Karine Jean-Pierre, by wondering if she could share "what this means to you" and comment on both "the historic nature" of her appointment and advice for "young girls" and "minority communities."

The reporter from the taxpayer-funded outlet first congratulated Psaki on her run, but asked if Jean-Pierre "could share some words about what this means to her...and if [she] could talk a little bit about the historic nature of" the appointment as the first black and first openly gay press secretary.

Of course, Jean-Pierre thanked him for the question before stating she had to first "thank Jen" for having been "a wonderful colleague, a friend, a mentor" in addition to being "a true, solid, amazing person."

The former MoveOn.org spokeswoman insisted she's "still processing it because...this is a historic moment, and it's not lost on me" and thus "understand[s] how important it is for so many people out there, so many different communities that I stand on their shoulders[.]"
This from a guy who tossed nothing but softballs at former Trump press secretary Kayleigh McEnany despite her incompetence in the job and absolute refusal to do it after the Capitol riot.
Posted by Terry K. at 7:15 PM EDT