CNS' Marijuana Meltdown
Topic: CNSNews.com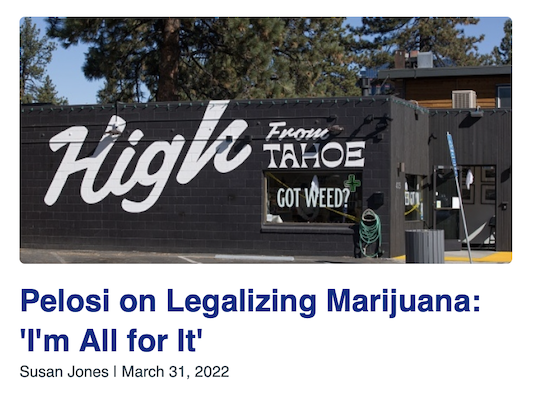 The House of Representatives discussed decriminalizing marijuana recently, and it sent CNSNews.com into a tizzy. Editor Terry Jeffrey wrote a March 25 article noting that "Senate Majority Leader Chuck Schumer (D.-N.Y.) sent out a tweet on Thursday stating that 'federal cannabis legalization' is now a 'priority' for the U.S. Senate." Susan Jones followed up with a March 31 article suggesting that Nancy Pelosi wants to destroy children by supporting the legislation:
At many of her news conferences, House Speaker Nancy Pelosi (D-Calif.) talks about her concern for children -- "my reason to be here" (in the Congress), she said again on Thursday.

Also at Thursday's news conference, Pelosi expressed her support for the Marijuana Opportunity Reinvestment and Expungement (MORE) Act, which decriminalizes marijuana and eliminates criminal penalties for an individual who manufactures, distributes, or possesses marijuana. "I'm all for it," she said.

The bill also makes other changes (see below) -- including a name change -- "cannabis" instead of "marijuana" in federal legislation:

"The MORE Act that is on the floor today," Pelosi said in her opening remarks. "It's a major criminal reform bill that helps end the racial and economic injustice of marijuana decriminalization. It, ah, it's -- we're very proud of the work that has gone into it, and we would hope that it has support in the Senate."
Oddly, despite that introduction, Jones made no argument about how any of the provisions in the bill-- like the language change from marijuana to cannabis -- are harmful to children.
When the legislation passed the House, Melanie Arter did a short, straightforward article on it. This was followed by an anonymously written article weirdly highlighting that the bill "includes a section that makes it illegal to print an 'indecent or immoral picture' on a package of cannabis that is offered for sale."
Then, CNS tried to pump up concern about the bill by sending intern Emily Robertson out to pester senators about it. In what appears to be her last major project as CNS' spring intern, she hurled this question at passing senators: "The House voted last week to legalize cannabis. Do you use cannabis and if not, why not?" with the occasional follow-up quesiton, "So, do you think it's harmful?" She got these senators to answer:
Robertson's articles also included this bit of boilerplate:
As documented by Alex Berenson in his 2019 book, Tell Your Children: The Truth About Marijuana, Mental Illness, and Violence, "Research on individual users—a better way to trace cause and effect than looking at aggregate state-level data—consistently shows that marijuana use leads to other drug use. For example, a January 2018 paper in the American Journal of Psychiatry showed that people who used cannabis in 2001 were almost three times as likely to use opiates three years later, even after adjusting for other potential risks."
Roberton didn't mention that, as we noted, critics found Berenson's book to be inaccurate and alarmist, or that the book's title is taken from the original title of the notoriously insane anti-marijuana propaganda film "Reefer Madness."She also didn't mention that Berenson has since found infamy for being wrong about so many things regarding the COVID pandemic -- which, of course, made the Media Research Center, CNS' parent, want to portray him as a victim for his wrongness being held to account.
CNS concluded this round of obsession with an April 19 Berenson-esque column by Bill Donohue declaring that supporters of legalizing marijuana "totally ignore what we know about the psychological and physiological effects of marijuana use" and that legalization in some areas of the U.S. "has proven to be a death sentence for too many Americans."
Posted by Terry K. at 12:11 PM EDT
Updated: Monday, May 9, 2022 3:36 PM EDT