CNS' Donohue Has A Belated (And Ahistorical) Meltdown Over 'Maus'
Topic: CNSNews.com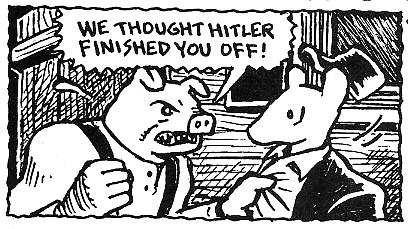 A good couple of decades late to the party, dishonest Catholic Bill Donohue tried to capitalize on the current right-wing obsession with banning the graphic novel "Maus" in his March 23 CNSNews.com column:
Over 200 leaders of Polish American organizations have signed a letter to members of Congress asking that a book which offers a vile depiction of Poles during the Holocaust be discontinued in the schools.

The letter has been distributed to members of the House Committee on Education and Labor, Subcommittee on Early Childhood, Elementary, and Secondary Education. It follows a decision by a Tennessee school district to drop the book from its curriculum.

The best-selling graphic novel, "Maus," by Art Spiegelman, which is targeted at children, features illustrations that are outrageous and needlessly offensive. But it is the lies, and the vicious insults hurled at Poles, that merit the most serious condemnation.

The letter by the Polish American coalition, led by Edward Wojciech Jeśman, president of the Polish American Strategic Initiative, lists several reasons why "Maus" does not belong as an assigned or recommended book in the schools.

The book offers a flagrantly inaccurate account of the Polish experience during the Holocaust. Poles are portrayed as Nazi sympathizers, which is a lie — they were the victims of Hitler's genocidal agenda. Polish deaths were proportionately the greatest of any nation in World War II, which is why the deaths of Poles and Polish Jews constitutes a double Holocaust. Moreover, many Poles, drawing on their Catholic upbringing, risked their lives to save Jews.
Poles are depicted as pigs. "Pigs in popular culture are viewed as disgusting, filthy animals," the letter notes, "while in Jewish culture, pigs and pork are unclean in a way other animals are not. 'Maus' employs the same imagery of Poles found in Nazi propaganda, where they are routinely referred to as 'Polish pigs.'"
The takeaway for Polish schoolchildren who are required to read this book is that their people are morally debased and that their heritage is evil. No child deserves to be psychologically raped by educators.

It's clear that neither Donohue nor any of those Polish-Americans have read the book or even bothered to look into the story behind the depiction. Spiegelman himself explained it in an interview that pointed out his Polish-Jewish heritage as he discussed being asked about the depiction by a Polish embassy employee:
The day came, I went up to talk with the guy—entirely cordial. He indicated that they would be granting the visa, but he, too, wanted to know, very concerned: Why Poles as pigs?

"My initial reply, I suppose, was a bit facetious: 'At first,' I told him, 'I tried to render Poles as noble stags, but I eventually found it just too hard inking in all those antlers.' But then I went on, trying to explain how in the American cartoon tradition, pigs simply don't carry any particular negative connotation: Porky Pig, for instance, is every bit as cuddly and beloved a figure as Mickey Mouse. Although it wasn't lost on me that as far as my mother and father were concerned, the main thing about pigs is that they weren't kosher. Beyond that, in terms of the narrative conventions of the text, the main thing to be noted about pigs is that they are not part of the book's overriding metaphorical food chain. Pigs don't eat mice—cats do. Pigs are relatively innocuous as far as mice are concerned.

"The embassy guy nodded politely, but clearly he wasn't buying my explanations. 'Mr. Spiegelman,' he said gravely, at length, 'the thing you don't seem to understand is that in Poland calling someone a swine is a much, much greater insult than seems to be the case here in America. Swine, you see, is what the Nazis called the Poles.'

"'Exactly!' I replied. 'And they called us vermin. That's the whole point.' You see, I didn't make up these metaphors, the Nazis did. I was just trying to explore them, to take them seriously, to unravel and deconstruct them. I must say, I keep waiting for some Pole to take umbrage at the fact that I portray Jews as rodents—I mean, I'm not holding my breath or anything, though it would be nice.

"But actually, it's interesting when you look at those metaphors in the context of the sort of suffering competition that so seems to define Jewish-Polish relations nowadays. Because if you think about the Thousand-Year Reich as a sort of animal farm, to borrow a metaphor, Jews as rodents or vermin were pests to be destroyed and exterminated first thing, indiscriminately, as a matter of course. Whereas Poles as pigs, like all the Slavic races in the entire Nazi conception, while not to be coddled, weren't to be indiscriminately destroyed: They were to be put to use and worked for their meat. Neither status was enviable, but it's a distinction worth noting nevertheless.
Meanwhile, another observer noted:
Polish critics who rejected Spiegelman's work seemed unable to see themselves in this story of a Polish Jewish man who survived the Holocaust and encountered both kind and cruel Polish people along the way. For some, the simpler response was to reject the cartoon image of themselves. As [researcher Biz] Nijdam put it, "Instead of being upset about the history, they're upset about the pigs."
Because Donohue couldn't be bothered to do basic research, he doesn't understand that Spiegelman had a reson for doing what he did. Instead, he gives in to his usual historically ignorant performative outrage and demands that the book be banned:
Removing books from a school's curriculum should never be taken lightly, but when the book in question (a) maligns an entire ethnic group (b) is historically indefensible and (c) is aimed at innocent, unsuspecting children, then to make it available in the schools is nothing short of educational malpractice.

Those who defend assigning "Maus" would not assign a book which characterized blacks as pit bulls or American Indians as piranhas, never mind distort their historical heritage by depicting them as savages.
Interestingly, Donohue ended his column with this note: "Many thanks to Ronald Rychlak, Distinguished Professor of Law at the University of Mississippi, for bringing this issue to my attention. He is a member of the Catholic League's board of advisors." Rychlak was the public face of onetime Soviet Bloc spymaster Ion Mihai Pacepa, who served for many years as a useful tool for WorldNetDaily for anti-communism and Clinton-bashing, even endorsing Donald Trump for president despite his sketchy ties to Russian operatives. So it's not a surprise to see Rychlak have a hand in this ahistorical rant.
Posted by Terry K. at 12:32 AM EDT
Updated: Friday, April 29, 2022 1:02 PM EDT