MRC Psaki-Bashing, Doocy-Fluffing Watch
Topic: Media Research Center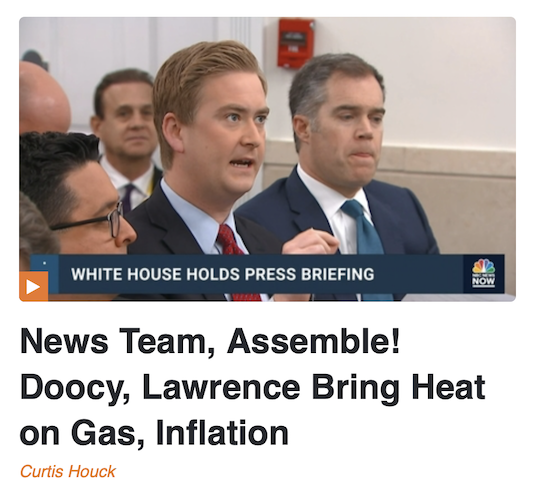 Curtis Houck's job at the Media Research Center is to bash Jen Psaki and act as a fawning cheerleader for Peter Doocy and other right-wing reporters. He filled that role as expected in his summary of the March 9 White House press briefing:
A day after President Biden announced a ban on Russian oil and as gas prices surged to record highs, The Psaki Show featured hardballs Wednesday afternoon on the impact of the Biden economy on consumers. Chiefly, questions from Fox News's Peter Doocy and Fox Business's Edward Lawrence led Psaki to struggle to defend the White House's policies on inflation, gas prices, and a refusal to support expanded domestic energy production.

First, to Lawrence's fact-checking of Team Biden. He began by calling out their continued flaunting of "green energy" as Americans struggle to stay afloat, let alone purchase an electric car.

[...]

Doocy Time arrived a few minutes later and started with a simple question:"Why did you guys decide to rebrand the rise in gas prices as the '#PutinPriceHike.'" That was followed by a second part:

[W]e have heard the President warn for months that gas prices were rising because of the supply chain and because of post-pandemic demand. If you guys knew for months that this was going to be the #PutinPriceHike, why are we just hearing that now?

After Psaki doubled down, Doocy shifted to drilling, with the Biden flack suggesting permitting was all that needed to happen before drilling (which the American Petroleum Institute has fact-checked)
Houck then linked to an article from the MRC's "news" division, CNSNews.com, that pretended a lobbying group's PR campaign was a "fact-check."
Houck also dutifully transcribed how Doocy pushed his employer's right-wing talking points about the Keystone pipeline:
Doocy tried to make things simpler, wondering "a restart of the Keystone XL construction" is "completely off the table as long as Joe Biden is President."

When Psaki replied that Doocy should "tell" her "what that would help address," the Fox correspondent noted that the administration has said "all options are on the table" amid an energy crisis.

Doocy also wondered why we're not partnering with "a friendly ally," but Psaki maintained "the pipeline is just the delivery mechanism" and "not an oil field."

Doocy tried one last time on Keystone restarting, but Psaki sniped that "it would not address any of the problems we're having."
Only a right-wing hack like Houck would describe a factual statement as "sniping." (And no mention, of course, of Rosen being a credibly accused sexual harasser.)
For his writeup of the March 14 briefing, Houck had a new pair of right-wing reporters to gush over:
Monday's episode of The Psaki Show featured Fox News's Jacqui Heinrich and Newsmax's James Rosen grilling Press Secretary Jen Psaki over the Biden administration showing weakness when dealing with Russian President Vladimir Putin in the lead up to his invasion of Ukraine as well as their reluctance to provide Ukrainian President Volodymyr Zelenskyy with the military support he needs.

The first one out of the gate was Fox's Jacqui Heinrich who, in light of the news her Fox colleague Benjamin Hall had been injured, wanted to know how the Biden administration would respond now that it appears that Russia is now shooting at American journalists:

[...]

Henrich was ready to take the gloves off, pressing Psaki that if the United States doesn't draw a "red line at something like chemical weapons" wouldn't it make it easier for Putin or other bad actors to use them in the future not worry about consequences?

In her typical style, Psaki gave Heinrich an attitude claiming that "you heard the President say on Friday that there would be severe consequences and the world would respond if they were to use chemical weapons."

Later on in the briefing, Psaki called on Rosen, and you could tell she immediately regretted it because Rosen really took it to her:

[...]

Rosen's follow-up question was just as brutal. Rosen argued that Biden and NATO allies never let Putin doubt what consequences he might face if he invaded Ukraine, Putin was told upfront what would happen, so Rosen wanted to know "why a greater effort wasn't made to leave Mr. Putin in doubt about the consequences he might face?"

Psaki responded that the reason why is because Biden is "the President of the United States of America, and he felt it was important to be clear with the American people about what his intentions were and what they were not."
Notice that it's always Psaki who has an "attitude" and never the right-winbg reporters hurling biased questions at her.
Houck gushed over Heinrich again playing pedantic word games in his writeup of the March 16 briefing:
If you can believe it, Wednesday marked the 200th episode of The Psaki Show (as per the AP's Chris Megerian) and it featured some of everything, including a quintessential softball question about whether President Biden's a morning or evening person and hardballs from Fox's Jacqui Heinrich and Gray TV's Jon Decker on the latest Biden White House word games.

[...]

A few reporters later, it was Jacqui Time and she picked up on an argument Psaki had made throughout the briefing that the guns, missiles, and other military equipment and firepower supplied to Ukraine in the war against Russia were merely "defensive" weaponry and not "offensive"

Asking her to "lay out for us why the administration sees MiGs as provocative and javelins and stingers as not provocative," Psaki said with a straight-face that "javelins and stingers are defensive weapons" whereas "MiGs are planes — are offensive weapons, which are a different type of military system."
It's weird that Houck would tacitly credit Psaki's dedication to her job by holding her 200th briefing; he made sure not to mention that Donald Trump's White House went more than a year without holding a press briefing, or that his beloved Kayleigh McEnany abandoned her job by refusing to hold briefings after the Capitol riot.
Posted by Terry K. at 10:18 PM EDT
Updated: Friday, May 27, 2022 9:32 PM EDT