Fake News: WND Thinks Obama Is Lying About Being Vaccinated
Topic: WorldNetDaily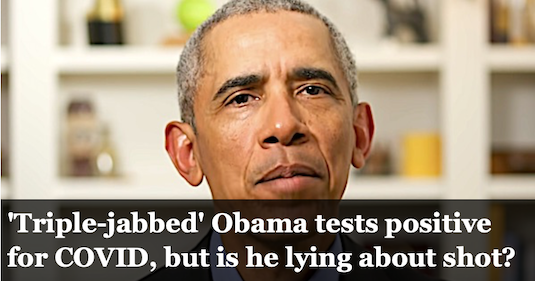 Just because Barack Obama left the White House more than a year ago doesn't mean that WorldNetDaily has stopped pushing Obama conspiracy theories . On March 13, Joe Kovacs embraced a wacky conspiracy theory about Barack Obama catching COVID despite being vaccinated:
J.D. Rucker at the Liberty Daily suggested Obama may, in fact, be lying about his vaccination status.

"I say he is 'allegedly' triple-jabbed because I've started questioning whether any of the globalist elites are actually getting the COVID injections or if they're lying," Rucker said.

"It's conspicuous that despite the massive number of adverse reactions being reported every day, we never hear about the people at the top of the globalist food chain experiencing negative effects from the jabs they allegedly get. It's just as easy to get jabbed with saline as it is with the so-called 'vaccines.'

"Of course, Obama used this positive test result as an opportunity to claim he's grateful for getting injected and to encourage others to do the same. As we've noted many times, there is no way to know if getting injected mitigated the damage done by COVID on an individual, so when they say they're better at fighting the infection than if they were not vaccinated, they're gaslighting."
Kovacs made no effort to fact-check Rucker, of course -- he offers no evidence whatsoever to back up his conpsiracy theory -- nor was there any mention of the fact that the dominant Omicron strain is so contagious that people who are vaccinated can still catch it, though they usually have less severe symptoms than an Omicron victim who isn't vaccinated.
It's dumb content like this -- not any "big tech" conspiracy -- that's causing WND to slowly put itself out of business.
Posted by Terry K. at 6:10 PM EDT