Fake News: WND Touts Analyst's Bogus COVID Stats
Topic: WorldNetDaily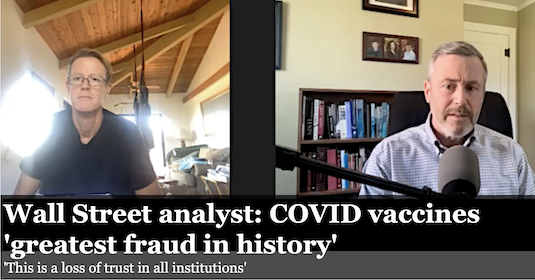 The fake-news hits on COVID just keep coming from WorldNetDaily. Like this March 13 article by Art Moore:
CDC data show the Millennial generation suffered a "Vietnam War event," with more than 61,000 excess deaths in that age group from March 2021 to February 2022, according to an analysis by a former Wall Street executive who made a career of crunching numbers to make big-dollar investment decisions.

Edward Dowd, who was a portfolio manager for the multinational investment firm BlackRock, posted the results of an analysis he did with an insurance industry expert on the social media platform Gettr.

In an interview Thursday with Steve Bannon on "War Room," he said that what they found was "shocking."

The Millennials, about ages 25 to 40, experienced an 84% increase in excess mortality over that period, he said, describing it as the "worst-ever excess mortality, I think, in history."

It was the highest increase in excess deaths of any age group last year, seven times higher than the Silent Generation, those who are older than 85.

And the increase coincided with the vaccine mandates and the approval of the booster shots.

"Basically, Millennials experienced a Vietnam War," Dowd said, noting 58,000 people died in the conflict.
Moore liked Dowd's spiel so much, apparently, that he interviewed Dowd for a March 16 article in which he repeated those conspiracy theories:
In a video interview Wednesday with WND, a former Wall Street executive whose analysis of CDC data shows an alarming rise in deaths among Millennials over the past year amid the COVID vaccine rollout said he's hoping to start a national conversation that will penetrate an establishment media "blackout" by emboldening people across government and private industry to speak out.

"That's my goal, to just change the conversation, to give people cover," said Edward Dowd, a former portfolio manager for the multinational investment firm BlackRock.

[...]

Dowd said the implications of his conclusions are "grim" and "mind-boggling."

"If I am correct – and let's assume I am for the sake of this argument – we have the greatest, colossal financial and human fraud endeavor in the history of the globe."
Unlike Moore, Reuters fact-checked what Dowd -- who is not a medical professional -- said on Bannon's show, and given WND's track record of promoting fake news, it's totally wrong:
While Dowd claims the deaths are due to vaccine rollouts, this CDC data represents excess deaths from COVID-19.

The CDC also notes on the page that there are several limitations to the data, saying it is provisional and incomplete. "The estimates presented may be an early indication of excess mortality related to COVID-19, but should be interpreted with caution, until confirmed by other data sources such as state or local health departments," the CDC says on the page.

CDC's National Center for Health Statistics (NCHS) told Reuters via email that the provisional data on CDC's WONDER database ... does not show that the percent increase since 2019 reaches 84% in any month for the 25-44 age group.

"And these excess deaths should most certainly not be attributed to specific events or causes – they just represent an overall higher number of deaths in this age group relative to previous years and could be due to any number of different factors (missed COVID-19 deaths, missed emergency care for conditions like heart disease, increases in drug overdose deaths and motor vehicle traffic fatalities, etc.)," NCHS said.

[...]

Kyle Sheldrick, a medical doctor and researcher, also debunked the video in a Twitter thread (here). Sheldrick explains how Dowd and the unidentified man who examined the data created their graph using CDC data (here), and points to the spread of the dangerous Delta variant as the more likely reason for spikes in deaths in the second half of 2021.
WND really should know better than to give a platform to sketchy anti-vaxxers with questionable, easily debunked data. But it doesn't, and that's why it's on the verge of extinction.
Posted by Terry K. at 6:57 PM EDT