MRC Gives Trump A Pass On Praising Putin -- But Bashes 'View' Host
Topic: Media Research Center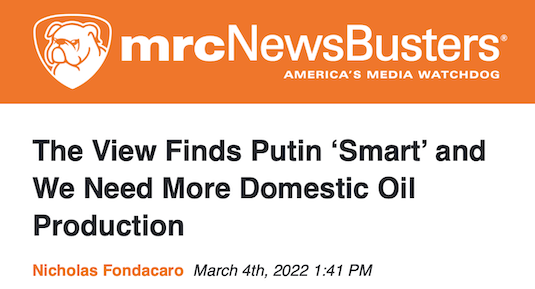 It's Media Research Center policy to never offer unqualifed criticism of Donald Trump, no matter how badly he behaves. And when Trump praised Russia's Vladimir Putin for his actions in invading Ukraine, the MRC unsurprisingly gave him a pass on that too, only getting upset when others criticized him and then playing whataboutism.
In a Feb. 24 post, Alex Christy complained that political analyst John Heilemann "falsely claim[ed] in a twisted train of thought that Republicans and the 2016 election are to blame for Russia's unprovoked invasion of Ukraine and that Russian President Vladimir Putin is using the moment to weaken President Biden because he wants to see Donald Trump to win in 2024." Christy ignored Trump's praise of Putin even though it was referenced in the segment he was criticizing, leaving it buried in a transcript; instead huffing that "Putin didn't need a divided America in order to invade Ukraine and, more importantly, he didn't launch an all-out war against Ukraine during the Trump years. So, if Trump is a Russian agent, would Heilemann's argument then call for Putin to put Trump in power first?"
The next day, Mark Finkelstein attacked Hillary Clinton for bring it up in a "Morning Joe" appearance, twisting her criticism to claim that she wants to kill Trump:
Hillary began her spiel by attacking Trump [without deigning to mention him by name] for praising Putin's "genius" and "smart move." That led Scarborough to denounce the Trump right as "useful idiots." Hillary upped that ante, accusing them of giving "aid and comfort" to the enemy. That is the very definition, under US law, of treason, and is punishable by death. Is that what Hillary has in mind for her political opponents?
Tim Graham actually did criticize Trump in a Feb. 27 post -- but then played whataboutism on the good (read: right-wing-friendly) things Trump said:
Trump praised Putin's smarts again (and mocked Biden's sanctions again) at a fundraiser for Senate candidates. "I mean, he's taking over a country for $2 worth of sanctions," Trump said. "I'd say that's pretty smart. He's taking over a country — literally a vast, vast location, a great piece of land with a lot of people, and just walking right in."

Ukraine is not just a hot piece of real estate to build some malls, and Trump has a bad habit of praising the smarts of some horrible people. But the Democrats and their media colluders tend to ignore or downplay the next passage, where Trump says this invasion wouldn't have happened if he were president.
That same day, Kevin Tober cheered a Republican senator for not deviating from right-wing talking points by refusing to comment on Trump's Putin praise, instead attacking ABC's George Stephanopoulos for asking him about it:
On Sunday's episode of This Week, anchor George Stephanopoulos used his interview with Arkansas Republican Senator Tom Cotton to continue to obsess over Donald Trump.

Following up on an issue raised in the previous segment with White House press secretary Jen Psaki over whether Russian President Vladimir Putin is mentally stable, Stephanopoulos asked Cotton if he agreed with Senator Marco Rubio that "something is off" about Putin.

Cotton didn't take the bait, responding that he wouldn't "play psychologist from 7,000 miles away." Cotton turned the conversation back to the topic that mattered: "Ms. Psaki said that we all made the mistake of viewing Vladimir Putin as someone who sees the world through global norms. George, I never made that mistake. I have always seen Vladimir Putin as a ruthless dictator who wants to reassemble the greater Russian empire."
In a March 4 post, Nicholas Fondacaro criticized a co-host of "The View" for praising a Putin strategy:
There was a serious case of whiplash during ABC's The View on Friday as co-host Sunny Hostin called Russian dictator Vladimir Putin "smart" for attacking the Zaporizhzhia Nuclear Power Plant, an accolade that was deemed a treasonous act earlier in the week after former President Trump said something similar.
Of course, Fondacaro couldn't be bothered to criticize Trump when he said it, something he didn't disclose in his piece.
And that's the last time the MRC mentioned Trump's praise of Putin. Can't let reality interfere with right-wing narratives, y'know.
Posted by Terry K. at 9:51 AM EDT