MRC Defends DeSantis Over His Insult of Mask-Wearing Students
Topic: Media Research Center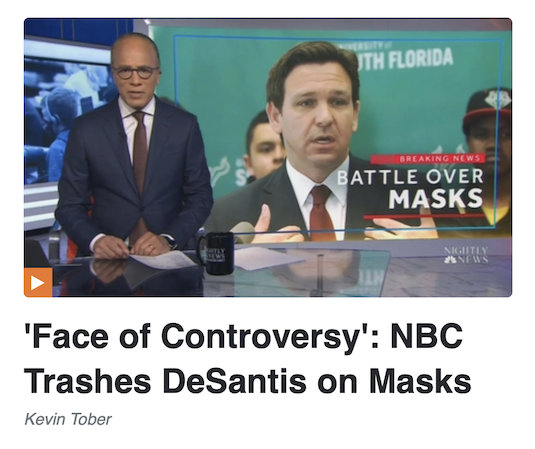 The Media Research Center feels it must defend Florida Gov. Ron DeSantis no matter how jerkish his behavior becomes. When he was criticized for lashing out at teenagers wearing masks at a speech he was giving, the MRC rushed to defense mode yet again. Kevin Tober declared in a March 2 post that anyone who didn't accept the MRC's benign interpretation of DeSantis' remarks was a liar:
On Wednesday, CBS Evening News and NBC Nightly News both took issue with Florida Governor Ron DeSantis letting a group of High School students know that it is ok for them to take their masks off while they were standing behind him during a public event at the University of Florida.

CBS Evening News was the first to whine about DeSantis's comments, with correspondent Mola Lenghi claiming the Governor "admonished" the students. Despite that claim, CBS then played Governor DeSantis's comments which only proved it wasn't "admonishing":

[...]

The fact of the matter is that DeSantis didn't "admonish", berate, or order the high school students to take their masks off, he simply let them know that it was perfectly acceptable to finally take them off and allow themselves to breathe without a piece of cloth on their faces.

If you watch the video, you can see that the students were smiling when they took the masks off:
Tober apparently never considered the possibility that the teens' smiles were nervious out of fear of what DeSantis might do if they defied him by the simple, harmless act of continuing to wear a mask.
Nicholas Fondacaro yet again smeared women he doesn't like (and would never give him the time of day) as a "coven" for holding an opinion he is paid to oppose:
Things got dark on Thursday's edition of ABC's The View as the coven went after one of their favorite hate objects: Florida Republican Governor Ron DeSantis after he committed the crime of informing high school students they weren't forced to wear masks anymore. Co-host Sunny Hostin got so incensed that she seemed to suggest that if it was one of her kids DeSantis spoke to, she would physically attack him. She at least warned her response would not be "legal."
Fondacaro then attacked "The View" for making its audience wear masks though "the CDC says much of the country doesn't need to wear masks indoors anymore." We thought conservatives like Fondacaro were all about freedom of choice.
Tober returned to complain that the non-right-wing media was still covering the story, suggesting that outrage doesn't exists if non-conservatives are the ones who are outraged:
On Thursday night, for the second night in a row, NBC Nightly News spent valuable air time trashing Florida Republican Governor Ron DeSantis for telling a group of high school students at a public event that they don't have to wear masks.
Anchor Lester Holt opened the preposterous segment claiming that there was "outrage tonight from that scolding by Florida's Governor to a group of students because they wore masks."

Correspondent Miguel Almaguer reported that there was "more fallout" from yesterday's incident where Governor DeSantis "admonished" the high school students, even though DeSantis didn't admonish the students. Almaguer added that this further highlights the "bitter divide over face masks."

[...]

Walensky arrogantly told the students that they "should have been comfortable wearing a mask." Adding that wearing a mask "is absolutely their choice." Which was exactly what DeSantis told the students:
DeSantis actually mocked the students for wearing masks, trying to shame them into not wearing one. If DeSantis believed in the students' freedom to wear a mask, he should have said nothing.
Alex Christy defended DeSantis against more criticism in a March 4 post:
Nothing DeSantis said was wrong. At this point it is ridiculous and theater, but Bolduan still accused DeSantis of "scolding" the students, "You may not have to, but the governor there scolding a group of high school students for exercising their right to wear a mask if they want to. CNN's Steve Contorno, live in Florida with more on this. Steve, what do you think is going on?"
Christy whined that CNN noted how "DeSantis is fundraising off the moment, Contorno attempted to tie his remarks to Florida's allegedly disastrous COVID record," then tried to play a numbers game: "Yes, Florida has more deaths, but that's because they have more people than most states, but even Contorno's attempt to back up his claim with data about deaths per capita misses the mark. In age-adjusted deaths per capita, Florida ranks 34th out of all 50 states plus Washington, D.C." Of course, Christy picked that massaged number to make Florida look relatively good; in real life, Florida has one of the highest death rates per 100,000 residents, and the death rate in Republican-led states is higher than that of Democratic-led states.
Posted by Terry K. at 3:31 PM EDT
Updated: Sunday, April 10, 2022 10:44 PM EDT