Logrolling In Our Time: Brent Bozell, Craig Shirley and CNS
Topic: CNSNews.com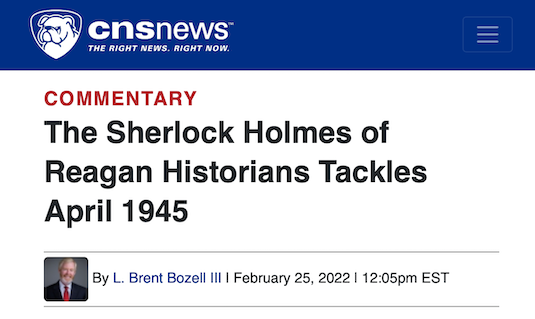 CNSNews.com editor Terry Jeffrey giving a softball interview to his boss, Brent Bozell, is not the only way Bozell's memoir has been promoted by the Media Research Center he runs. There's a fair amount of logrolling going on as well, and CNS is right in the middle of it.
When Bozell's book came out in December, right-wing historian-type Craig Shirley cranked out an enthusiastic review of it, first published at Newsmax and then on Jan. 7 at CNS:
You have to understand, Brent Bozell and I have known each other for 40 years.

We've socialized together, laughed together, butted heads, two of our sons were best friends, and never along the way betrayed our conservative principles.

We also cried together on at least one occasion. Our wives are good friends.

We both had high conservative principles, but his pedigree was a little more refined.

[...]

So when Brent asked me to read his new semi-autobiographical book, "Stops Along the Way," I was already prepared to like it.

I read and guess what? I could not put it down.

It was that much fun. But it was more that that. It was also about all those things that liberals hate: love, family, religion, education, principles, even if his family also sounded like the road crew for the Grateful Dead.

[...]

We love a book named "A Christmas Carol," by Charles Dickens.

We love a movie about a "Wonderful Life," with Jimmy Stewart.

And you will love a fun and funny little book named "Stops Along the Way."
A couple months later, lo and behold, Bozell served up a similarly gushy review of Shirley's new book in a Feb. 25 CNS column:
A few years ago, my friend Craig Shirley wrote a best-seller on "December 1941," when America was caught dramatically off guard at Pearl Harbor and was dragged into World War II. Now he has written a companion volume on the end of the war with "April 1945," so readers can consider "the alpha and the omega."

As with the first book, Shirley captures details large and small to give readers a sense of what it was like to live through these moments in history.

[...]

Craig Shirley established himself as the Sherlock Holmes of Reagan historians, but books like these show he can bring his eye for entertaining detail and analysis to other historical figures and periods. This book is an impressive feat.
Of course, Holmes would never be as hagiographic as Shirley is with Reagan, cited by the MRC to deny Ron Reagan Jr.'s claim that his father was showing symptoms of Alzheimer's disease during his presidency.
Then, we have to assume purely coincidentially, Jeffrey gave the softball interview treatment to Shirley in a March 4 article. Jeffrey effectively asked Shirley to read his book out loud, subjecting him to such tough questions like "So, you mentioned that Roosevelt had polio; he spent much of his time as an adult in a wheelchair" and "Only two months after that meeting in Yalta, FDR went down to his retreat in Warm Springs, Georgia. What happened then?" followed by hard-hitting queries about the mistress who was with FDR at Warm Spriongs. Jeffrey also worked in references to Shirley's favorite president, mentioning "the great man you've written so much about, President Reagan, who was able to get the Berlin Wall to come down and free Eastern Europe without firing a shot."
Yep, logrolling at its finest. Does the IRS know that a nonprofit organization's resources are still being used to promote the for-profit ook of its leader?
Posted by Terry K. at 3:43 AM EDT
Updated: Sunday, June 19, 2022 8:36 PM EDT