WND Cheers Right-Wing Authoritarian's Conspiracy Theory
Topic: WorldNetDaily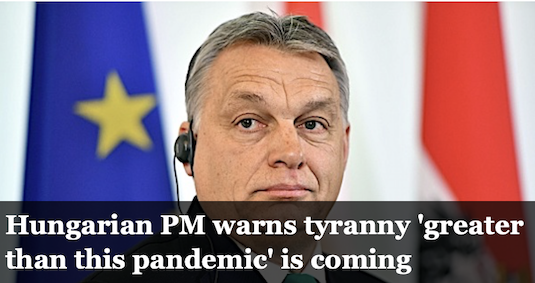 The Media Research Center is not the only ConWeb outlet with a love for right-wing authoritarians. Bob Unruh gushed in a March 1 article:
Hungarian Prime Minister Viktor Orban long has been recognized as a renegade – the leader not willing to submit to a globalist agenda or mandates from the established power structure.

He began his career objecting to Russian troops in Hungary, and they were removed a short time later. He moved his nation toward a free-market economy, led its entry into the North Atlantic Treaty Organization, urged the adoption of a constitution outlining conservative moral themes and defended national sovereignty.

He further outraged the establishment by erecting a fence on his nation's border to disrupt the flow of illegal aliens coming from the Middle East and Africa.

And even while fighting COVID, his nation enacted legislation that banned school content "deemed to promote homosexuality and gender change."

Now he's warning that the COVID-19 pandemic was just a prelude to a "serious stress test" that will be coming from the United Nations and the World Economic Forum.

His comments were captured and translated by the RAIR Foundation, whose name represents "Rise Align Ignite Reclaim."

He cited the U.N.'s Agenda 2030 campaign and charged that it is nothing less than global government tyranny that enslaves all humanity.

[...]

He said the Agenda 2030 plan, formerly called Agenda 21, combined with the WEF's Great Reset plan, would force the world into a society where "ownership is obsolete, privacy is non-existent, and … globalist organizations achieve complete control."
Yes, Orban is plugging the same "Great Reset" conspiracy theory that WND itself has embraced. Needless to say, Unruh also followed in the MRC's footsteps by refusing to tell the truth about Orban's authoritarianism: cutting off the free speech of his critics, criminalized any criticism of his handling of the COVID pandemic and being virulently anti-LGBT and anti-immigrant.
Unruh also tried to whitewash the organization that publicized Orban's speech, stating only that "The RAIR Foundation describes itself as a 'grassroots activist organization comprised of everyday Americans leading a movement to reclaim our Republic from the network of individuals and organizations waging war on Americans, our Constitution, our borders and our Judeo-Christian values.'" In fact, the RAIR Foundation has been linked to two prominent Islamophobes. The first is Amy Mekelburg, who anonymously spewed anti-Muslim hate on Twitter under the handle "Amy Mek" until she was outed in 2018.
The group's president appears to be Chris Gaubatz, another anti-Muslim activist. Back in 2009, WND published a book by Gaubatz and his father called "Muslim Mafia," in which Chris went undercover at a CAIR office and stole documents he used in the book.CAIR sued the Gaubatzes, and the case was still ongoing as of 2018.
A look at the RAIR Foundation's website shows that it's bee dabbling in anti-vaxxer activism and anti-globalism as well as the usual Islamophobia. Mekelburg is still an active writer, as is an anonymous coward using the fake name "Vlad Tepes," a historical figure who's better known as Vlad the Impaler.
In other words, exactly the kind of crowd you'd expect Unruh and WND to hang out with.
Posted by Terry K. at 1:02 AM EDT