MRC Psaki-Bashing, Doocy-Fluffing Watch, Russia Edition
Topic: Media Research Center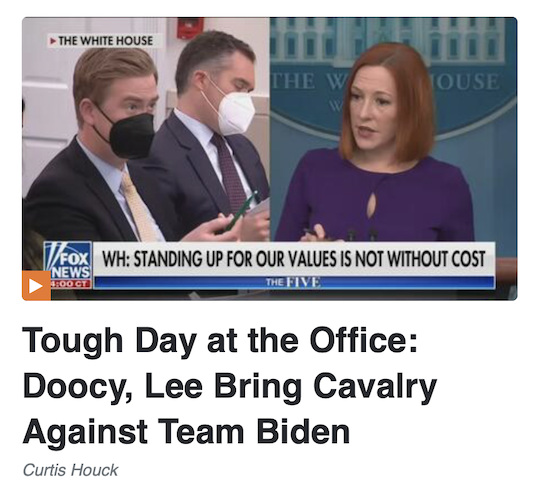 The Media Research Center's Curtis Houck seemed to have flagging interest in the right-wing narrative genre he created -- obsessively trashing White House press secretary Jen Psaki and fluffing Fox News reporter Peter Doocy and other right-wing writers willing to hurl hostile questions at her -- through the end of last year and the beginning of this year. With things in Russia heating up, it was time to hunker down and parrot Doocy's right-wing talking points.
Houck still wasn't fully in the swing of it at first, though; Kevin Tober did the honors for the Feb. 22 briefing:
Tuesday's episode of The Psaki Show featured Fox News's Peter Doocy hammering Press Secretary Jen Psaki over the Biden administration's claim that the biggest threat America is facing is climate change, as well as a pointed question by Doocy over an old Biden tweet.

Once called on, Doocy wasted no time getting to the point, asking Psaki about a hyperbolic claim by the Biden Pentagon that the "greatest threat facing America is global warming." He asked Psaki if that was still the administration's assessment despite the fact that we are "facing down a potential cyberwar with Russia."

Of course, Psaki tried running out the clock by telling Doocy that the U.S. "is always prepared for any threat any outside entity or country poses." Psaki then claimed that since the global warming threat comments were from the Pentagon, he would have to ask them.

[...]

Later on in the briefing, Doocy's wife and Fox Business Network correspondent Hillary Vaughn had two questions for Psaki. The first was "if Nord Stream 2 going online was such a threat, why in May did the President waive sanctions on the company and the chief executive behind it?"

Before letting Psaki answer both, Vaughn laid down the marker with her other question: "Is there a concern that Nord Stream 2 if Russia were to make concessions or retreat in some way that that might open up the door to Nord Stream 2 going back online, or is it your understanding that it is dead no matter what Russia does?"

In response, Psaki said that Biden "has never been a supporter of Nord Stream 2" and that "Nord Stream 2 is not moving forward" nor has it "been operational anyway."
Houck finally showed up to do the job he created the next day, attacking Biden for purportedly not doing enough to stop Putin from invading Ukraine (while never explaining exactly what would have deterred Putin from doing so) and to obsess about a longtime right-wing narrative:
Ahead of a likely Russian invasion of Ukraine, State Department spokesman Ned Price and White House Press Secretary Jen Psaki spent Wednesday afternoon under fire from establishment media reporters and, of course, Fox's Peter Doocy over the administration's flip-flop on the Nord Stream 2 pipeline, the failure to deter Russian President Vladimir Putin, and the impact the war could have on the U.S. economy.

Price went first and, from the get-go, the always-tough and persistent Matt Lee of the Associated Press went right to the news that Germany had suspended Nord Stream 2 from Russia and the U.S. would sanction the company (after having opposed doing so for a year).

[...]

Going over to The Psaki Show, Doocy Time commenced with the Fox reporter picking up from his questions on Tuesday concerning gas prices: "[A] lot of focus on the economic pain in Russia...but what about the economic pain here? The Russians are saying they think gas prices in Europe are going to double. How high could they get here."

Psaki argued the pain Americans feel will, in part, be based upon "what President Putin does" even though Biden will "tak[e] every step [he] can...to minimize the impact[.]"
Houck omitted the part where Price got Lee to admit his harping about the Nord Stream 2 pipeline was pointless; Price pointed out that there was no guarantee that U.S. sanctions would have stopped it from being completed.
Because Houck's only metric is how many hostile questions Psaki faces -- remember, he did not approve of tough questions being asked of his beloved Kayleigh McEnany -- Houck spent his Feb. 24 briefing summary in full own-the-libs mode, cheering that everyone seemed to be questioning Psaki:
Wednesday's White House press briefing wasn't smooth sailing for Press Secretary Jen Psaki and deputy national security adviser Daleep Singh with tough questions ahead of Russia's invasion of Ukraine. So it was only natural they came back Thursday and faced hardballs on Biden's messaging flip-flop on use of sanctions and the refusal to apply them at all to the Russian energy industry (perhaps its number one asset).

Just as she did hours earlier with President Biden, ABC's Cecilia Vega chose to actually hold the administration's feet to the fire, first asking Singh: "If Putin takes Kyiv, does that trigger additional sanctions, specifically that scenario?"

[...]

Skipping ahead to Psaki's portion, Fox's Peter Doocy also pressed on energy, wondering whether Biden would alter his energy policies to allow for greater domestic production and if the President "would...ever consider ordering U.S. companies to stop importing Russian oil."
Nicholas Fondacaro took over for the Feb. 25 briefing, making sure to up the Doocy-fluffing content:
With invading Russian forces bearing down on Kyiv and the Ukrainian forces holding out very stoutly against them, Friday's Psaki Show featured Press Secretary Jen Psaki getting pressed on what the United States was doing to help the situation. Doocy Time really led the way on this front by grilling Psaki on why the U.S. was still open to allying with Russia on other pet projects of liberal politics. Then there was the pressing of President Biden again leaving Americans in a warzone.

Fox News's Peter Doocy noted that the Biden State Department had said "there are still some areas in which the fulfillment of our national security priorities and imperatives require us to engage and coexist" with Russia.

Asking the important question many Americans watching the invasion and hearing of the reported atrocities had, Doocy wondered: "How is it that we are still engaging and coexisting with the Russians?"

[...]

At his Thursday press conference, Biden said he may wait 30 days for some of the latest sanctions to take effect. Addressing that ridiculous timeline, Doocy wanted to know: "Do you guys think the people in Ukraine have about a month?"

"Well, Peter," Psaki indignantly said like an angry parent, "let me take a step back and explain to everyone how diplomacy works and how our approach from the United States has worked."
Fondacaro did not explain how he was able to read Psaki's mind to determine how she was feeling when she answered Doocy's question.
Posted by Terry K. at 9:16 PM EDT
Updated: Tuesday, April 5, 2022 10:18 PM EDT