MRC Complains That Wash. Post Said GOP Will Hype Inflation -- Then Proves It Right
Topic: Media Research Center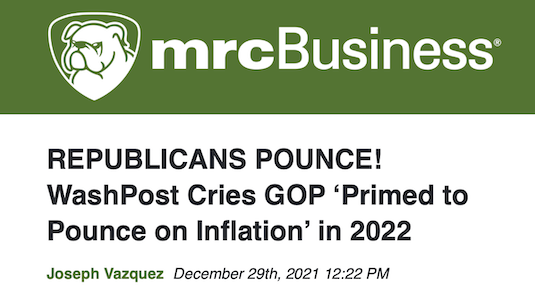 The Media Research Center's Joseph Vazquez complained in a Dec. 29 post:
The Washington Post tried to whip out the generic "Republicans have pounced" cliché in order to spin some of the attention on skyrocketing prices away from President Joe Biden.

The liberal newspaper released a revealing story headlined, "Inflation emerging as top economic challenge in 2022." Strong consumer demand in addition to ongoing supply chain problems "threaten to prolong sharply rising prices well into 2022, potentially making inflation the premier economic challenge of the new year." The Postconceded that inflation "defied many economists' expectations in 2021 by rising at the fastest pace in nearly 40 years," and that "[e]verything from rent to the price of used cars to groceries" had spiked.

Then The Post tried to make the Biden economy look like a victim of GOP political exploitation: "[T]he White House will be looking at a midterms campaign in which Republicans are primed to pounce on inflation." [Emphasis added.]
Vazquez linked to a post he wrote in May 2021 making the same complaint. Of course, Vazquez's dismissal of news reports pointing out that Republicans are hyping inflation to bash Biden as nothing but a clice and a narrative is itself a right-wing narrative.
In the ensuing three months, though, Vazquez and the MRC proved the Post completely correct witeh its partisan obsession over inflation, finding ways to blame Biden for inflation at every opportunity and attacking anyone who offered other reasons why. Let's look at how he and the MRC pounced:
That's a lot of pouncing -- and these are just the MRC posts that reference inflation in the headline. A content search would reveal many more examples of Vazquez and crew talking down the economy, something they unironically accused the media of doing when Donald Trump was president.
The MRC loves talking down the economy iunder Biden, and it will continue to do so because it is a right-wing narrative it is obligated to perpetuate. It just doesn't want to be exposed as being caught in the hollow exercise it is. It can't pounce out of the way of taking responsibility.
Posted by Terry K. at 9:32 PM EDT
Updated: Sunday, April 3, 2022 9:33 PM EDT