MRC Psaki-Bashing, Doocy-Fluffing Watch, Catch-Up Edition
Topic: Media Research Center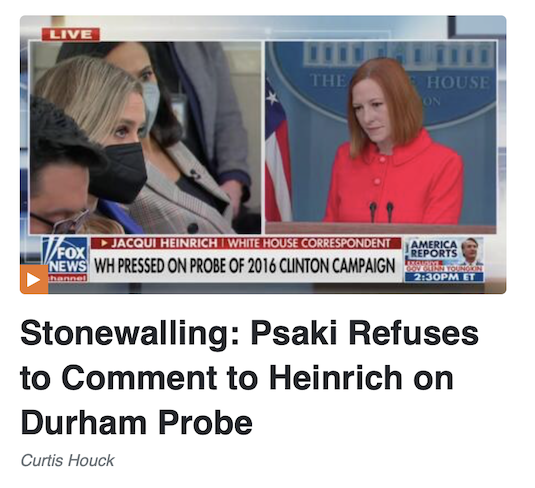 The Media Research Center has been a massive generator of misleading right-wing narratives that it's been way too long since we checked in on Curtis Houck's obsession with fluffing Peter Doocy and denigrating Jen Psaki. So we're going to go way back to see what we missed -- back to Jan. 26, when Doocy returned to his usual hostile, biased questioning of Psaki after the little kerfuffle over President Bideni nsulting him (which the MRC denied being triggered by despite cranking out days of content about it):
Aside from a question by the White House Correspondents Association president, it was back to business Tuesday in the White House Briefing Room a day after President Biden called Fox's Peter Doocy "a stupid son of a bitch" and then called him to hash it out. Doocy led the way in shifting focus back to the news, battling Press Secretary Jen Psaki over illegal immigration and the crisis at the Russia-Ukraine border.

Unlike, say, CNN's Jim Acosta or any other liberal journalist, Doocy didn't dwell on what Biden said and went straight to Psaki with the news of exclusive video from his colleague Bill Melugin at the U.S.-Mexico border: "Why is it that large numbers of single adult men are being released into the United States just hours after being apprehended at the southern border?"
Houck then touted Doocy asking Psaki a question that hasn't exactly aged well:
Staying on Ukraine, Doocy wanted to know what the White House made of a BuzzFeed report that, in his words, cited "a source close to the Ukrainian president" "think[s]" Americans who've evacuated Ukraine "are safer" back there "than in Los Angeles."

Psaki ignored the comparison, instead saying the evacuations are part of "always...mak[ing] decisions that are in the security interests of people who are serving as diplomats around the world" and, based on the number of Russian soldiers near the Ukrainian border, it "sounds pretty dangerous to me."
Nope, didn't age well at all.
In a Feb. 11 post, Houck gushed over biased questions from a different Fox employee, Jacqui Heinrich, which also didn't age very well given subsequent events:
During a tense Friday White House press briefing in which National Security Adviser Jake Sullivan warned Americans to leave Ukraine in the next 24 to 48 hours ahead of a likely Russian invasion, Fox's Jacqui Heinrich brought the heat to both Sullivan and Press Secretary Jen Psaki about whether President Biden still believes pre-invasion sanctions are "stupid" and whether a bloody war in Ukraine would put what Heinrich later called "a black mark on this administration."

[...]

She also asked a key question of, "if we don't know if Putin has made up his mind, why are we hearing this warning from Jake Sullivan that Americans should get out ideally in the next 24 to 48 hours," which Psaki conceded as stark but necessary to preemptively get ahead of an invasion as a bloody war featuring airstrikes would make life "very difficult" for Americans.
Houck ridiculously headlined that post "Jacqui Swagger" -- as if "swagger" was a more important attribute for a reporter than, say, asking fair questions that don't push a political agenda. Then again, it probably is for Houck.
On Feb. 15, Houck cheered Heinrich for pushing right-wing narratives about the dubious John Durham filing that the MRC had been obsessed with:
While many of her colleagues and their respective networks have refused to cover the bombshell news in the Durham investigation, Fox's Jacqui Heinrich brought it up during Monday's White House press briefing, repeatedly pressing Principal Deputy Press Secretary and former MSNBCer Karine Jean-Pierre for answers on whether Team Biden supports spying on political opponents.

Of course, Jean-Pierre wanted nothing to do with her queries about a filing from Special Counsel John Durham that an indicted Clinton campaign attorney paid to have a tech company surveil the computers of Trump Tower and the Trump White House during and after the 2016 election.
The next day, Houck did it again:
Two days after Principal Deputy Press Secretary Karine Jean-Pierre ducked questions from Fox's Jacqui Heinrich about the< bombshell filing in the John Durham investigation into the origins of the Trump-Russia probe, Heinrich posed the same questions to Press Secretary Jen Psaki on Wednesday and, not surprisingly, she received the same result.

[...]

Psaki stuck to her talking points while acknowledging Heinrich tried to ask Jean-Pierre two days earlier: "Again, I know you asked my colleague a few questions about this the other day, but I would point you — any questions about this to the Department of Justice."

Heinrich aptly tried again with the astute tactic of talking in a broader manner about whether such allegations, if true, are acceptable.

Houck was back to cheering Heinrich for asking more biaised, not-aging-well questions on Russia and Ukraine in a Feb. 21 post, upon which Houck stuck the similarly ridiculous headline "Friday Spice":
With no Monday edition of The Psaki Show due to President's Day, we'll look back to Friday and how Fox's Jacqui Heinrich not only hammered Press Secretary Jen Psaki over Team Biden's refusal to sanction Russia ahead of a likely invasion of Ukraine, but drew Psaki's scorn for wondering whether the U.S. is waiting for Ukranians to be slaughtered before financially crippling Russia.

Heinrich has hounded the White House for weeks on this matter, including one instance when Biden said asking about pre-invasion sanctions was "a stupid question." And, as we saw over the weekend, Ukrainian President Zelensky voiced Heinrich's concerns and slammed both the U.S. and NATO allies for thinking the threat of sanctions is a proper use of deterrence.

[...]

Psaki replied with the illogical claim that "sanctions are meant to be a deterrent" and leveling them "now" would actually give the Russians a reason to invade.

Put simply, someone's gaslighting when it comes to the definition of deterrence.
And someone's clearly gaslighting when he portrays Doocy and Heinrich as fair and balanced reporters who aren't pushing partisan agendas.
Posted by Terry K. at 10:07 PM EDT
Updated: Friday, April 1, 2022 10:17 PM EDT