CNS Took More Shots At Biden As Russia Invasion Began
Topic: CNSNews.com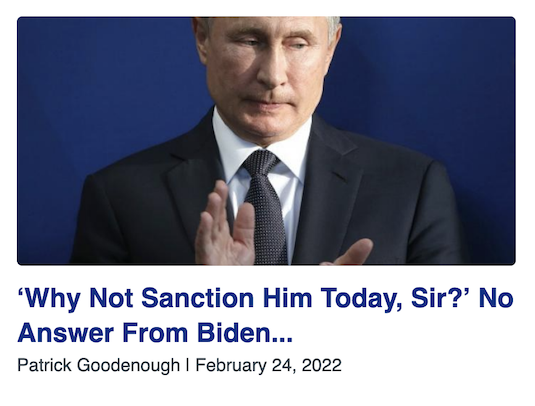 We've shown how CNSNews.com acted in an anti-American manner before Russia's invastion of Ukraine by touting Vladimir Putin as a strong leader compared with President Biden's purported weakness. AFter the invasion, CNS continued to attack Biden for allegedly not moving quick enough on sanctions.
IN a Feb. 24 article, Patrick Goodenough admitted that the initial round of sanctions after the invasion were "sweeping," yet he complained that they weren't sweeping enough since they didn't target Putin himself:
President Biden declared at the White House on Thursday that Russian President Vladimir Putin would be "a pariah" for invading Ukraine, but asked several times about the decision not to sanction Putin personally, he did not answer.

For the second time in two days, the administration announced sweeping new sanctions against Russia. But while the targets are significant and wide-ranging, they do not include the man who ordered his military to attack a neighbor, and issued what appeared to be a veiled threat of nuclear retaliation should "outside" nations interfere and threaten Russia and its people.

[...]

Minutes later a reporter asked the president about the option of sanctioning Putin himself.

"You said in recent weeks that big nations cannot bluff when it comes to something like this," she said. "You recently said that the idea of personally sanctioning President Putin was on the table. Is that a step that you're prepared to take, and if not—

"It's not a bluff," Biden interjected. "It's on the table."

"Sanctioning President Putin?"

"Yes."

"Why not sanction him today, sir?" the reporter asked.

Biden did not answer, but pointed to another reporter.
The next day, Susan Jones complained that Biden didn't immediately cut off U.S. imports of Russian oil, while also rehashing right-wing narratives about Biden's energy policies:
"I guarantee you. We're going to end fossil fuel," then-presidential candidate Joe Biden said on the campaign trail in New Hampshire in September 2019.

And as soon as he took office, Biden canceled the Keystone pipeline and halted new oil and gas leasing on federal lands.

Biden is willing to curb U.S. oil and gas production, but even faced with Russian aggression, he's leaving Russia's energy sector alone.

"You know, in our (Russia) sanctions package, we specifically designed (it) to allow energy payments to continue," Biden told Americans on Thursday:

[...]

Yet, the Biden administration has said nothing about increasing U.S. fossil fuel production or reversing some of the president's own energy-crimping policies.
In fact, U.S. oil production has been on an overall upward trajectory since bottoming out because of the pandemic, and Jones did not explain how, exactly, the cancallation of the KeystoneXL pipeline (most of the oil from which would have been exported) or the pause in oil and gas leases on federal land (which have not only resumed but have outpaced Trump's record) directly harmed the U.S oil industry.
Posted by Terry K. at 1:15 AM EDT