MRC Continued To Lash Out Over Comprehensive Durham Coverage
Topic: Media Research Center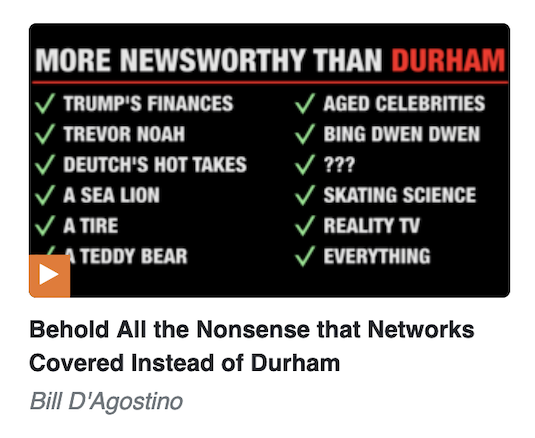 When last we left off, the Media Research Center was complaining that the John Durham filing about Hillary Clinton it had been obsessively hyping was getting covered in full by other media outlets, not just the right-wing talking points the MRC was pushing. Unsusrprisingly, the complaining continued; Jeffrey Lord turned up the whataboutism in his Feb. 19 column:
Recall that the media spent the bulk of the Trump presidency raving about Trump-Russia "collusion." Or as Fox's Tucker Carlson would mock: "Russia, Russia, RUSSIA!" Finally the Mueller report appears and reveals what most Americans of common sense not infected with Trump Derangement Syndrome knew from the beginning- the whole story was fiction. Made up. Fabricated.

And as a WSJ editorial noted accurately: "Along the way the Clinton campaign fed these bogus claims to a willing and gullible media." With that "willing and gullible media" swallowing the entire yarn hook, line and sinker.

Now comes the latest Durham filing and the reveal that, yes indeed, the Clinton Campaign really was spying on candidate Trump and then, later, President Trump -using lefty techie experts to spread that "inference" and "narrative."

And the media reaction? As Professor Turley quite accurately notes, "some media would rather ignore a major story than expose their role in covering it up."
Actually, as we've noted, the media pointed out that the filing was a nothingburger and that right-wing media falsely hyped it (the claim that Hillary was spying on Trump as president being chief among those false claims).Also, the Mueller report did, in fact, find that the 2016 Trump campaign had nemerous meetings with Russian operatives as well as Russian operatives on the payroll.
Alex Christy wrote in a post the same day: "On Friday's edition of The 11th Hour on MSNBC, host Chris Jansing derisively claimed that the reason why Republicans were talking about the latest filing from Special Counsel John Durham's investigation is because the GOP just wants to fire up its base and raise money." Christy didn't actually dispute the assertion.
A Feb. 21 post by Scott Whitlock whined that non-right-wing outlets wouldn't cover the Durham story like Fox News did:
Just over one week ago, a bombshell broke in the world of politics. But if you got your news solely from the networks, you might have missed it. On Friday, February 11, Special Counsel John Durham alleged in a court filing that the 2016 Clinton campaign effectively spied on the Trump campaign to push a Russian collusion narrative.

While outlets like The Washington Times and The Washington Examiner jumped on the story immediately, CBS and ABC stonewalled all week, censoring the explosive allegations on their morning or evening newscasts. That's ZERO coverage.

NBC by contrast, offered a meager 5 minutes, 16 seconds on February 17. The network reporting offered a defensive posture, dismissing the "unproven claims" against Clinton.

By comparison, MSNBC produced considerably more coverage than NBC, totaling a whopping 84 minutes, 15 seconds over one week. But it was almost entirely dismissive, insulting people who care about the claims as "total asses." In terms of time, CNN managed a middle ground, 13 minutes, 26 seconds. The network's tone, however, was identical to MSNBC.
Whitlock didn't disclose the fact that the Examiner and Times are right-wing outlets, so of course they would jump on the story. He also lauded the Wall Street Journal -- which has similar (and similarly undisclosed right-wing bias) as "a prestigious media outlet that is actually covering the Durham claims."
The next day, Bill D'Agostino made a video of what the networks "deem[ed] to be more newsworthy than the explosive filing." He didn't mention the fact-checks and debunkings those networks did of right-wing media coverage.
Also on Feb. 22, Christy returned to whine that Seth Meyers said mean things:
NBC Late Night host Seth Meyers returned from his Olympics-induced hiatus Monday night to talk about Special Counsel John Durham's latest filing that showed Hillary Clinton campaign associates sought to access web data in order to spin a Trump-Russia collusion narrative. However, for Meyers, that was not the real story. The real story has been the reaction of Fox News.

After playing a montage of Fox personalities reacting to the filing, Meyers declared: "Disentangling the web of lies here is nearly impossible. Basically, Fox News inaccurately described a claim that had been cherry-picked from a court filing by a special counsel assigned by former Attorney General Bill Barr to investigate the origins of the Russia investigation. And then they lied about that filing to the point where the special counsel himself, John Durham, distanced himself from the Fox News freak out."
Christy retorted with an Olympic-level piece of whataboutism: "Even if Durham has distanced himself from some of the reactions, that still does not absolve Clinton World and the media of spinning a false narrative that resulted in the Mueller probe."Again, the narrative about the Trump campaign canoodling with Russian operatives was not false, and if Durham himself thought right-wing coverage was inaccuratte and overwrought, that's on right-wing media -- of which the MRC is a part.
Then, suddenly, the MRC dropped the story -- a strange move if it was really as "explosive" as it claimed it was. It has been mentioned only twice since then: once in a March 10 post by Curtis Houck in one of his Jen Psaki-bashing sessions, and in a March 2 post by Nicholas Fondacaro complaining again about the "cackling coven" at "The View," which was "joined by Democratic Party princess Chelsea Clinton, who was treated like royalty as they all gushed over her opinions about the address, lawsuits against former President Trump, and how her mother, Hillary Clinton 'took on Fox News' after they reported on how her campaign spied on Trump."
Actually, Fox News' coverage has been debunked and arguably does leave it open to lawsuits , but Fondacaro won't tell you that -- he's getting paid not to.
Posted by Terry K. at 9:08 PM EDT