COVID Misinformer Malone Brought A Friend For Latest WND Interview
Topic: WorldNetDaily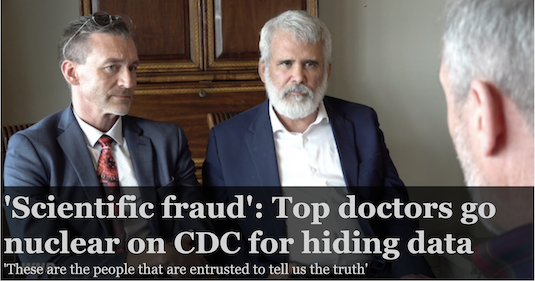 Robert Malone has been one of WorldNetDaily's favorite COVID misinformers, to the point that one of the rare bits of original reporting it has done recently was to interview him. For a Feb. 22 interview with Art Moore, Malone brought a friend:
Urging CDC scientists to speak out, Dr. Robert Malone and Dr. Ryan Cole reacted Monday to the news reported by the New York Times that agency officials admit they have withheld COVID data broken down by age, race and vaccination status because the American people might misinterpret it.

"This meets the criteria of scientific fraud," said Malone, the key inventor of the mRNA technology platform used in the Pfizer and Moderna vaccines. "Withholding data is scientific fraud."
Of course, given how anti-vaxxers like Malone have deliberately misinterpreted VAERS data, it's a valid concern for the CDC.
Moore's next step was to try and pump up the credentials of Malone's buddy:
Cole, a Mayo Clinic-trained pathologist who runs a major diagnostic lab in Idaho, said that as "an ethical physician who took oaths to the human race, this is incredibly disturbing."

"These are the people that are entrusted to tell us the truth," he said of the CDC officials.
In actuality, Cole is an anti-vaxxer and a hydroxychloroquine and ivermectin enthusiast -- to the point tat some of his patients have ended up in the emergency room suffering from COVID after following his advice. His lab was kicked out of Idaho's largest health care network over his divergence from sound medical care. He has falsely claimed that COVID vaccines cause cancer and autoimmune illnesses. In other words, exactly the kind of guy who would buddies with Malone and WND. Moore went on to write:
Cole agreed that they have "an ethical responsibility to humanity" to tell the American people what is going on. Last month, he testified with Malone and other physicians and scientists at a panel convened by Sen. Ron Johnson, R-Wis., called "COVID-19: A Second Opinion." Cole testified that he has observed in his lab over the past year a startling uptick in incidences of clotting, auto-immune diseases and cancers.

"We physicians and scientists have one responsibility, and one responsibility only, and that is the health and wellness of humanity, no matter the inconvenient cost of telling that truth," he said.
If these guys are on the guest list on Johnson's event, you can guess what the rest of it would look like.A nd needless to say, Moore lovingly wrote about it when in happened in January -- but he wouldn't mention all the misinformation spouted at the event. Moore also noted that "Many of the panel members ... spoke at a rally Sunday at the Lincoln Memorial called 'Defeat the Mandates.'" That would be the rally headlined by anti-vaxxer Robert Kennedy Jr. in which he sleazily claimed that Anne Frank was in a better situation hiding from the Nazis than Americans are in facing vaccine mandates (a statement WND censored).
Thus, WND's parade of misinformation continues -- along with its refusal to admit publishing misinformation is why WND is barely staying alive.
UPDATE: WND also featured this dynamic duo in an anonymously written Feb. 23 article:
When Washington state's Board of Health proposed making COVID-19 shots mandatory for public schoolchildren, a local non-profit invited two of the most prominent critics of the vaccines in the scientific community to the Puget Sound area to present their concern to parents, school board members, lawmakers and others.

Dr. Robert Malone, the original inventor of the mRNA technology platform behind the Pfizer and Moderna vaccines, and Idaho pathologist Dr. Ryan Cole were featured in four sold-out sessions, Sunday and Monday, attended by a total of about 2,000 people. WND News Editor Art Moore was one of two interviewers, along with Rachel Cole Harter, who was fired from her position with a pharmaceutical company because she chose not to be vaccinated for COVID-19.

Malone and Cole, in a conversational format in which they spoke as parents as well as scientists, address the key issues of whether or not the vaccines are safe and effective, presenting the latest scientific data and studies.
That"local nonprofit" is something called One Washington, a right-wing anti-vaxxer group that does things like teach people how to evade vaccine mandates and offers lessons in "biblical citizenship."
Posted by Terry K. at 4:56 PM EDT
Updated: Tuesday, March 29, 2022 3:11 PM EDT