MRC Tried To Turn Dubious Durham Filing Into Massive Scandal
Topic: Media Research Center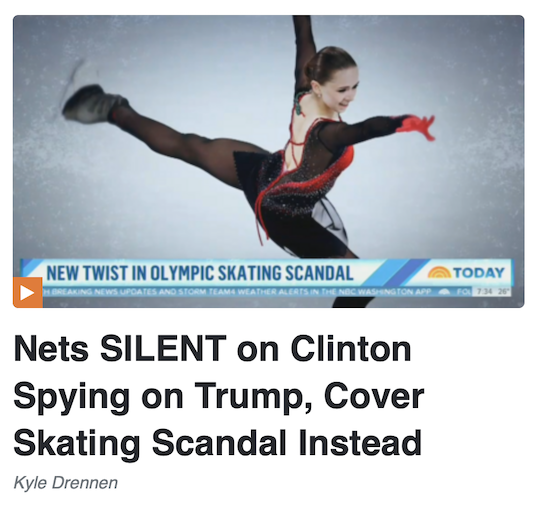 We've said it before: the Media Research Center's true name is the Right-Wing Talking Point Manufacturing Center. One story the MRC particularly wanted to manufacture right-wing talking points about was the filing by special counsel John Durham suggesting that Hillary Clinton's campaign was spying on the Trump White House. The MRC has been trying for a while to force non-right-wingers to take Durham's minor filings seriously; every thing he does is somehow, in Nicholas Fondacaro's words, a "massive development."
When the latest Durham story dropped (on a Saturday night), the MRC was so desperate to push it outside of its right-wing bubble that it pumped out a whopping 41 posts that referenced Durham in just six days, between Feb. 13 and Feb. 19.
Kevin Tober set up the basic narrative in a Feb. 13 post centered on a common MRC complaint, that non-right-wing media won't embrace its partisan narratives:
On Saturday evening, recently released court papers from Special Counsel John Durham's investigation showed that former Hillary Clinton campaign lawyer Michael Sussman paid a tech company to infiltrate computer servers at Trump Tower and the White House while Donald Trump was President in order to somehow tie him to Russia.

Despite this bombshell report, none of the Sunday morning talk shows (Face The Nation (CBS), State of the Union (CNN), & This Week (ABC) covered the story, or even mentioned it. NBC's Meet the Press was preempted by Olympics coverage.

Instead of covering this story, the Sunday shows decided to focus on a different Russia story: what Russian President Vladimir Putin might or might not do in regards to Ukraine, as well as obsessing over the January 6 Capitol Riots that happened over a year ago. Both CBS & CNN had the opportunity to ask Biden Administration National Security Advisor Jake Sullivan about the Durham news but they both failed to consider it.
By contrast, of course, Tober praised Fox News' "MediaBuzz" for lavishing attention on the story.
The "why won't the non-right-wing media cover this right-wing story we're hyping" theme was the focus of several MRC posts over the next day or so:
But when those non-right-wing outlets finally paid attention to the story and saw it for the nothingburger it was, the MRC got mad about that too. Alex Christy huffed in a Feb. 15 post:
On Tuesday morning, MSNBC finally got around to covering Special Counsel John Durham's latest filing that revealed Democratic operatives obtained internet data from the Executive Office of the President and other Donald Trump-related entities in an attempt to spin the Russian collusion narrative. Meanwhile, CNN had only its second mention of Durham.

Unfortunately, both dismissed it with MSNBC's Morning Joe spent 27 minutes and 48 seconds treating it as a Benghazi-like, Fox News-hyped non-troversy while CNN's New Day had two minutes and 23 seconds calling the new revelations "very vague" and wondered if Durham had his facts straight. In contrast, ABC, CBS, and NBC remain uninterested.

Prior to an alleged deep dive into why there's nothing important to see, the MSNBC table viciously mocked and dismissed the claims as being peddled and ingested by "stupid" people while others are "deliberat[e]" liars and dismissed the argument that the allegations were anything close to or worse than Watergate[.]

[...]

Former RNC chair and MSNBC Republican Michael Steele summed it up by declaring that "it just reminds me of just how many times we get caught in the Donald Trump stupid trap and how many times, you know, you watch this process unfold, Joe, in which Donald Trump and his ilk are out there massaging and trying to maneuver the messaging around."

Steele added it's "grist for the mill for Fox News to out and, and further gum up the works, to create a whole lot of noise about nothing. That at the end of the day like Benghazi, after all of the noise and all of their sabre rattling comes to what, right?"
Kyle Drennen got mad at NBC's Chuck Todd for accurately pointing out how the story is a product of the right-wing media bubble:
On his MSNBC show Tuesday afternoon, MTP Daily host Chuck Todd acknowledged the bombshell news from the John Durham investigation but promptly attempted to dismiss evidence of the Hillary Clinton campaign spying on Donald Trump as just something being promoted by "the right-wing echo chamber." He later sneered: "Sometimes facts get in the way of a good meme."

[...]

Correspondent Tom Winter immediately tried to downplay the potentially massive scandal: "Well, there's an analogy that's being thrown around that this is a modern-day Watergate and that's an analogy that's not based on fact....Durham doesn't allege that at all."
Christy returned to complain that the story got mentioned on Jimmy Kimmel's late-night show, but only "to mock those who actually care about the allegations."
Meanwhile, the MRC was still squeezing a couple more posts out of its why-isn't-our-biased-right-wing-story-getting-covered narrative:
Even MRC Latino writer Kathleen Krumhansl joined Team Durham, lashing out at coverage on a Spanish-language channel she didn't like:
Four days after special counsel John Durham revealed new findings in the investigation into the Trump-Russia collision, which states that close associates of Hillary Clinton were monitoring internet traffic at Trump properties and the White House in order to create a "narrative," CNN En Español broke the Spanish-language media's silence with a report that downplayed the news as same-old-same-old material hyped by the conservative media.

Watch as anchor Juan Carlos Lopez duly dismisses the whole Durham affair as nothing more than Trumper rubbish.

[...]

Lopez's fixation with the conservative media as evil purveyors of misinformation -- rule #1 at CNN -- came through right from the beginning: "You may have heard a particular version in the media, especially conservative media,"; and then "Contrary to what conservative media and followers of former President Trump himself say"; and, to wrap it up: "Contrary to the headlines you may have seen.." It appeared that the idea here was to blame everything on conservatives and distract from the real subject in question: Hillary Clinton.
Krumhansl went on to whine about how some "stories were reported on for weeks on end despite there being no evidence whatsoever to support them. For example: Trump's taxes and the 'suckers and losers' hoax, just to name a few." We don't recall the story of Trump allegedly calling members of the military "suckers and losers" to have been covered for "weeks on end" -- or that it was ever definitively proven to be a "hoax." (It's unproven at best.) And Trump himself is responsible for the media attention given to his taxes because of his adamant refusal to publicly release them like every other president and presidential candidate over the past 40-plus years.
Posted by Terry K. at 9:44 PM EDT
Updated: Friday, March 25, 2022 11:20 PM EDT