WND's Vliet Ramps Up COVID Fearmongering, Wants You To Harass Public Officials
Topic: WorldNetDaily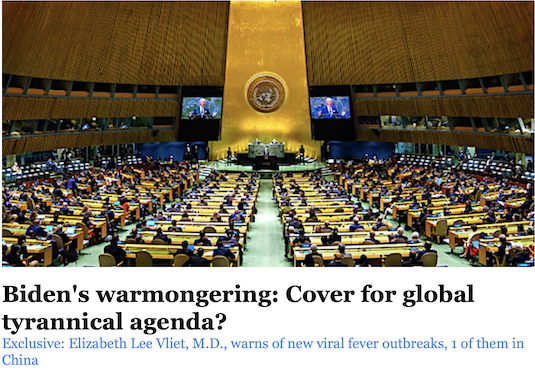 The last time we checked in on medical misinformer Elizabeth Lee Vliet, she was fearmongering about medical care for COVID. In her Feb. 16 WorldNetDaily column, she's fearmongering about a bunch of things.
Vliet began by suggesting that talk of conflict in Ukraine may "signal an orchestrated plan moving toward increasing totalitarian control over Americans and other Western democracies," while also claiming that it "more importantly provides legal 'cover' for forced vaccination of all military members, as well as forced quarantine and compulsory vaccination of American civilians similar to the violent tyranny taking place in Australia and Austria." She did not provide evidence of anyone in American facing "forced quarantine." The fearmongering continued:
Meanwhile, other infectious disease threats are emerging. A hantavirus hemorrhagic fever broke out in China just prior to the Olympics, followed by the abrupt departure of Russian President Vladimir Putin after China's opening ceremonies, reportedly due to several of his security team becoming ill with this serious viral fever. Dr. Li-Meng Yan, Chinese virologist and now whistleblower about China's plans, presented evidence Feb. 12 of China's next biological warfare attack with hemorrhagic fevers.

Then came reports of two other hemorrhagic fever outbreaks: Marburg virus cases in West Africa and South Africa, and two Lassa fever cases in Britain. Is the Olympics being used as a "superspreader" event similar to the October 2019 Military Games in Wuhan, China, which might have started the global spread of COVID-19?
Yan is a conspiracy-mongerer whom even WND agrees has been discredited. Vliet then goes far afield from her alleged medical training:
Military and Border Patrol whistleblowers report a greater than 1,000% increase in "masked flights." These are private charters contracted by the Department of Homeland Security that originate from U.S. southern border airports and take planeloads of illegal migrants to facilities around cities across America – at taxpayer expense. Why is such a buildup of mostly military-age unvaccinated migrant males, in America illegally, taking place across America at the same time our own experienced military service members are being purged from the military for requesting a vaccine exemption?

At the same time, Americans are subjected to draconian efforts to stifle free speech through collusion of Big Tech, media, global corporations and government at all levels, exemplified by the Department of Homeland Security's recent designation of COVID and vaccine educational programs counter to the government narrative now being considered "misinformation" and a domestic terrorism threat.

The confluence of all these events should concern every thinking American. There are many unanswered questions, but "connecting the dots" creates a potentially chilling picture. Could all these events serve the globalist agenda of continuing the takeover of America's Constitution and our Bill of Rights?

What does this agenda mean for Americans? Are globalists planning to take control of YOUR life under cover of "protecting" you from a crisis they are creating?
Vliet's first two bullet points for action involve harassing public officials: "File criminal complaints with your state attorney general" and "Investigate the use of the surety bond process with public officials who are not following the rule of law and duty to serve the public." Surety bonds are used by governmental entities as a form of liability insurance; far-right anti-mask activists are filing claims against those bonds to harass and intimidate public and school officials and attempt to mess up their funding.
Vliet also plugged making a "kit of supplies with medicines, supplements, medical records and other supplies you would need in event of any disaster such as hurricanes, winter storms, tornadoes or a new pandemic." She linked to her own anti-vaxx group, Truth for Health Foundation, for instructions on how to make such a kit. The fact that she still calls the COVID vaccines "experimental" tells you all you need to know about dubious medicine involved in this venture.
By the way, on the foundation's front page are recent discussions from Vliet that include "ARTIFICIAL INTELLIGENCE IS MICROWAVING YOU WHEN YOU WATCH VIDEOS IT DOESN'T WANT YOU WATCHING." She is not a serious person -- which you already knew because she's also affiliated with the fringe-right Association of American Physicians and Surgeons.
Posted by Terry K. at 6:07 PM EDT
Updated: Tuesday, March 22, 2022 7:32 PM EDT