CNS Tried To Clean Up After RNC's Resolution Attacking Cheney, Kinzinger
Topic: CNSNews.com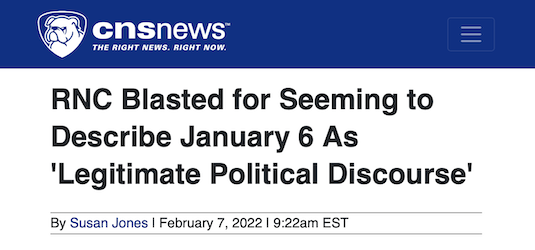 CNSNews.com knew the Republican Natoinal Committee had a debacle on its hands when it passed a resolution censuring Republican Reps. Liz Cheney and Adam Kinzinger for taking part in the House's committee to examine the January 2021 Capitol riot incited by President Trump as Congress was certifiying his defeat. In a Feb. 7 article under the headline "RNC Blasted for Seeming to Describe January 6 As 'Legitimate Political Discourse'," Susan Jones complained that the poorly worded resolution "handed Democrats a damaging talking point":
In a resolution censuring Republicans Reps. Liz Cheney and Adam Kinzinger, the Republican National Committee has put a glaring spotlight on itself and handed Democrats a damaging talking point.

In laying out the case against the two lawmakers, the resolution's final "WHEREAS" references Cheney and Kinzinger's participation in the House Select Committee on the events of January 6, 2021:

"Representatives Cheney and Kinzinger are participating in a Democrat-led persecution of ordinary citizens engaged in legitimate political discourse, and they are both utilizing their past professed political affiliation to mask Democrat abuse of prosecutorial power for partisan purposes, therefore, be it RESOLVED, That the Republican National Committee hereby formally censures Representatives Liz Cheney of Wyoming and Adam Kinzinger of Illinois and shall immediately cease any and all support of them as members of the Republican Party for their behavior..."

Critics, including some Republicans, pounced not only on the censure itself, but especially on the phrase "ordinary citizens engaged in legitimate political discourse."
Jones gave space to the NRC chairwoman to try and clean things up:
RNC Chair Ronna Romney McDaniel, in several tweets on Feb. 4, blasted a New York Times headline, which read: "G.O.P. Declares Jan. 6 Attack 'Legitimate Political Discourse."

"This story from the New York Times is completely false," McDaniel tweeted. "It's not journalism, it's the worst type of baseless political propaganda."

In another tweet, McDaniel wrote: "Cheney and Kinzinger chose to join Pelosi in a Democrat-led persecution of ordinary citizens who engaged in legitimate political discourse that had nothing to do with violence at the Capitol. The NYT needs to correct this story now, or again expose themselves as political hacks."

And in a third tweet, McDaniel wrote: "I have repeatedly condemned violence on both sides of the aisle. Unfortunately, this committee has gone well beyond the scope of the events of that day."
The problem, of course, is that what Daniel said is not what the resolution says. Jones did report on Republicans criticizing the resolution and its language, but she also claimed that "Murkowski and Romney often go against the party line" -- without mention that the "party line" has been to discredit the House committing investigating Jan. 6 and allow Trump and his cronies to go unpunished for their actions.
The next day, Melanie Arter unhappily reported on the Biden White House commenting on the resolution:
The White House on Tuesday condemned the Republican National Committee (RNC) for using the phrase "legitimate political discourse" in a resolution censuring Reps. Liz Cheney (R-Wis.) and Adam Kinzinger (R-Ill.) for investigating what happened at the U.S. Capitol on Jan. 6.

"Your reaction to the RNC declaring what happened on January 6 as legitimate political discourse, and Democrats on the Hill today are being very vocal about this. Hakeem Jeffries says the C in RNC stands for cult. Does the White House agree with that?" a reporter asked.

"I think it's clear to Americans that what happened on January 6 was not legitimate political discourse. Storming the Capitol in an attempt to halt the peaceful transition of power is not legitimate political discourse. Neither is attacking and injuring over 140 police officers, smashing windows and defiling offices," White House Press Secretary Jen Psaki said.
Arter rehashed parts of Jones' article featuring Daniel uncsuccessfully trying to explain away the resolution, but she also noted that "Senate Minority Leader Mitch McConnell (R-Ky.) criticized the RNC for censuring Cheney and Kinzinger."
It seems, though, that CNS ultimately decided the resolution wasn't worth defending. A Feb. 14 article by Arter quoted Republican Maryland Gov. Larry Hogan defending "sane Republicans" and saying, "To say it's legitimate political discourse to attack the seat of our Capitol, and smash windows, and attack police officers, and threaten to hang the vice president, and threaten to overthrow the election, it's insanity, and it's a -- there's a circular firing squad where we attack Republicans." And a Feb. 18 article by Arter uncritically quoted Hillary Clinton as saying, "When the Republican Party officially embraces violent insurrection as legitimate political discourse, when storming the Capitol, assaulting police officers, trying to overturn an election are being normalized, we are in uncharted territory, and make no mistake, our adversaries around the world are watching."
Posted by Terry K. at 12:43 AM EST