MRC Is Upset M&M Characters Getting A Design Update
Topic: Media Research Center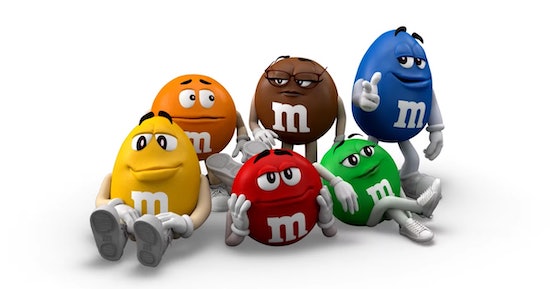 Last year, the Media Research Center was a top combatant in right-wing culture wars, whining about everything from cereal to Legos to Muppets mostly for failing to hate non-heterosexual people enough. It's a new year, but the MRC has the same old culture-war things to complain about -- like the female M&M characters being made less stereotypically female. Gabriel Hays was the designated complainer in a Jan. 20 post:
What a time to be alive! M&Ms has made its Green M&M mascot less sexy. All is well with the world.

Yep that's a real news development and it's not just about the green M&M losing her high heels and having her "come hither" demeanor turned way down. All the zany M&Ms characters that fill the candy product's ads are getting their toxic personalities adjusted for the sake of inclusivity, as declared M&M's parent company Mars.

Well this is downright pathetic.

[...]

I previously enjoyed M&Ms because I really loved objectifying the anthropomorphized piece of green candy-coated chocolate and her sexy voice.

Thankfully pervs like me will be snapped out of this lust by such soul-saving corporate decisions.
Well, we wouldn't call Hays a "perv," but he does seem unnaturally obsessed with transgender people, so...
Anyway, Hays wasn't done sneering:
And Ms. Green M&M isn't the only sexpot that's being told to put some clothes on. The brown female M&M has "transitioned from high stilettos to lower block heels and a fresh pair of glasses." Oh yes, because she's sexy AND smart.

Though I don't know, Mars. You might be playing right into the hands of guys who fetishize the sexy librarian look. Might we suggest putting her in a brown paper bag to be completely safe. Or how about putting her in a Burka? Actually yeah! Think of it! You'd get even more diversity points!

[...]

In addition to this marketing idiocy, Adweek mentioned that M&Ms "will stop attaching prefixes to the characters' names to prompt people to focus more on their unique personalities rather than their gender."

Well even if they removed peanut M&Ms from their candy lineup, M&Ms will always contain nuts. This is insane stuff.
But, really, what's more insane -- a company updating its image, or a right-wing activist getting paid to write several hundred words whining that the image update doesn't conform to his preferred gender stereotypes?
Posted by Terry K. at 10:47 AM EST