CNS Editor Likens Vaccine Mandate to Sterilization Mandate
Topic: CNSNews.com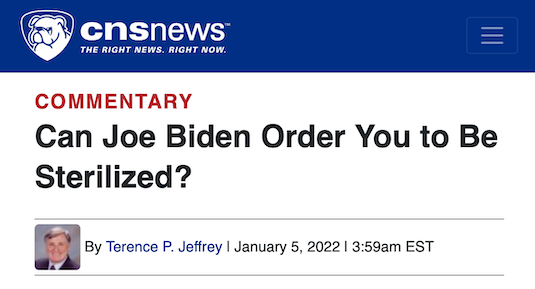 CNSNews.com editor Jerry Jeffrey began his Jan. 5 column with a provocative claim:
Can President Joe Biden order your employer to make sure you are sterilized? Or can he order your employer to make sure you have been vaccinated for COVID-19?

The first question here focuses on a hypothetical. The second does not.
Yes, Jeffrey is suggesting that getting vaccinated is like getting sterilized. He followed that with a blast from the past: an attack on a longtime target, former Obama administration officlal John Holdren, whom CNS was obsessed with throughout the Obama presidency because he once advocated population control efforts in the 1970s. Holdren has no connection with the Biden administration, of course, but Jeffrey suggests that his having "served with Biden in the Obama administration" is apparently close enough, though it's a guilt-by-association fail -- especially since Holdren never advocated population-control policies during his time in the Obama White House.
Jeffrey's reference fails for another reason: Jeffrey offers no evidence that Holdren ever advocated mandatory sterliization to achieve his onetime population-control beliefs. Nevertheless, he went on to stretch his hypothetical to the limit:
Now, suppose in America we were able to develop the technology to sterilize someone simply by giving them two shots in the arm three weeks apart — just like getting the COVID-19 vaccine.

Could some future president, given the environmental threat to our planet that some scientists believe is driven by population growth, order that every American who has had two or more children get these two shots?
Jeffrey concluded his column by grudginging admitting that vaccines work, then scaremongered anyway by making a sudden and unwarranted leap to abortion:
There is no doubt that COVID-19 vaccines have been good for America and for the world. They have saved lives.

But the president of the United States does not have the unilateral authority to order any American to undergo any medical procedure.

If the Supreme Court were to grant this unjustified power to Biden now, who does not acknowledge the right to life of the most innocent and vulnerable human beings (the unborn), what would he or his successors use it for next?
Jeffrey is making bad-faith arguments here, hitting right-wing hot-button issues where there's no serious discussion of the extremes he's suggesting in order to poison the wll against vaccine mandates.
Posted by Terry K. at 11:24 AM EST