MRC Protected Fox News Over Its Jan. 6 Coverage
Topic: Media Research Center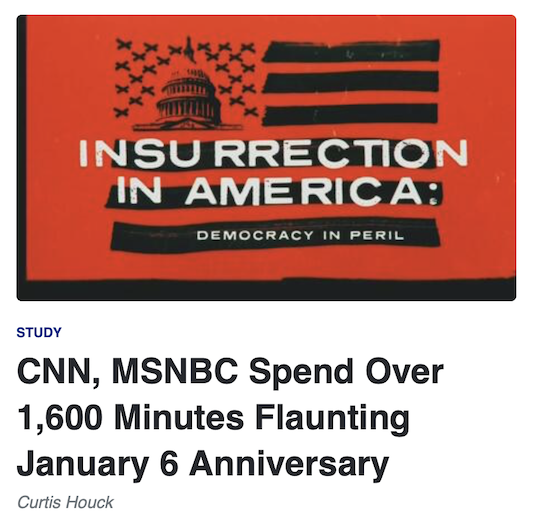 We've seen the Media Research Center preemptively whine about Capitol riot anniversary coverage, then lash out at President Biden's speech marking the occasion as well as anyone who liked the speech. Now we've reached the stage where it tries to make Fox News look good by attacking CNN and MSNBC.
Mark Finkelstein got mad that MSNBC highlighted Repubican criticism of the riot:
The enemy of my enemy is my friend, per the ancient adage. And thus, as Democrats aggressively marked the anniversary of the January 6 riot to condemn Donald Trump, MSNBC took a moment to praise Liz and Dick Cheney and Karl Rove for taking a stand with the Democrats in condemning the riot. As if other Republicans didn't.
Nicholas Fondacaro, meanwhile, had a meltdown over CNN's special on the riot because it called out Fox News' role in stoking it:
For years now, the liberal media have been telling us the country is in a "cold civil war" or a "neo-civil war" because people and policies they don't like have popularity. But according to CNN's Anderson Cooper during the network's January 6 primetime special (Live From the Capitol: January 6th, One Year Later) it was the folks at "other networks" – aka Fox News – that were "relishing the idea" of sparking another civil war in America.
But rather than offer any defense of Fox News, Fondacaro bizarrely focused on CNN's failure to say the words "Fox News" in its criticism, even though we all know who they're referring to: "Speaking of bravery, why couldn't either of these men speak up and name names? Who was calling for a civil war? Who was against the police? That's because if they did, then they would need to prove their accusations."
Curtis Houck, meanwhile, complained about how much time CNN and MSNBC spend on anniversary coverage:
It was bound to be a nauseating day for anyone who turned on CNN or MSNBC Thursday during their voluminous coverage for the first anniversary of the January 6 riot at the U.S. Capitol and, according to a NewsBusters tallying of their live programming (20 hours on CNN and 19 hours on MSNBC), they didn't disappoint.

All told, the two far-left channels spent 1,653 minutes marking the occasion and demonizing all 75 million-plus Trump voters.

With the formal total clocking in at 1,653 minutes and two seconds (and translating to 27 hours, 33 minutes, and two seconds), MSNBC's 838 minutes and 33 seconds surprisingly beat out the perpetually degrading and perhaps most insufferable CNN, which had 814 minutes and 29 seconds.
It's bizarre that Houck thinks telling the truth of what happened that day is "nauseating" -- what about the truth sets off that nausea? -- and the act of doing so makes one "far-left." And it's curious that Houck didn't serve up the amount of time Fox News spent on the anniversary. After all, wouldn't a comparison of coverage with his favorite TV channel be useful here?
Houck also sneered at a riot victim, huffing that "retired Capitol Police officer Michael Fanone — who's cashing in on his service and anti-Trump rhetoric by becoming a CNN law enforcement analyst, proclaimed on New Day that the right's 'still engaging in the same violent rhetoric' from a year ago, adding that Republicans are 'insurrectionist' 'jackasses.'" Houck didn't mention that rioters attacked Fanone with a stun gun, while another rioter yelled, "Kill him with his own gun!" Houck did not dispute any characterization of the rioters by Fanone, and for him to claim Fanone is "cashing in" on being severely beaten by a pro-Trump mob is sickening.
Houck tried for an sad little pro-Fox own in another post:
CNN and MSNBC spent over 1,600 minutes Thursday obsessing over the first anniversary of the January 6 riot on the U.S. Capitol, but it failed to translate into any success in the ratings department.

Thanks to early numbers from Nielsen Media Research, the Fox News Channel cruised to an easy victory in both total viewers with roughly 1.567 million and 245,000 in the 25-54 demographic.

According to a Fox News press release, FNC defeated CNN "in every hour across both categories" as the Jeff Zucker-led channel was only able to fetch 742,869 total viewers overall and 139,202 across Thursday in the demo.

MSNBC was able to best CNN in total viewers with about 1.049 million viewers, but narrowly lost in the 25-54 group as the Comcast-owned property garnered just 136,019 viewers.
Houck made sure not to mention the fact that CNN and MSNBC's coverage together beat Fox News, which demonstrated there was a bigger audience for that content. And, again, Houck didn't elaborate on the contents of Fox News' coverage (aside from mentioning a supposedly "challenging and substantive interview" with Liz Cheney on Fox) or how much time it spent on the anniversary.
Posted by Terry K. at 7:50 PM EST