WND Tries To Work Up Some Old-Fashioned Mosque Panic
Topic: WorldNetDaily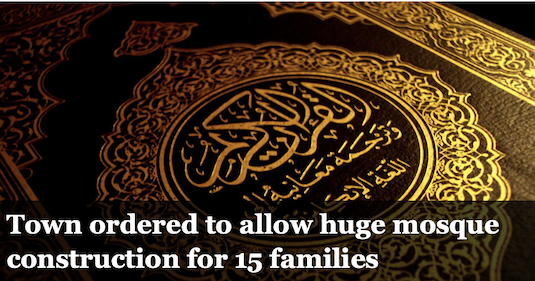 Back in the day, WorldNetDaily loved to freak out over mosques getting built in the U.S., especially if religious freedom laws had to be invoked against Islamophobic officials to make it happen (even though WND approved when Christians made use of those very same laws). So, an anonymnously written Jan. 6 WND article was a bit of a throwback:
A federal judge has approved a consent degree involving Horn Lake, Mississippi, a suburb only a mile from the Memphis, Tenn., area, that requires city officials to ignore concerns over traffic, noise and potential fire hazards and allow a mosque construction project.

WREG reported the American Civil Liberties Union was boasting of obtaining a consent degree that will require the town of about 25,000 to allow a mosque project.

Local officials earlier had voted against it, and Alderman John Jones said there were unresolved issues involving traffic, possible noise violations, and fire hazards.

The federal court document requires the town to approve the building plan within 14 days and also pay $25,000 to the mosque building project.

[...]

The Gateway Pundit noted the "gigantic" mosque will "accommodate" the 15 Muslim families in the region.
The Gateway Pundit offered no evidenceto supp[ort its claim that the mosque will be "gigantic"; nevertheless, theproposed mosque is described as "huge" in the headline of the WND article. Unmentioned at all by WND was the fact that Horn Lake already has 13 churches.
The article also complained that "The ACLU claimed the town's decision was based on 'anti-Muslims bias'" but didn't mention the evidence for that: the mosque was denied even though the property was properly zoned and all paperwork was properly submitted, or that a city alderman literally said the mosque was denied "because they're Muslims."
WND also didn't mention that the ACLU lawsuit invoked the Religious Land Use and Institutionalized Persons Act -- again, the same law that WND cheers when Christians invoke it. And while it hyped "traffic" as a supposed issue with the mosque, it also highlighted the mosque is being built for "the 15 Muslim families in the region"; it didn't explain how 15 families would cause traffic issues.
Posted by Terry K. at 5:31 PM EST