MRC Hated Biden's Jan. 6 Speech, Attacked Anyone Who Did
Topic: Media Research Center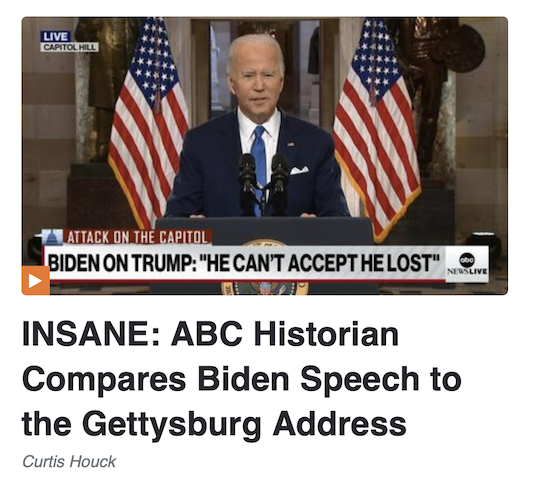 The Media Research Center's coverage of the Capitol riot anniversary started with preemptively whining about everyone else's coverage before it even aired. The coverage continued by lashing out at President Biden's speech on the anniversary and at anyone who liked the speech. Kyle Drennen ranted at NBC's Chuck Todd for liking it, then praised other network commentators for being somewhat less effusive:
During NBC News special coverage of President Biden's divisive speech using the anniversary of the January 6 Capitol Hill riot to attack Republicans, Meet the Press moderator Chuck Todd absurdly claimed the screed was not partisan "if you're pro-democracy and pro-America." He also predictably hailed the address as Biden at his "best."

"I thought it was an important moment that he did do this....This is important for now and it's important for the history books here," Todd gushed over Biden's remarks. The journalist then promptly dismissed anyone criticizing the speech for being divisive:

[...]

In sharp contrast to Todd, CBS Mornings host Tony Dokoupil described Biden's address this way: "He ended the speech with a reference to the United States of America, underlining that word 'united.' But much of the speech was anything but a unification message." Though to be clear, Dokoupil wasn't criticizing, he was thrilled: "[Biden] called the former president a defeated president and ticked off three lies that he laid at the feet of that former adversary...trying to restore the country's attention to a particular set of facts that are important and are high-stakes for future of this nation."

Meanwhile, during ABC's special coverage of the presidential address, World News Tonight anchor David Muir proclaimed: "You could clearly hear the passion in his voice as he told the American people what's at stake as we mark this one year mark since January 6th. Articulating the case that this democracy is fragile and must be protected." Correspondent Cecilia Vega applauded: "...these were his strongest words yet on former President Trump since he has taken office....these attacks were personal and they were one after the next..."

On NBC, Todd cheered Biden as nonpartisan. On CBS and ABC, the President was celebrated for being highly divisive and launching personal attacks. Were they all watching the same speech?
A few hours later, Drennen lashed out at Todd again:
The cavalcade of leftist media idiocy regarding the one year anniversary of the January 6th Capitol Hill riot reached a new low on MSNBC Thursday afternoon as anchors Chuck Todd and Andrea Mitchell ridiculously wailed that current divisions in the country were worse than during the Civil War. Todd went so far as to utter the historically illiterate nonsense that "Lincoln's election was more accepted in 1860," than Joe Biden's election in 2020.

"The election, the peaceful transfer of power, something that since the Civil War, we have never argued about, we have never had a disagreement about – actually, since the founders," Mitchell proclaimed early in the 2:00 p.m. ET hour. That prompted Todd to chime in: "Yeah, Lincoln's election was more accepted in 1860."

Apparently Todd missed history class the day it was taught that half the country seceded following Lincoln's electoral win in 1860, sparking the Civil War, which killed 600,000 people. In April of 1865, just months after being reelected in 1864, Lincoln was assassinated.

Rather than challenge such an insane and blatantly false assertion from Todd, Mitchell agreed: "Exactly. And I was just thinking about that, even the Civil War, we did not disagree with the passing of power."
Drennen didn't mention that his employer -- through its promotion of a version of Trump's Big Lie -- does not accept Biden's eleciton.
Curtis Houck similarly lost it in bashing another speech-lover:
Continuing Thursday's theme of news organizations allowing all nutty comparisons to fly on the anniversary of the January 6 riot, ABC News presidential historian Mark Updegrove proclaimed after President Biden's "powerful" speech that it belonged alongside those from "FDR after Pearl Harbor," "Lyndon Johnson after Selma," "George W. Bush after 9/11," and, most egregiously, Abraham Lincoln's Gettysburg address.

Appearing on the network's streaming platform and asked by host Kyra Phillips whether "history" can "be rewritten," Updegrove replied that "the future of the country is at stake" without heeding Biden's words (and thus his agenda), which served as "a powerful statement about democracy."

"This was FDR after Pearl Harbor. This is Lyndon Johnson after Selma. This is George W. Bush after 9/11. Joe Biden wasn't able to make a statement after – after January 6th," Updegrove said, adding that Biden had "wanted to unite the nation" at his inauguration, but it was time for a change.

[...]

Unfazed by the insanity that, as per his logic, Trump supporters are akin to al-Qaeda hijackers and Japanese bombers, Phillips invited him to explain "why is it so important for us to continue to remember this moment in history as we move forward."
Having sufficiently lashed out at Biden and anyone who likes him, it was Nicholas Fondacaro's turn to lash out anew at more coverage of the anniversary:
As NewsBusters documented Thursday morning, the anniversary of January 6 was their Super Bowl as the broadcast networks (ABC, CBS, and NBC) spent nearly 90-combined-minutes obsessing over the riot at the Capitol like their political careers depended on it. That infatuation cared over through half-time (to stick with the football nomenclature) to their evening newscasts where CBS and NBC each gave it over 80 percent of their total airtime.

NBC Nightly News was arguably the most political invested given their ties to MSNBC. Of their total airtime dedicated to delivering the news (18 minutes and 33 seconds) they spent 15 minutes and 27 seconds, or 83.3% on January 6 and stories related to it.

Not included in these time tallies are the opening teases, pre-commercial teases, teases of upcoming network content/reports, and commercials.
curiously, Fondacaro did not count up the amount of time Fox News devoted to the annniversary -- you know, for comparison purposes.
Kevin Tober, manwhile, was upset that NBC's Lester Holt did an interview with Nancy Pelosi:
NBC News has always been in the tank for the Democratic Party, and Thursday was no different. On NBC Nightly News during an exclusive interview with House Speaker Nancy Pelosi on the topic of the anniversary of the January 6 Capitol Hill riots, Lester Holt gave her a fluffy softball interview that was a borderline therapy session.

The first question was probably the most sycophantic toward Pelosi where he asked about President Biden's divisive speech earlier in the day where he attacked former President Trump. Lester praised Biden's speech and wondered why he hadn't given it sooner:

[...]

Next up, Holt played therapist instead of journalist and asked Pelosi to share her experience on January 6 and how she felt: "I want you to take me into that day if you will. We all remember you being quickly escorted off the podium. I've heard you talk about it before. You didn't want to go." Holt empathized: "Do you think now, though, knowing what you know, do you think about what would have happened had you stayed?"
Tober went on to pretend to be appalled that "Holt would try to portray partial-birth abortion-loving Pelosi as some kind of devout Catholic," going on to rant: "She has always been a bitter divisive partisan Democrat. The fact that Lester Holt would let her get away with this act shows how far in the tank he is for the liberal agenda."
Then again, Tober and the rest of the MRC crew are bitter, divisive, partisan Republicans, so maybe their media criticism isn't worth much.
Posted by Terry K. at 7:08 PM EST