CNS' 'News' Coverage Lashes Out At Those Marking Capitol Riot Anniversary
Topic: CNSNews.com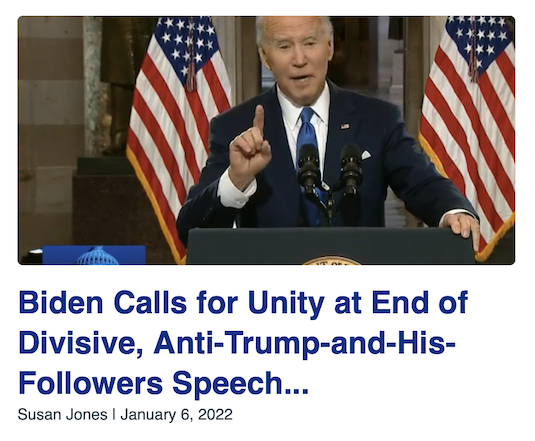 CNSNews.com started its coverage of the anniversary of the Jan. 6 Capitol riot a few days before the actual event. Susan Jones complained on Jan. 3:
This is a big week for people intent on keeping alive memories of the disgraceful January 6 attack on the U.S. Capitol.

Rep. Bennie Thompson (D-Miss.), chair of the select committee investigating the events of that day, told CNN's "State of the Union" on Sunday that he fears a repeat of the attack:

Host Dana Bash asked Thompson, "Are you worried that an attack on our democracy like we're seeing right there with our own two eyes on January 6 last year could happen again going forward?"

"Yes, I am," Thompson replied:
Jones went on to whine that "The Democrat-led House of Representatives is now preparing to commemorate (or politicize) the events of January 6 with a "historic perspective," "Members' testimonials," and a prayer vigil, among other events." She did begrudgingly concede, though, that Trump watched the insurrection on his behalf unfold but did nothing: "Horrified Americans watched the events in real time on television, and so, apparently, did President Donald Trump."
An anonymous CNS writer grumbled the same day that "House Speaker Nancy Pelosi (D-Calif.) sent a letter to her Democratic House colleagues on Dec. 30 informing them of the events that have been scheduled for the U.S. Capitol on Jan. 6 (when the House will not be in session). One of these events is a 'prayer vigil.'" Jones used a Jan. 5 article to complain that a member of the House Jan. 6 committee "endorsed the idea of holding committee hearings in prime-time so more Americans can watch the Trump vilification unfold."In another article the same day on a preview of President Biden's speech agout the attack, Jones huffed:
Biden, speaking four days after the 2020 election, pledged to be "a president who seeks not to divide, but unify" the country. But more than a year later, the country is more divided than ever.

And continuing to this day, Democrats have seized on the January 6 attack by angry Trump supporters to disparage Republicans in general and all Trump supporters in particular.

[...]

Schumer and other Democrat [sic] activists are hoping that memories of the attack, and video replayed on cable-TV outlets, will produce momentum for their voting legislation, which would set federal rules for elections that are run by the states.
And, again, this is all before the eventa of the actual anniversary began. You can imagine how she and the rest of the CNS crew would ramp that up. Indeed, she began the day with an article quoting from then-Vice President Mike Pence's remarks that day denouncing the riot, adding:
As Democrats and their allies in the leftist media fall all over themselves today blaming Republicans for crimes committed at the U.S. Capitol one year ago, it is worth remembering that the nation's Republican vice president not only condemned the violence -- he noted that the subsequent election certification showed "the resilience and strength of our democracy."
Conspicuous by its absence is any mention of what the nation's Republican president said or did that day. Another article by Jones, meanwhile, played whataboutism on the riot:
Tom Manger, the top cop entrusted to protect members of Congress and the Capitol, believes the best deterrent for crime is "consequences."

But around the country, leftist district attorneys are going soft on criminals, as is now the case in New York City, where a growing number of citizens are afraid to walk the streets in broad daylight. The new Manhattan District Attorney has exacerbated those concerns (more on that below).
This is a "news" article, by the way, not a marked opinion piece.
When it finally came time to report on Biden's actual speech, Jones whined that "Biden's tone was forceful, even angry," and that he said unflattering things about Trump and Republicans as a whole:
"I believe the power of the presidency and the purpose is to unite this nation, not divide it," President Joe Biden said in a stern -- and at times almost angry -- speech marking the January 6 attack on the U.S. Capitol.

Biden made 16 references to "the former president," blaming him for rallying the mob to attack the Capitol; mocking him as "not just a former president but a defeated former president" who lost by 7 million votes; and saying Trump's "bruised ego matters more to him than our democracy or our Constitution."

Biden did not spare Trump's "followers" or even Republicans: He said "too many" Republicans are "transforming the party" by supporting "a single man." "They seem no longer to want to be the Party of Lincoln, Eisenhower, Reagan, the Bushes," Biden said.
Jones tried to rebut Biden's statement that "This was an armed insurrection" by parenthetically adding, "The only shot fired on that day came from a Capitol Police officer's gun, killing a protester" -- as if fire extinguishers and flagpoles weren't weapons when the insurrectionists used them to attack police officers.
Jones' complaining continued:
Then Biden launched into a discussion about truth and lies, suggesting that Republicans, especially Trump and his supporters, have cornered the market on "big lies."

[...]

Then Biden attacked Republicans, saying "too many" are "transforming the party" by supporting "a single man." "They seem no longer to want to be the party -- the party of Lincoln, Eisenhower, Reagan, the Bushes," Biden said.

Biden also accused "the former president's supporters" of "trying to rewrite history."

"Here's the truth," he said. "The election of 2020 was the greatest demonstration of democracy in the history of this country...over 150 million Americans went to the polls and voted that day, in a pandemic."

Then came Biden's political pitch for passage of partisan Democrat [sic] legislation that would allow federal rules to pre-empt and weaken state rules governing elections:
Written like someone who gets paid to insert biased editorial comment into her "journalism."
Posted by Terry K. at 2:08 PM EST