MRC's Tech-Bashing Year-End List Shows How It's Beholden To Trump, Misinformation
Topic: Media Research Center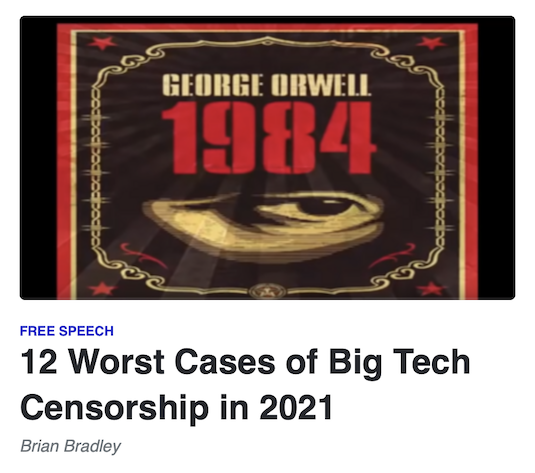 A Dec. 16 Media Reserarch Center post by Brian Bradley was a year-end roundup of the "12 worst cases big tech censorship" that sought to reinforce the MRC's victim narrative:
Big Tech and social media platforms censored conservatives in 2021 with a ruthlessness and standardization never seen before.

Silicon Valley Big Tech giants like Twitter and Facebook appear to have adopted an explicit policy to suppress conservative views and encourage the spread of leftist dogma, as several media reports have revealed.
Bradley parroted the talking point that "Before banning former President Donald Trump following the Jan. 6 Capitol riot, Twitter had censored Trump and his campaign 625 times, without censoring Joe Biden at all." The accurate way to say it is that Trump violated Twitter's terms of service 625 times, while Biden didn't violate them at all. Bradley's distortion makes it totally unsurprising that the first item on this list is Trump's ban from social media:
The first notable examples of prominent censorship in 2021 are also, distinctly, the worst.

Facebook, YouTube and Twitter acted in chorus to censor the former president in January, days after the Jan. 6 Capitol Hill Riot.

The collective action to silence the head of the world's leading republic stands apart as a show of force by the Big Tech overlords, apparently to present themselves as a dominant societal force and to use the Jan. 6 event as a scapegoat for their agenda.
Bradley made sure to censor the fact of exactly why Trump was banned: he used those social media accounts to help incite the Jan. 6 "event."
Let's look at a few more on this list. Bradley helps the MRC to once again come donw on the side of misinformation for No. 2:
In December, Twitter's terms of service adopted new totalitarian language, including claims that certain speech about COVID-19 "may lead to harm" and that "persistent conspiracy theories" and "alarmist rhetoric unfounded in research" can threaten people and communities.

In addition to this Orwellian virtue-signaling, the platform informed users that they can expect to be permanently banned from the platform if they get five "strikes" for spreading purported COVID-19 "misinformation."

Penalties extend to factual claims, tweets that are "demonstrably false or misleading, based on widely available, authoritative sources"; as well as language deemed likely to affect "public safety" or "cause serious harm."
Only at the MRC would efforts to promote factual, life-saving health information be seen as "totalitarian."
Bradley merged both of the above for No. 4, in which he endorsed misinformation about elections:
The three Big Tech platforms quickly acted to suffocate any breath questioning the legitimacy of the November 2020 election.

On Feb. 1, Twitter banned the account of My Pillow, a week after the platform banned company CEO Mike Lindell's account. Both accounts had been tweeting claims of election fraud. Shortly thereafter, on Feb. 5, YouTube deleted Lindell's documentary "Absolute Proof" about election fraud amid fears Dominion Voting Systems would sue for defamation. Dominion had already sent Lindell a cease-and-desist letter.

On Feb. 5, Twitter censored a quote-tweet by journalist Tim Pool of Gateway Pundit journalist Cassandra MacDonald (formerly Cassandra Fairbanks), who had tweeted a video showing a van arriving at a Detroit voting location several times in the morning and apparently unloading dozens of boxes each trip. Twitter labeled Fairbanks' tweet with its most restrictive label, which reads: "This claim of election fraud is disputed, and this Tweet can't be replied to, Retweeted, or liked due to a risk of violence."
Brfadley is leaving out important facts: 1) The MyPillow account was "banned" because Lindell violated Twitter policy by using it to evade the ban on his personal account. 2) The video MacDonald tweeted out did not show evidence of election fraud, and her claim that it did was a lie.
Bradley's No. 5 again endorsed the fringe:
While plain censorship has striking real-world impacts, terminating someone's access to finance has uniquely practical and invasive effects.

Wells Fargo shut down the account of former Republican Senate candidate Lauren Witzke of Delaware in June, telling her only that the action was a "business decision," and that the bank can close her account at any time, giving apparently no further explanation.
Bradley censored the fact that, as we've documented, Witzke has a history of promoting QAnon conspiracy theories, praising the right-wing thugs in the Proud Boys for providing security at a pre-election rally, and hanging out with anti-Semites. Bradley didn't explain why Wells Fargo, as a private business, has the right to choose who it does business with just like the folks who run that cake shop.
No. 8 on Bradley's list is an attack on an old bogeyman:
The Wall Street Journal released a trove of internal Facebook files showing the company's internal debates about how far it can go in censoring conservatives in October. The Journalcalled attention to two censorship tools used to suppress content. One tool, called "Sparing Sharing," allegedly reduced the reach of frequent posters who "disproportionately shared false and incendiary information," The Journal wrote.

A second tool, "called 'Informed Engagement,' reduced the reach of posts that people were more likely to share if they hadn't read them," reported The Journal. When combined, the two censorship tools greatly impacted the reach of conservative news content shared on Facebook. Facebook's own "political ideology analysis" indicated that multiple conservative outlets would do far better if strict moderation tools were removed, "with Breitbart's traffic increasing an estimated 20%, Washington Times' 18%, Western Journal's 16% and Epoch Times' by 11%."
Bradley didn't mention that the Journal obtained those files from a former executive named Frances Haugen, whom the MRC has been trying to discredit for holding "leftist" views and insisting that she's not a real whistleblower -- which just so happens to be the script that Facebook fed to right-wing media.
No. 10 is another fun MRC friend:
YouTube removed videos from the channel of Brazilian President Jair Bolsonaro in July, after he provided his opinions on COVID-19. Bolsonaro had been publishing weekly addresses on his channel where he talks about issues important to Brazil, but YouTube removed 15 of his videos for so-called misinformation regarding COVID-19, according to the BBC.

The platform appeared to target the Brazilian president for mentioning alternative treatments to combat COVID-19. "'Our policies don't allow content that claims hydroxychloroquine and/or Ivermectin are effective to treat or prevent Covid-19, claims that there is a guaranteed cure for Covid-19, and claims that masks don't work to prevent the spread of the virus,'" YouTube reportedly told the New York Times in a statement.
The MRC just loves it when right-wing authoritarians who suppress and censor dissent in their own countries complained about being "censored" on social media.
Bradley touted another COVID misinormer for No. 11:
Continuing social media's trend of censoring views straying from COVID-19 orthodoxy, Twitter permanently suspended New York Times journalist and author Alex Berenson in August, alleging "repeated violations of [the platform's] COVID-19 misinformation rules."

In "the tweet that did it," as Berenson described it, he claimed that the controversial COVID-19 vaccines should not be thought of as vaccines but rather as "therapeutic[s]." Berenson posted a purported picture of the tweet in his online Substack newsletter, Unreported Truths: "Don't think of [the COVID-19 vaccine] as a vaccine. Think of it - at best - as a therapeutic with a limited window of efficacy and terrible side effect profile that must be dosed IN ADVANCE OF ILLNESS. And we want to mandate it?"
As we've noted, Berenson has been busted numerous times for spreading misinformation.Funny how the MRC suddenly thinks identifying Berenson as a "New York Times journalist" is needed to boost his credibility (he hasn't worked for the Times for a while, so Bradley suggesting he still worked there is false).
Bradley's list does nothing but reinforce how wrongheaded (and just plain wrong) the MRC's flaining war on "big tech" is.
Posted by Terry K. at 10:09 AM EST
Updated: Sunday, February 6, 2022 11:13 AM EST