CNS Presents Century-Old Story As 'News'
Topic: CNSNews.com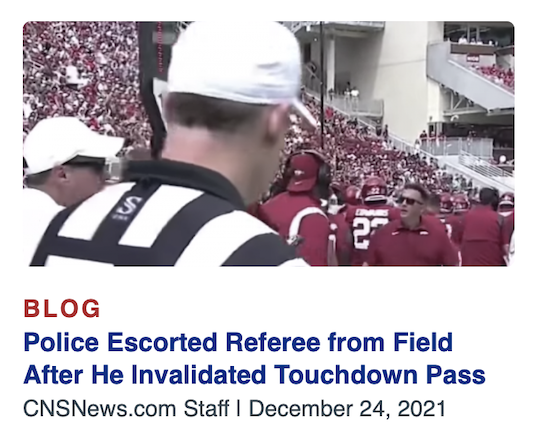 CNSNews.com editor Terry Jeffrey is a big football fan -- so much so that he earned a Slantie Award for whining that Joe Biden's victory speech interrupted his football game. His Dec. 22 column was dedicated to marking the 100th anniversary of the first radio broadcast of a football game, concluding: "When college football games are played on Jan. 1, 2022, America can celebrate 100 years of football broadcasts. It is one of this nation's great traditions."
From there, though, things went a little too far. A Dec. 24 article credited only to "CNSNews.com Staff" but almost certainly written by Jeffrey carried the headline "Police Escorted Referee from Field After He Invalidated Touchdown Pass" and illustrated with a color photo of a football referee. But the storyis not from this century, it also largely predates color photos:
Police officers had to escort a referee off the field of an Alabama vs. Tulane post-season football game played in New Orleans in 1921 after the referee invalidated a play in which Tulane scored on a 50-yard passing play.

The referee said he blew the whistle that signaled the end of the game before the play began.

If the play had stood, Tulane would have tied the score. With the play reversed, Alabama won 14 to 7.

"An attack on Referee Finley, former Virginia player, came at the end of the post-season football game between University of Alabama and Tulane, which Alabama won here today, 14 to 7," said a report in the Dec. 4, 1921 edition of the Chicago Tribune.

The headline on the story said: "Mob Attacks Referee When Alabama Beats Tulane Eleven, 14 to 7."
CNS has a bad habit of presenting old stories as new ones, but presenting a century-old story as something that just happened is not only ridiculous , it hurts what little journalistic credibility CNS has.
Posted by Terry K. at 12:46 AM EST