MRC Cheers How Its Bogus Research Was Cited At Congressional Hearing
Topic: Media Research Center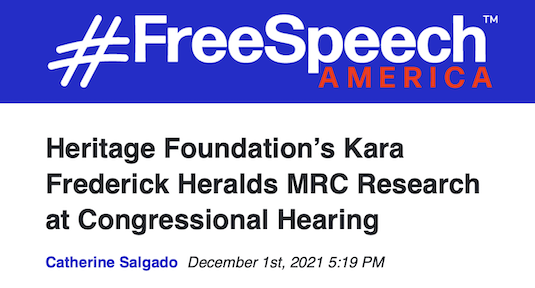 The Media Research Center's Catherine Salgado squeed in a Dec. 1 post:
The Heritage Foundation technology policy research fellow Kara Frederick in congressional hearing testimony cited Media Research Center ground-breaking analysis on the political impacts of Big Tech's censorship, including how Big Tech stole the 2020 election. "You have the Media Research Center, which is acting as a lion in this regard," Frederick said, explaining how tech companies dishonestly pretend they are not biased.

Frederick testified at a hearing on Big Tech "reforms" of the House Energy and Commerce Communications and Technology Subcommittee on Dec. 1. Frederick explained how she worked for Facebook like leftist activist "whistleblower" Frances Haugen.

Frederick's viewpoint on Big Tech was very different from censorship-supporting Haugen's, however. Frederick said she joined Facebook because she believed in "the democratization of information," but now Big Tech just engages in "viewpoint censorship." Frederick cited original MRC research and polling to prove her point.

Frederick cited original MRC research. "The confluence of evidence is irrefutable. Twitter and Facebook censor Republican members of Congress at a rate of fifty-three to one, compared to Democrats. Twitter suspends conservatives twenty-one times more often than liberals," Frederick stated. "These practices have distinct political effects."

Frederick then cited MRC's explosive polling on the 2020 election. "The Media Research Center found in 2020 that one in six Biden voters claimed they would have modified their vote had they been aware of information that was actively suppressed by tech companies. Fifty-two percent of Americans believe social media suppression of the Hunter Biden laptop story constituted election interference.
Salgado will not tell her readers about the shadiness and dubious methods of the MRC's "research." The "explosive polling on the 2020 election" she cited were actually numbers bought from Trump's election pollster, McLaughlin & Associates, who arguably has a vested interest in promoting Trump and trashing Biden (just like the MRC does), meaning those numbers cannot be considered reliable. The poll find that "Fifty-two percent of Americans believe social media suppression of the Hunter Biden laptop story constituted election interference" is also from poll data manufactured by McLaughlin for the benefit of the MRC. The MRC has never disclosed in any of its promotion of these polls that McLaughlin was Trump's election pollster.
Its claim about Republican members of Congress being "censored" much more than Democratic ones (the more accurate description is that the Republicans violated social media terms of service much more than Democrats did) is even more dubious because, as we noted, while the MRC is aggressive in finding Republican examples, no evidence was offered that it was similarly aggressive -- or even made any effort at all -- in seeking Democratic examples. The MRC also weirdly revised the ratio upward, from 53-to-1 to 54-to-1, a couple weeks later without explanation -- also something legitimate researchers don't do.
And Salgado's attack on Haugen as a "leftist" whistleblower seems to be sour grapes that her claims about Facebook -- which the MRC repeated when the Wall Street Journal reported them and didn't know Haugen was the source -- are getting much more traction than the MRC's long war against Facebook has gotten.
Uncritically repeating such shoddy "research" -- especially at a congressional hearing -- doesn't make the Heritage Foundation look credible.
Posted by Terry K. at 1:25 PM EST
Updated: Saturday, January 15, 2022 1:29 PM EST