Blast From The Past: CNS Obsesses About Obama Using First Person Singular Again
Topic: CNSNews.com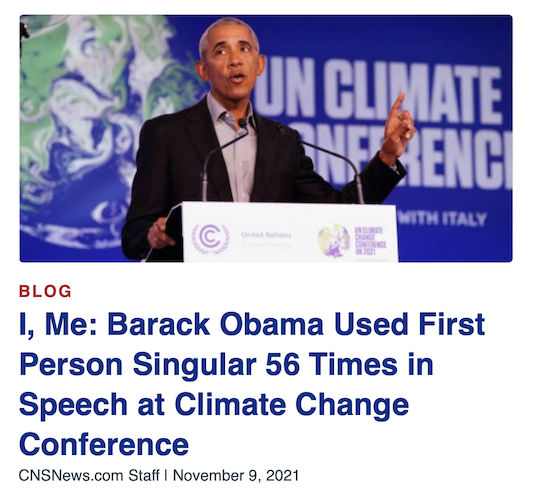 One of CNSNews.com's longtime word obsessions regarding Barack Obama has been complaining that he referred to himself too much in speeches: a 2009 column by editor Terry Jeffrey railed at Obama for this, and Jeffrey went on to devote entire articles counting how many times Obama used first person singular in a given speech. (By comparison, Jeffrey and CNS had few complaints about Donald Trump's rampant narcissism.)
When Obama spoke at November's climate summit, the powers that be at CNS decided the time was right for more Obama-bashing potshots. First up was Susan Jones to complain about the content of Obama's speech:
Addressing climate change "is going to be really hard," President Barack Obama said in a speech Monday to the United Nations climate conference in Glasgow, Scotland.

Speaking at the event in person, which means he burned fuel to fly there, Obama dedicated much of his speech to young people, urging them to make true believers of their elders and "to vote the issue -- vote like your life depends on it, because it does."
Jones made sure to note that Obama "used a personal example" by noting that he could afford to alter his lifestyle but most people can't.
That was followed by an anonymous article credited only to "CNSNews.com Staff" -- but almost certainly Jeffrey, since this is his bizarre bugaboo -- counting all the first person singular references in Obama's speech:
Former President Barack Obama used the first person singular pronouns "I" and "me" 56 times during the speech he delivered on Monday at the COP 26 United Nations Climate Change Conference in Glasgow, Scotland.

Here is a video of his multitudinous expressions of "I" and "me:"

Obama set the tone early on in his speech, when he used the word "I' about once every fourteenth word.

"I am a private citizen now so trips like this feel a little bit different than they used to," Obama said. "I don't get invited to the big group photo. Traffic is a thing again. Music doesn't play when I walk into the room. On the positive side, I can give a speech like this without wearing a tie and not create a scandal back home. I hope. But even though I'm not required to attend summits like this anymore, old habits die hard."
Jeffrey has never explained why Obama using first person singular sets him off so much -- and why Trump's narcissism doesn't bother him at all even though it has caused even further division in the country.
Posted by Terry K. at 6:05 PM EST