MRC Fawns Some More Over Fox News' Right-Wing Late-Night Host
Topic: Media Research Center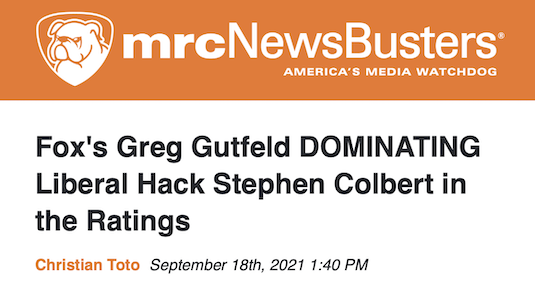 A subgenre of the Media Research Center's "Mean Girls" act in gloating over Fox News' ratings while sneering at the lower ratings of other non-right-wing news channels is its love for Grag Gutfeld's recently launched, right-wing-hack-filled nighttime show on Fox News. Curtis Houck has been the early leader in Gutfeld sycophancy at the MRC, as he has been as the chief ratings Mean Girl, but right-wing film critic Christian Toto has decided he wants in on that sweet sycophancy action too.
In an Aug. 28 post, Toto touted that The Fox News program Gutfeld!, a cable show with zero A-list stars and a modest budget, just beat Colbert's "Late Show" in the ratings for the first time," adding: "The fact that it happened while Colbert ran defense for what might be the biggest foreign policy blunder of the modern age may not be coincidental. Chances are more than a few viewers were curious what a right-leaning comic had to say about President Joe Biden's blunder as opposed to Colbert's typical fawning."
In dismissing Colbert as a "far-left propagandist," it's clear Toto prefers the stylings of a far-right propagandist like Gutfeld. So he served up a full-throated love letter to Gutfeld -- whom he describes only as a "comic provocateur" -- in a Sept. 18 post:
The right-leaning outlet unleashed Gutfeld! earlier this year. The news-driven comedy show offered exactly what's missing on late night TV, albeit without A-list stars and broadcast-level cash:

Jokes aimed at progressives.

A few weeks ago Gutfeld! rose to the top of the ratings heap. The moment came after President Joe Biden's Afghanistan debacle, suggesting audiences would rather hear someone snark about it than play defense for the indefensible.
Toto was referring to the U.S. withdrawal from Afghanistan, but Fox News reflexively defended Trump for four years no matter how indefensible his actions were and Toto never criticized that. He called Colbert a "liberal hack" in his headline, but he didn't explain why Gutfield shouldn't be considered a right-wing hack. Nevertheless, he went on to huff:
Will audiences eventually tire of Gutfeld! and restore Colbert to his late night throne?

Perhaps. Here's what's clear, though.

Consumers finally have a late night alternative, a program willing to call out politicians on both sides of the aisle. And since Netflix, Hulu, ABC and the rest have no interest in telling jokes that might hurt Democrats, there's a good chance Gutfeld! will remain on top for some time.
Of course, Toto can't even admit Gutfeld is at least as biased as the "far-left" late-night hosts he loves to attack. He simply an't see any bias when it comes from his ideological fellow travelers.
Posted by Terry K. at 10:09 AM EST
Updated: Saturday, November 27, 2021 10:11 AM EST