MRC's Graham Agonizes Over Whether To Be A Decent Person
Topic: Media Research Center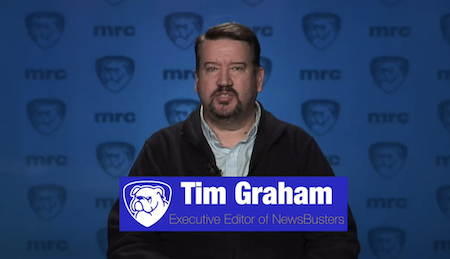 We've documented how Media Research Center executive Tim Graham hates actor Alec Baldwin so much that he was eager to be a jerk in the face of Baldwin accidentally killing a crew member with a prop gun on the set of a movie he was filming. Graham went on to devote an entire column to agonizing about whether to be a decent person in the face of Baldwin's tragedy, an Oct. 27 piece that was literally headlined "Does Alec Baldwin Deserve Decency?":
It was probably the worst day of Alec Baldwin's life when he accidentally shot and killed cinematographer Halyna Hutchins on the set of the movie Rust on October 21. It's a time to feel terrible about a 42-year-old woman with a husband and a young son.

Then CNN's Jake Tapper used it in one of his commentaries to denounce the entire Republican Party for making this tragedy an occasion for jokes. "There's something about our politics right now that is driving people away from our shared humanity."

Tapper was upset that Rep. Lauren Boebert recalled a tweet from December 5, 2014 where Baldwin wrote "I'm going to make bright, banana yellow t-shirts that read 'My hands are up. Please don't shoot me.' Who wants one?" This was about the false claim that Michael Brown said "Hands up, don't shoot" in Ferguson, Missouri in August 2014, when in reality, Brown was reaching into a car for a policeman's gun.
Yes, Graham is mad that the cruelty of his fellow Republicans in the face of Baldwin's tragedy was called out.The whining continued:
In our decency, we would hope Baldwin doesn't have to go to court for this shooting. But the title of Baldwin's 2006 opus was "Will Cheney and Whittington go to court? I would imagine if a guy with a few beers in him shoots you in the face..."

This isn't the only Cheney-and-death "humor" Baldwin composed for Arianna Huffington. On the Fourth of July, 2006, Baldwin cooked up a double-murder fantasy, in which he dispatched Osama bin Laden with a box-cutter and "I gather up the body of the world's most notorious terrorist and hurl it over the balcony. Then, in the final stroke of luck, bin Laden lands on Dick Cheney. God bless America."

[...]

Jake Tapper made almost no attempt to factor in Baldwin's well-known penchant for hate speech beyond this: "Baldwin, is, of course, not only a progressive but very aggressive and outspoken about liberal issues, including gun control."

He even brought up Liz Cheney as the example of the Decency Republican in contrast to bomb-throwing Marjorie Taylor Greene. But he couldn't recall 2006!
Of course, in today's Trumpified Republican Party -- and even in Graham's MRC, where his boss maliciously labeled Barack Obama a "skinny ghetto crackhead" -- decency is not a value to be honored, it is one to be mocked as a sign of weakness. Yet Graham referred to "our decency," as if he still has some. He's petty too, which is why he's mad Tapper didn't nitpick something Baldwin wrote 15 years ago as justification to be nasty to him now, as Graham wants.
By the end of his column, Graham is still fighting to reconcile the Trumpified hateful partisanship with the religious faith he wants us to think he still has: "Does Alec Baldwin deserve decency now? In the spirit of Christian charity or "shared humanity," yes. But armed with the memory of Baldwin's long record of indecency, that would be extremely kind and merciful."
It's clear that Graham does not possess that kindness and mercy.
Posted by Terry K. at 7:54 PM EST
Updated: Thursday, November 25, 2021 8:47 PM EST