WND Still Defending Ivermectin, This Time Against Anti-COVID Drug That Actually Works
Topic: WorldNetDaily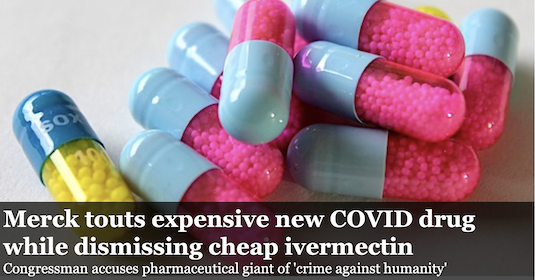 WorldNetDaily just can't stop defending the dubious drug ivermectin, no matter how dishonestly. So when a new antiviral treatment was introduced, Art Moore was first in line to compare it unfavorably to ivermectin in an Oct. 1 article:
The announcement Friday by Merck that it plans to apply for emergency approval of a new experimental oral antiviral treatment for COVID-19 is of particular interest to many physicians who have been hindered or completely blocked from treating their COVID patients off-label with an FDA-approved drug that already is produced by the pharmaceutical giant.

Merck is the producer of ivermectin, which has been shown to be effective in an least 65 controlled studies and 32 randomized controlled trials to fight COVID-19 as a preventative and early- and late-stage treatment. Studies have demonstrated its ability to inhibit the replication of SARS-CoV-2 as well as its strong anti-inflammatory properties.

Yet, as Rep. Louie Gohmert pointed out in a commentary this week, the "government alphabet agencies, the medical industrial complex, and their willing accomplices in the media" have made ivermectin "the latest naughty word which will get you censored on social media and mocked and belittled by late-night 'comedians.'"

Gohmert noted Merck itself has discouraged using ivermectin to treat COVID-19. The Texas lawmaker spotlighted the fact that the cheap and effective ivermectin would directly compete with the new drug it is developing, called molnupiravir. Unlike ivermectin, molnupirvar would be patented, the congressman pointed out, creating the potential "to rake in billions of dollars."

[...]

"In short, there is no humane, logical reason why it should not be widely used to fight against the China Virus should a patient and doctor decide it is appropriate to try in that patient's case," Gohmert said.

The congressman said "the evil, deadly, coordinated globalist attacks we are currently witnessing on ivermectin will go down in history as a vicious crime against humanity; a grievous public health policy error that can only be explained by following the money."
Moore is misleading here: Since ivermectin has long been an off-patent drug, there are numerous manufacturers of it; Merck does make a version of the drug designed to treat parasitic infections, which COViD is not.
COVID misleader Joel Hirschhorn used his Oct. 4 column to falsely claim that molnupiravir is actually a copy of ivermectin:
The unrelenting opposition to using ivermectin to treat and prevent COVID-19 is stronger than ever. This has resulted from a gigantic increase in demand for IVM by much of the public. Despite big media tirades against the medication, the truth about its effectiveness (together with failure of COVID vaccines) has reached the public through many articles on alternative news websites and truth-tellers on countless podcasts. Ivermectin's success has forced Big Pharma to create expensive copies of it.

[...]

Merck, a maker of IVM, is getting much positive press coverage for its forthcoming prescription oral antiviral (molnupiravir). It is designed to replace IVM, since they cannot make big money from ivermectin. The FDA will soon give molnupiravir emergency use authorization because of the emerging clarity that COVID vaccines do NOT work effectively or safely.

[...]

Clearly, Merck, Pfizer and other vaccine makers are developing their own oral antivirals to directly compete with the cheap and effective IVM. These antivirals, unlike cheap generic IVM, would be patented so expensive pills could be sold worldwide. They will find some ingenious ways to copy IVM but make enough changes to get patents.
In fact, molnupiravir is not an ivermectin copy; it's a completely different formulation. Nevertheless, fellow dubious doc Marilyn Singleton took that lie and ran with it in her Oct. 12 WND column:
Another anti-parasitic medication, ivermectin, has 20 possible mechanisms of action against the SARS-CoV-2 virus, including interrupting viral entry into cells and anti-inflammatory action. Significantly, ivermectin is a protease inhibitor, that is, a substance that blocks proteins that allow viruses to reproduce themselves.

Is it a coincidence that Pfizer's new anti- COVID pill, PF-07321332 is also a protease inhibitor? Notably, Pfizer's drug would have to be given early after the onset COVID symptoms. This is also the recommendation for hydroxychloroquine and ivermectin – a recommendation many studies ignored when dismissing the value of these anti-parasitic medications.

Is it a coincidence that Merck, who distributes ivermectin, is seeking fast-track approval for molnupiravir, an antiviral agent to treat COVID-19? How convenient that the U.S. government will purchase $1.2 billion worth of the yet-to-be-approved drug. And how predictable that vaccine maker Moderna's stock fell 11% after the announcement. Vaccines are yesterday's cash cow. Is it a coincidence that ivermectin costs no more than $100 dollars per treatment course and molnupirivir costs $700 per 10-day course of treatment?
Actually, it's irrelevant that ivermectin and the Pfizer drug are protease inhibitors, and the two drugs, again, have completely different formulations.
But WND has totally bought into the ivermectin propaganda, and like any good propagandist, an enemy is needed so it can be demonized. And so it has one, in the form of an apparently more effective drug.
Posted by Terry K. at 12:21 AM EDT