CNS' Border Patrol 'Whip' Freakout Undermined By Columnist Who Endorsed Whipping
Topic: CNSNews.com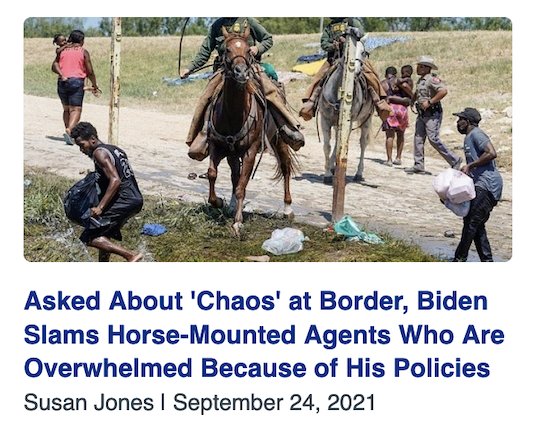 CNSNews.com was quick to run to the defense of the Border Patrol after images surfaced of officers on horseback, with long reins that looked like whips, attempting to round up Haitian migrants.
Melanie Arter wrote on Sept. 22 that "DHS Secretary Alejandro Mayorkas on Tuesday condemned the actions of Border Patrol agents on horseback who were accused of using "whips," which were actually horse reins, on Haitian migrants trying to cross the Rio Grande River into Del Rio, Texas this week.
A Sept. 23 article by Susan Jones highlighted Rep. Maxine Waters saying she's "unhappy with the cowboys who were running down Haitians and using their reins to whip them. I'm unhappy with the (Biden) administration," but she made sure to add that "Brandon Judd, president of the National Border Patrol Council, says the images of horse patrol agents running down or 'whipping' Haitians look 'very different' from different angles." This was followed by an article from Arter the same day quoting the White House stating that "Border Patrol agents will no longer be using horses" in the area. Another Arter article that day served up the Border Patrol spin, with the aid of Fox News:
Former acting ICE Director Tom Homan said Thursday that the Border Patrol agent accused of whipping Haitian migrants at the border in Del Rio, Texas, "did not whip anybody" and was spinning the horse's reins to keep people away from the agent and his horse to protect himself.

That's what he was trained to do, just as New York City police on horseback do crowd control, Homan told Fox News's "America's Newsroom."

[...]

Homan expressed concerns that the investigation will be biased, because the inspector general who is conducting it answers to DHS Secretary Alejandro Mayorkas, who has said he's insulted by the video of the encounters in question.
In a Sept. 24 article, Jones accused President Biden of serving up "spin" on the issue, which was then followed by her own editorializing spin:
"There will be consequences," promised President Biden on Friday, as he put his own spin on the "chaos" at the overrun southwest border he has never visited.

He was talking about a few horse-mounted Border Patrol agents trying to prevent a group of Haitians from entering the country illegally.

Biden did not send the message that foreigners should not come here illegally; and he did not address criticism that his administration is releasing thousands of these people into the country, thus encouraging more and more people to come here illegally.

The only "chaos" Biden mentioned was the videotaped horse patrol.
Having served up Border Patrol spin about a biased investigation the previous day, Arter served up a Sept. 24 article quoting Mayorkas saying "he's not concerned about the integrity of the investigation of the horse-mounted Border Patrol officers accused of whipping Haitian migrants at the border in Del Rio, Texas, despite President Joe Biden saying the migrants had been 'strapped.'"
Megan Williams served up the Fox News spin in a Sept. 27 article:
Fox Nation host Lawrence Jones explained that Democrats were comparing the treatment of immigrants at the Southern border to slavery in order to "gaslight black Americans" Sunday on "Life, Liberty & Levin."

Jones described to host Mark Levin how Democrats were continually using a misleading image to suggest falsely that a border patrol agent was whipping a Haitian immigrant, in order to elicit emotional reactions from African-Americans.

[...]

Jones argued Democrats were using this photo and reactions as a smoke screen to divert Americans' attention away from the crisis at the border.
Unfortunately for the right-wing narrative, CNS blew it up by publishing an Oct. 1 column by Ilana Mercer -- whose main outlet is WorldNetDaily but for some reason CNS decided it needed to add a apartheid-adjacent paleolibertarian to its columnist roster -- offering a full-throated endoresement of the idea of whipping migrants, even citing the Bible to justify it:
Let's see: Heroic horsemen rode to the rescue at Del Rio, Tex., along the U.S.-Mexico border. Republicans could've whipped the open-border Democrat degenerates with a first-principles case for sovereignty and self-defense, the thing Border Patrol horsemen were exercising so instinctively. Instead, the Right chose to beat around the bush, sweating the redundant details:

"Was it a whip or a rein?"

Who cares, when our border-patrol heroes—the last of the He-Men—were doing the work of the Lord! And, what on earth is wrong with the whip, in this context?

Did not the Lord teach—in The Book of Proverbs, through his emissaries—that, "He who spares his rod hates his son"? (In Hebrew: "חוםך שבטו שונא בנו") I believe Proverbs has a broader and deeper meaning: Libertine formative figures who fail to teach the young and the lawless right from wrong hate both their disciples and the society upon which they unleash them.

[...]

There is only one winning—and correct—answer, in the case of the whip versus the rein, and it is this:

If it was not a whip, it ought to have been one, and if our Guardian Angel of the border used a rein as a whip—then hooray for him. The End.
It's hard to coherently quibble over whether or not migrants were whipped when you publish a columnist who demands they be whipped.
Posted by Terry K. at 1:02 AM EDT
Updated: Tuesday, November 2, 2021 1:20 AM EDT