MRC Labors To Keep Va. GOP Governor Candidate Far (But Not Too Far) From Trump
Topic: Media Research Center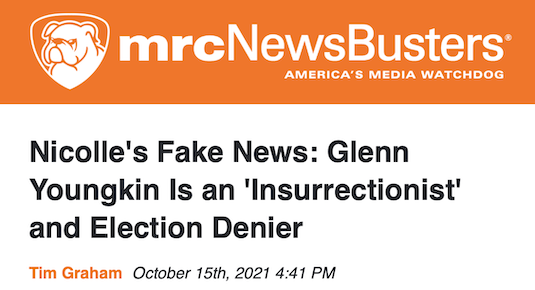 In its campaigning for Republican Virginia governor candidate Glenn Youngkin, the Media Research Center has had a bit of a task on its hands: defend him from accusations he's a Trump clone -- for even the MRC understands there's a certain amount of radioactivity that comes from associating with a guy who still refuses to admit he lost the election -- but not not distance him from Trump completely (because despite his denial and derangement, Trump still controls the Republican Party).
Back in May, Kyle Drennen was setting up the frame that "reliable Democratic Party hack Chuck Todd" was "attacking the GOP candidate with talking points that perfectly matched DNC tactics. He spent the entire segment trying to tar Youngkin as a dangerous radical" who had to be "Trumpy" to win the GOP nomination, asserting that it was "hacky" to point that out. Drennen made no effort to debunk anything Todd said, though.
On Sept. 28, Drennen rehashed his attacks on Todd in once again framing the claim that liniking Yoiungkin and Trump is nothing but "Democratic spin" -- but, again, he fails to offer any counterargument that would debunk the claim. If you're spinning a fact as "spin," you're losing.
Kristine Marsh complained in a Sept. 30 post that Youngkin's Democratic opponent, Terry McAuliffe, "has repeatedly accused Youngkin of being the next Trump and the CNN host was happy to bolster that claim," adding that CNN played a "montage of both Republicans speaking out against critical race theory, defunding the police, and the radical left. Wow, how uncanny! Two Republicans speaking on the same hot button issues that hit home with the Republican base!"
In an Oct. 15 post, Curtis Houck
defended
Youngkin against his clear links to the event beause "Youngkin wasn't there and slammed the stunt as 'weird and wrong.'" The same day, Tim Graham
helped to dig
Youngkin out of a
controversy
in which participants at an event held in support of his campaign pledged allegiance to a flag that was allegedly flown during the Jan. 6 Capitol riot (which Graham himself is
now trying to downplay
), declaring that MSNBC host Nicolle Wallace was "false" in claiming that Youngkin "is somehow an 'insurrectionist' who 'wouldn't say' whether he would have voted to certify the 2020 election.
"
First, Graham misleadingly described the event, calling only "a rally in Virginia featuring Donald Trump where Youngkin was not present" but omitting the fact the rally was for Youngkin's benefit. Second, Graham was forced to admit that Youngkin actually waffled on the question of whether he would have voted to certify the election, apparently hainging his "false" claim on the fact that Youngkin clarified his answer the next day -- which, of course, doesn't erase the original waffling.
In yet another Oct. 15 post -- yes, that makes three, which shows the urgency in which the MRC believed Youngkin's gaffe needed immediate cleanup -- Mark Finkelstein tried to rebut claims that Youngkin hold Trumpian "wlid" and "dangerous" views: "While the Democrats have aerobically tried to tie Youngkin to Trump, Youngkin has run a happy-warrior campaign with a lot of positive TV ads." He followed that a lengthy insistence that Youngkin is no Trumpy extremist:
So what were the "wild and dangerous" views that Geist claimed that Youngkin holds? Kaine exclusively cited Youngkin's focus on election integrity. The segment began with a clip from a Virginia rally in which people pledged allegiance to a flag reportedly used during the January 6th Capitol riot.

However, as Geist himself acknowledged, Youngkin "pretty clearly distanced himself" from the rally, and issued a statement calling it "weird, and wrong, to pledge allegiance to a flag connected to January 6th."

Kaine also tried to make the case that since Youngkin allegedly "promote[d] the big lie," by "questioning the results of November 2020," he is "responsible for the consequences of the big lie."

But even the Washington Post —which has endorsed McAuliffe—has acknowledged that Youngkin:

Has said there wasn't widespread fraud in Virginia.
Said he would have certified results of the presidential election.
Has acknowledged the legitimacy of Biden's election.

So who's lying now, Senator Kaine?

And in any case, is this really the standard that Kaine wants to set: that candidates are responsible for the statements and actions of all of their supporters? Would Kaine and other Dems really want to be held responsible for the actions of BLM, the defund-the-police crowd, the looters and rioters, etc?
But hasn't the MRC been spending the past year and a half portraying any liberal who supports the ideas of racial justice and police reform as official members of Antifa? Also: Like Graham, Finkelsteing censored the fact that Youngkin initially waffled on whether he would certify the election. Finally, Finkelstein conveniently omitted the fact that the Post article he so highly praised also noted that Youngkin has sounded largely like Trump on "election integrity" issues, including having "called for an audit of voting machines to help voters feel confident in elections."
Nicholas Fondacaro made his way back to the MRC's original narrative in an Oct. 24 post, complaining that "the networks adopted the talking points of the McAuliffe campaign as they railed against Youngkin as some kind of Donald Trump mini-me" -- though he, like Drennen before him, failed to explain exactly why Youngkin shouldn't be thought of that way, even after condeding that Trump has endorsed Youngkin.
Posted by Terry K. at 10:41 AM EDT
Updated: Sunday, October 31, 2021 3:45 PM EDT