CNS Falsely Puts Words Into Mouths Of Biden, Pelosi
Topic: CNSNews.com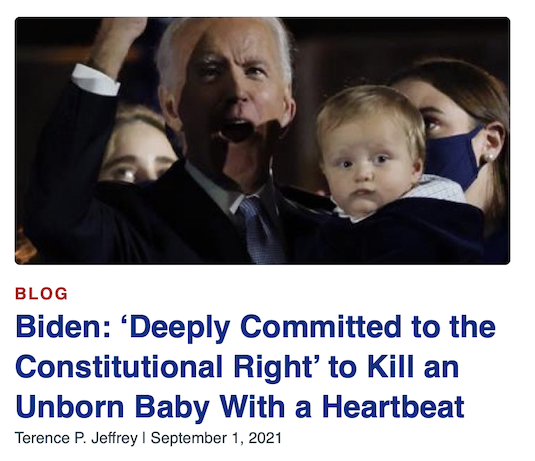 CNSNews.com is deeply committed to putting words in the mouths of people it doesn't like. Editor in chief Terry Jeffrey wrote in a Sept. 1 article:
Biden: 'Deeply Committed to the Constitutional Right' to Kill an Unborn Baby With a Heartbeat

President Joe Biden put out a statement on Wednesday stating his opposition to a Texas law—SB8--that bans the abortion of an unborn baby who already has a detectable heartbeat.

The law went into effect today.

[...]

In his statement on Wednesday, President Biden said: "This extreme Texas law blatantly violates the constitutional right established under Roe v. Wade and upheld as precedent for nearly half a century."

"My administration is deeply committed to the constitutional right established in Roe v. Wade nearly five decades ago and will protect and defend that right," Biden said in his statement.
Jeffrey wrote the next day:
President Biden Claims Killing an Unborn Baby Who Has a Beating Heart is a 'Private and Personal' Decision

President Joe Biden put out a statement today condemning the Supreme Court's decision not to issue an injunction to immediately stop a Texas law (SB 8) that seeks to prevent the abortion of babies who have a detectable heartbeat--which generally occurs at six weeks into pregnancy.

The Texas law, which took effect Wednesday, allows individuals to sue abortionists and those who aid a woman in obtaining the abortion of an unborn baby with a beating heart.

[...]

President Biden's statement, published Thursday, characterized the abortion of a baby with a beating heart as a "private and personal" health decision.

"Complete strangers will now be empowered to inject themselves in the most private and personal health decisions faced by women," Biden said in his statement.
Note that in both articles, Jeffrey portrayed Biden has having specifically endorsed "killing an unborn baby who has a beating heart." But at no point did Jeffrey quote Biden saying those exact words are anything similar.By forcing right-wing anti-abortion activist framing around Biden's statements, Jeffrey is injecting bias into what is suppsoed to be "news" -- which is something that CNS' owner, the Media Research Center, purports to oppose.
Perhaps sensing that deliberately injecting bias into "news" stories was a bad look for the editor in chief of the "news" operation to be doing, a Sept. 3 article that did the exact same word-stuffing into Nancy Pelosi's mouth -- but did so anonymously, with the article credited only to "CNSNews.com Staff":
Pelosi: It's 'Cowardly' for Supreme Court Not to Uphold the Right to Kill an Unborn Baby With a Heartbeat
House Speaker Nancy Pelosi (D.-Calif.) on Thursday put out a statement Supreme Court "cowardly" for not issuing an injunction to stop enforcement of a Texas law, which went into effect on Wednesday, that prohibits aborting babies who have a detectable heartbeat.

"The Supreme Court's cowardly, dark-of-night decision to uphold a flagrantly unconstitutional assault on women's rights and health is staggering," said Pelosi. "That this radically partisan Court chose to do so without a full briefing, oral arguments or providing a full, signed opinion is shameful.
Again, nowhere does the article quote Pelosi saying shse ensorses "killing an unborn baby with a heartbeat." Again, just because the article lacks a byline doesn't make it any less biased -- only that a CNS reporter refused to put his or her name on said bias.
Posted by Terry K. at 1:39 AM EDT