MRC Promotes Conspiracy Theory Over 'The Office'
Topic: Media Research Center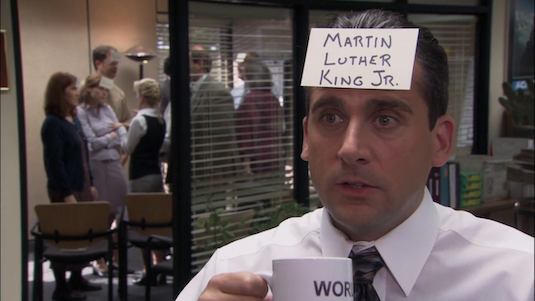 The Media Research Center's Gabriel Hays was acting quite conspiratorial in an Aug. 31 post:
Corporate media companies are yet again deeming what's appropriate for American viewers to watch. This time Comedy Central has subtly removed an entire episode of NBC's hit show The Office from its library for not being woke enough.

Ironically, the episode is about the annoying boss Michael Scot botching his way through a company diversity seminar.

According to a recent Newsweek article, the famous sitcom about wacky antics in a mid-level paper distribution company felt a bit of the cancel culture heat. During a Sunday marathon on the cable news channel Comedy Central, viewers noticed that one of the episodes was missing. Apparently, it wasn't an accident, it was just the media telling us adults that it's not appropriate for our viewing.
Hays went on to admit that Newsweek merely "surmises" -- with no actual proof -- that the episode's alleged failure to be "woke" is the reason the show didn't air. He's just guessing as well, though at least Newsweek did what Hays didn't and tried to contact Comedy Central for comment. Nevertheless, Hays went on to cite "people on Twitter" pushing the conspiracy theory.
Of course, it's just as likely -- if not more so -- than the reason the episode didn't air is completely benign. Snopes did the research Hays wouldn't and noted that Comedy Central skipped other episodes during that marathon that would have otherwise appeared if it stuck to a strict in-order schedule. Snopes also noted there is no known pressure campaign demanding that Comedy Central or anyone else stop airing the episode.
Hays did admit that "The episode is still available on NBC's streaming service, Peacock. For now. Peacock does not list episodes of 30 Rock that were pulled for having characters in black face." Hays didn't explain why that's a bad thing.
But hey, why research what you're writing about when you can wildly speculate in order to advance a political narrative? Hays concludes:
Who knows why Comedy Central felt compelled to do this? Maybe there is a good reason, but knowing the woke universe we inhabit, it's most likely a stupid reason. The funny thing is that The Office wasn't mocking corporate diversity training, it was mocking Michael Scott for being the bumbling racially insensitive one in the mix. The show has always been about contextualizing Scott's social faux pas with the horror splashed over his co-workers' faces.

Essentially, the episode is about making borderline racist people look pretty stupid. If anything, this is just proof that whoever is making decisions as to what airs on the network doesn't get the joke. Then, why the hell are they in charge of running content on something called Comedy Central?
And why portray yourself as a "media researcher" when you can't be bothered to do any actual research?
UPDATE: Right-wing film critic Christian Toto forwarded the bogus conspiracy theory as well in a Sept. 4 post:
Newsweek contacted various Comedy Central officials for comment. Silence. The suits couldn't muster up the courage to send out a canned statement, let alone a brief phoner to explain their stance. The same goes for Wilmore.

Why? They're afraid. Afraid of defending their art, of angering the woke mob, of hinting they aren't as progressive as they should be.

Fear.

Carell has said in the past his character couldn't survive today's woke culture, but that's as far as he went in condemning the cultural shift.

So "Diversity Day" is gone, at least from Comedy Central. It's currently available for purchase on YouTube, but for how long? What other "Office" episodes are next? Or will the mob sic another classic TV series for an encore?

Cancel Culture grows in strength and ferocity with every so-called victory.
Like Hays, Toto offered no actual evidence of a conspiracy against the episode by Comedy Central or any member of the "cancel culture" police. The narrative is simply just too good for Hays or Toto to fact-check.
Posted by Terry K. at 10:39 AM EDT
Updated: Sunday, October 3, 2021 11:24 AM EDT