MRC Psaki-Bashing, Doocy-Fluffing Watch, Bombing-Psaki Edition
Topic: Media Research Center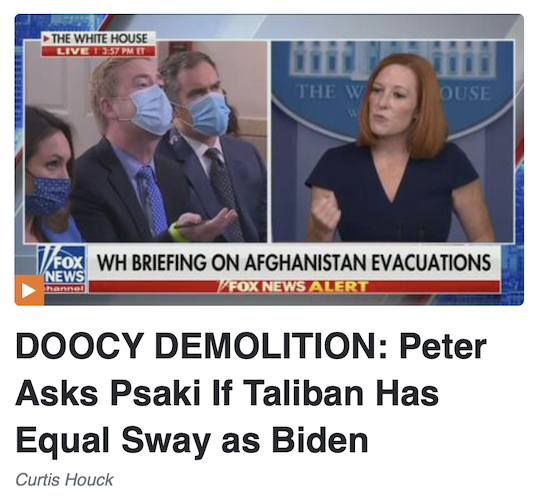 Media Research Center writer Curtis Houck buries any news of a #PsakiBomb -- he'd rather bomb Psaki. Amid the fall of Afghanistan, Houck showed he was mnre interested in taking partisan shots than suypporting America with his near-orgasmic glee over White House press secretary Jen Psaki taking tough questions from reporters on the subject -- and without his man-crush Peter Doocy on duty. Houck harrumphed after the Aug. 17 briefing:
Though most of it didn't make the Tuesday network evening newscasts, the White House press corps made an effort to raise tough questions with National Security Adviser Jake Sullivan and Press Secretary Jen Psaki amidst the collapse of Afghanistan, showing that neither had the answers to basic questions about how they'll ensure the safe departure of American citizens and Afghan allies, the plight of Afghan girls, and what this means for our commitments around the globe.

[...]

With Fox's Peter Doocy not in the room, the most effective reporter fell to his colleague Jacqui Heinrich (who only questioned Psaki) and, surprisingly, CBS's Weijia Jiang, who did the opposite of Shear with short, pointed questions.
Doocy was back for Houck to swoon over (anlong with fellow right-winger Philip Wegmann) for the Aug. 23 briefing:
To go along with two horrendously bad Pentagon press briefings and another at the State Department, the White House joined in Monday afternoon with a shellacking at the hands of the press corps on Afghanistan. For this installment, National Security Advisor Jake Sullivan and Press Secretary Jen Psaki took fire from all angles, ranging from Fox News to NPR.

Led by Fox's Peter Doocy and Real Clear Politics' Philip Wegmann, Team Biden was grilled about whether Americans have been "stranded" by their own government, whether Americans outside Kabul will be rescued, and how can the U.S. take to heart anything that emanates from the Taliban.

[...]

Fast-forward a few minutes to the one-two punch of Doocy and Wegmann, which featured the latter telling Sullivan that Biden "has criticized his predecessor," "the Afghan army," and "the Afghan government for all of their failures," but not the Taliban.
It was a full-on Doocy-gasm, however, for the Aug. 24 briefing:
Appearing almost four hours late in the White House Briefing Room, Press Secretary Jen Psaki faced more excellent questions Tuesday afternoon over the Biden administration's handling of Afghanistan. As was the case on Monday, Fox's Peter Doocy led the way with questions about vetting Afghan refugees, whether she'd take back her claim that people aren't "stranded" in Afghanistan, and whether the Taliban now has "the same kind of influence over military planning as" Biden.

Called on sixth, Doocy got right to work: "Is there any concern that maybe trying to reach this deadline and get everybody out, mistakes are being made, now that there is a report that at least one of the Afghan evacuated to Qatar has suspected ISIS ties?"

Psaki replied there's "a stringent vetting process which includes background checks before any individual comes to the United States" and thus is something the administration has taken "incredibly seriously."

Psaki also had a Baghdad Bob moment as she proclaimed that "this is now on-track, Peter, to be the largest airlift in U.S. history" and thus "I would not say that is anything but a success."
Houck's beat ( or, perhaps, the beating off) continued for the Aug. 25 briefing:
After almost an entire week away on vacation (aside from an August 23 briefing), The Psaki Show hasn't exactly gone swimmingly for the Biden administration and, like Monday and Tuesday, Wednesday was no exception as Press Secretary Jen Psaki had little in the way of friendly reporter questions as Fox's Peter Doocy had the cavalry on his side in pressing on issues surrounding the collapse of Afghanistan.

In Doocy's case, he called out Biden cracking a joke about the humanitarian disaster, why did Biden spend so much time on Tuesday talking about his Build Back Better, and does the U.S. still have a policy of not negotiating with terrorists since we've had to lob constant pleas at the Taliban to not attack U.S. troops or those fleeing the country.

Doocy led off with how Biden had brushed aside NBC reporter Peter Alexander's Afghanistan question hours earlier during a pool spray about cybersecurity by saying this when asked what he'd do for Americans still in Afghanistan after the August 31 deadline: "You'll be the first person I call!"

Doocy posed a simple question: "So, what's so funny?"
Houck thinks it's quite hilarious any time he can denigrate Psaki. That does seem to be where he gets his jollies these days.
Posted by Terry K. at 8:56 PM EDT