CNS' Double Standard On Back-Turning
Topic: CNSNews.com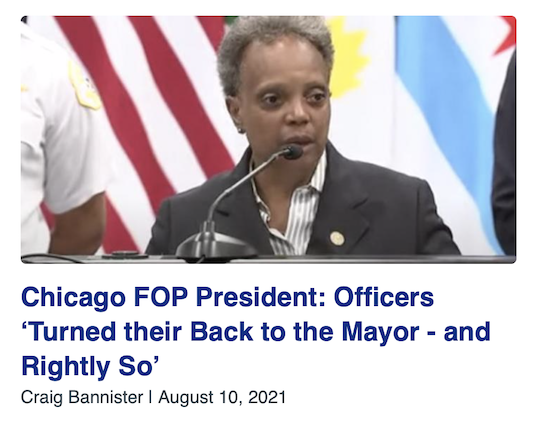 When track athlete Gwen Berry turned away from the American flag during a medal ceremony at an Olympic trial competition, CNSNews.com was quick to attack:
Melanie Arter surprisingly did offer Berry's side of the story, but also complained that White House press secretary Jen Psaki defended "the right of people granted to them in the Constitution to peacefully protest."
CNS published a column by Ben Shapiro ranting that "Berry just saw an opportunity to maximize her profile," going on to huff that "America currently rewards an entitled sense of grievance."
An article by Craig Bannister repeated a claim by Caitlyn Jenner calling Berry's protest "disgusting" and "kind of her last hurrah." In keeping with CNS' hatred of transgender people and its confusion about how to handle Jenner now that she's outed herself as a right-wing Republican, Bannister also made sure to add that Jenner is "a transgender 'female' who used to be Bruce Jenner."
But when police officers showed a similar lack of respect by an instance of back-turning, CNS was all for it. From an Aug. 10 article by Bannister:
Chicago police officers turned their backs on Democrat Mayor Lori Lightfoot Saturday evening after two of their fellow officers were shot, one fatally – and Lightfoot deserved it, the president of Chicago's Fraternal Order of Police said Monday.

As ABC 7 Chicago reports, the two officers were taken to the University of Chicago Medical Center, where "hundreds of officers gathered after 10 p.m. to stand guard and pray":

[...]

"For the two-and-half years that she has been mayor, she has vilified the police," John Catanzara, president of Chicago's Fraternal Order of Police, told Fox News on Monday, noting that Lightfoot ignored being told she was not welcome at the hospital where the officer was in Intensive Care:

"The men and women of this police department have no respect for this mayor, and it was as palpable as you could possibly imagine outside that hospital at the University of Chicago two nights ago.

"The mayor was told: Do not come up to the seventh floor of that hospital and speak to the family or the officer who was still injured, fighting for his life, Officer Yanez.

"But, yet, the mayor still thought she knew best and went up there, against the advice of the family. And, the officer's father gave her a piece of his mind and the officers up there all turned their back to the mayor - and rightly so."
No lecture from Bannister or anyone else at CNS about how a city leader deserves some sort of respect or how police were deciding they knew better than city officials on how to handle the situation.
Seems that the same form of protest should be treated the same. Not at CNS.
Posted by Terry K. at 1:05 AM EDT